You never know where the day will take you…. especially when you have nothing planned and nothing expected of you.  The day is yours!
We enjoyed warm and beautiful weather during Thanksgiving and several fabulous days off. I really felt the need to be outside as much as possible.  Nothing makes me happier than working in my yard.
It started out with this….. YUCK!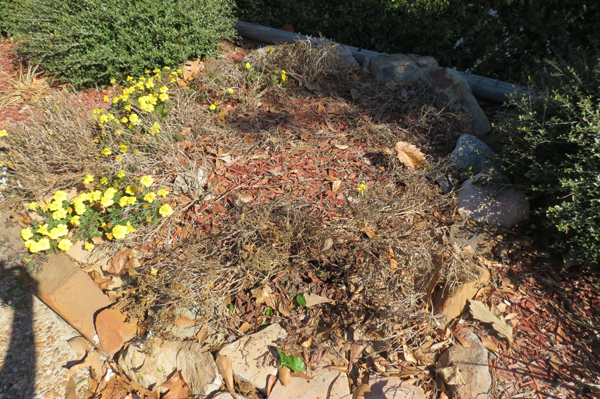 My flowerbeds were looking a little shabby.  The summer sun had pretty much baked everything.  It was time to clear the beds out and plant some pretty winter flowers to brighten my days.  Even though it's almost December, it's the perfect time to plant these as it's only just now getting "cold" in Texas.  When I say cold I mean highs in the 60′s and 70′s and lows in the 40′s.  Pretty pleasant, really.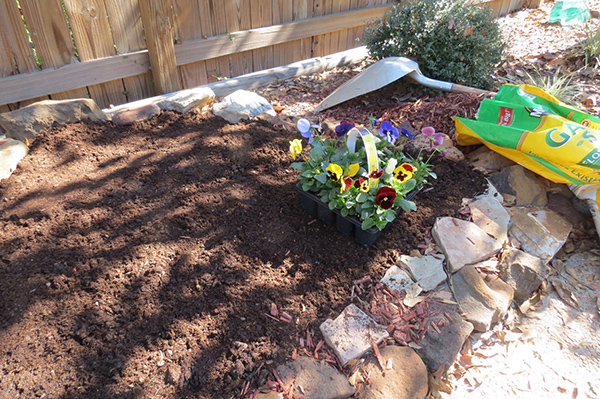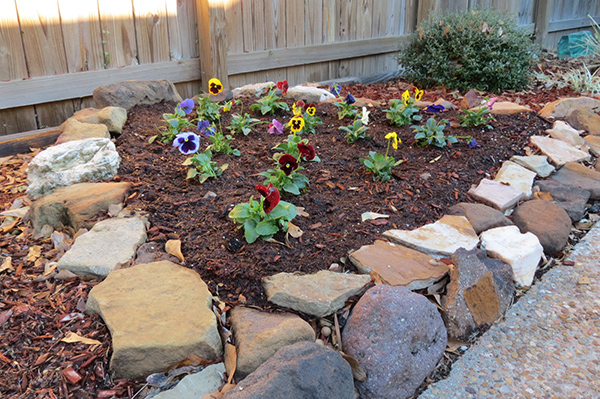 Big improvement.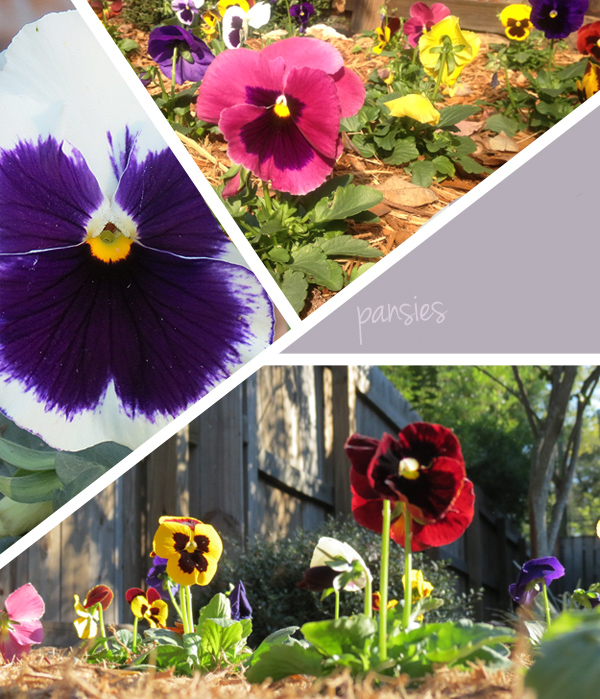 Their sweet faces and pretty shades of pink, purple, yellow and white were just what I needed. By spring the beds will be full and thick…. flowers for all to enjoy.
But I wasn't done and decided to replace a plant in our saucer pot outside the dining room. Again…. the summer heat was brutal and many of my plants were dust.  Snake Plants (or mother's tongue) or whatever you want to call them, are almost impossible to kill.  I went for it.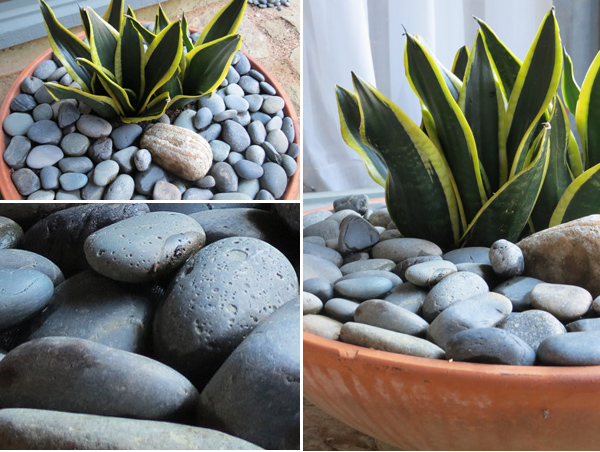 Turns out I ended up with too many beach rocks and had a handful left over.  Here's where the day took a strange turn.  Maybe it was the pretty pansies, or the rocks themselves.  Maybe all the butterflies, bees, and spiders that were out enjoying the day, too.  I don't know… but before I knew it I had taken the left over rocks and started painting.  Again, you just never know where the day will take you.  UNEXPECTED FUN!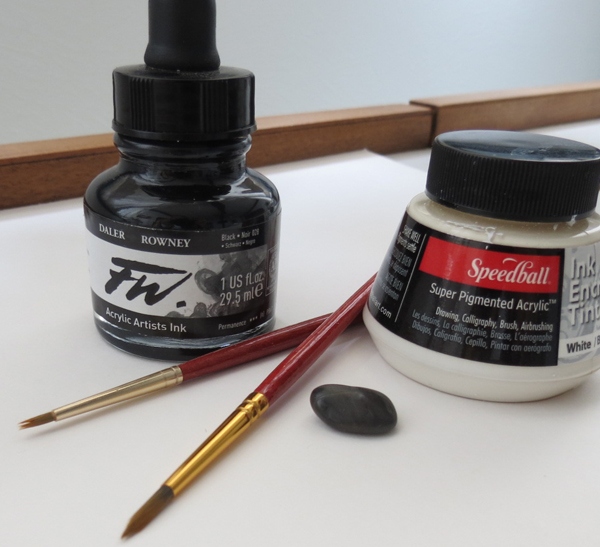 I had painted on rocks before but quickly learned that inks are WAY better than paint.  It's much more fluid and easier to draw with.  It started out with "nature"…. pansies included.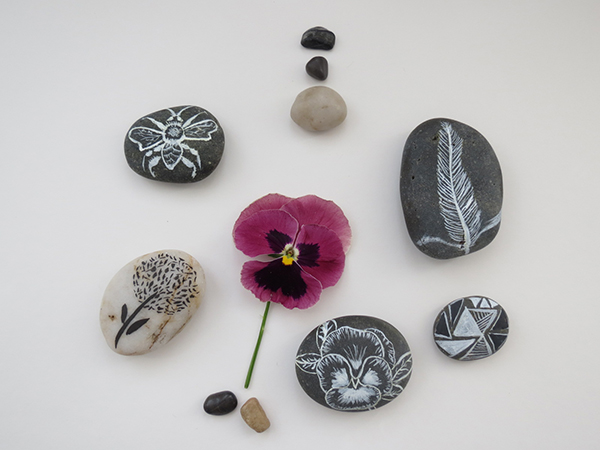 And quickly progressed to "modern – abstract".  ( one Eames inspired, of course )
I'm really pushing it here.  I can't draw worth a poop.  WHO CARES!
I have no idea what got in to me… but I was totally BUGGIN'!  I'm pretty terrible at drawing so I cheated a little and did a few with decoupage.  I just LOVED THOSE!   I really have a thing for beetles, bees and butterflies.  Apparently roaches are out … but grasshoppers and dragonflies are definitely in!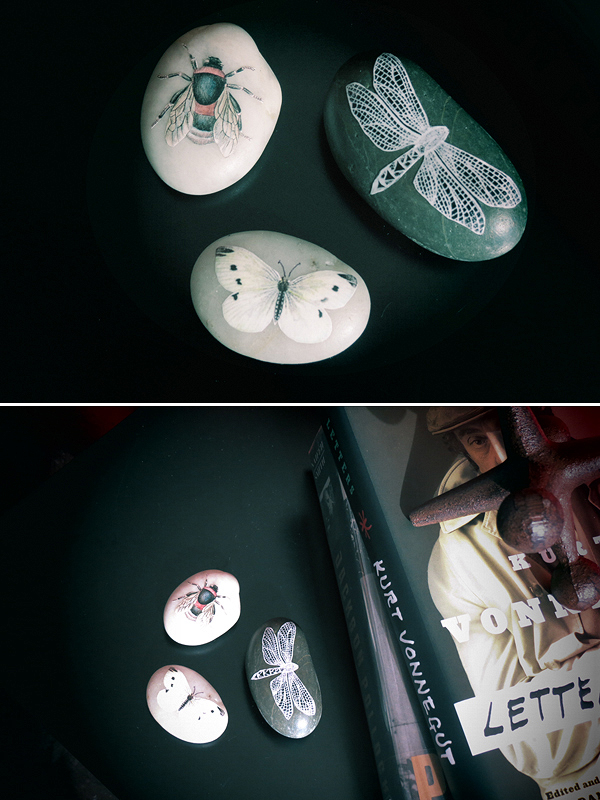 What a strange turn of events!  From pansies to painted rocks…. I totally enjoyed this day off!
Seems so weird at a time when I should be hanging wreaths and decorating for Christmas.  Honestly I love Christmas at other people's houses but I'd rather be painting bugs and digging in the dirt.
Okay, okay.  I will put up a tree … eventually.  More of that another day.
I scattered the rocks in the yard, in some potted plants, and around the house… on window sills and tables. I even decided to hang one.