Just a quick update and a photo dump from my camera, as I do great when it comes to taking pictures of our progress but not so great at actually doing anything with them.
Since I haven't updated in weeks, I'm long overdue.  I'll explain what's been going on in my life the last few weeks in another post… but I'm too tired to even go there.  More on that later.
I did get the storage cabinet painted and the door to match.  I decided to leave a stained wood trim around the edge so the sliders could move more easily.  Paint would have probably made them stick and would have eventually started to come off.  I love the look of mixed finishes anyway.  A little tape helped me "pull it off".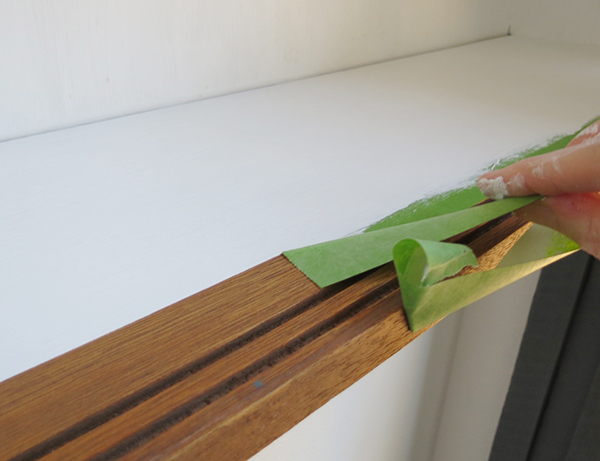 I'm loving the color decision.  After failing the first time with a color I ended up using Benjamin Moore – Water's Edge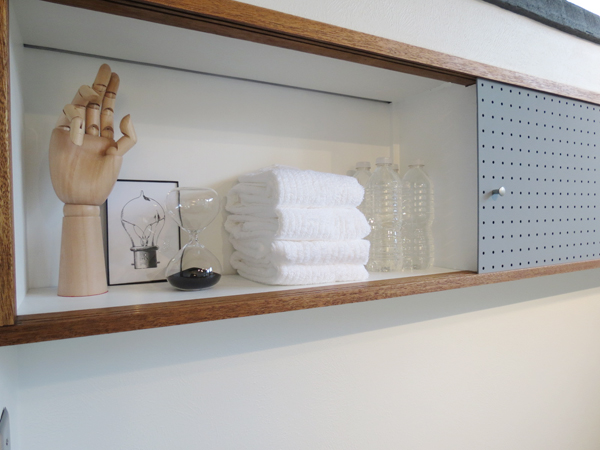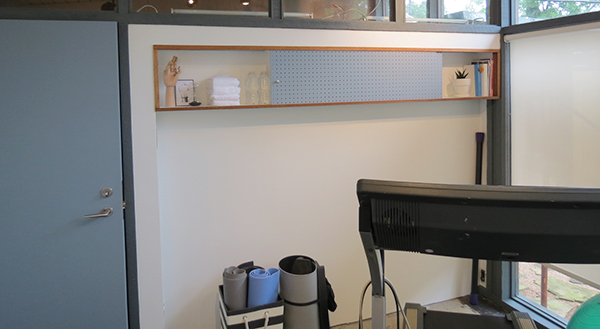 My first choice (below) was really pretty in the can and super fab in real life… but it clashed with the gray trim color and was just too much… too much… of something.  It was was too harsh on the eyes and really stuck out like a sore thumb.  I hated it.  That's the great thing about paint.  There's always another color waiting to go over it.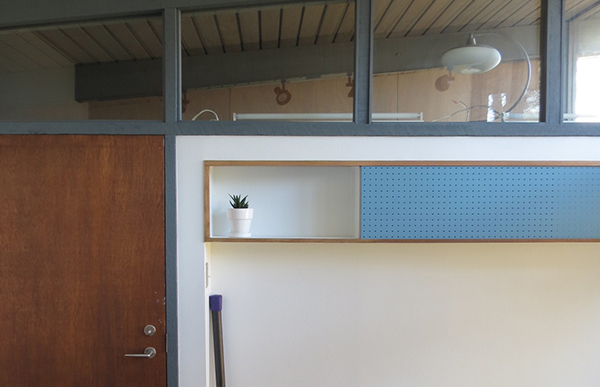 When it came to putting knobs on the sliders I turned to one of our many racks of "cool stuff".  We've been gathering up junk for years that we knew we would someday use, and its always amazing what I can find in our stash.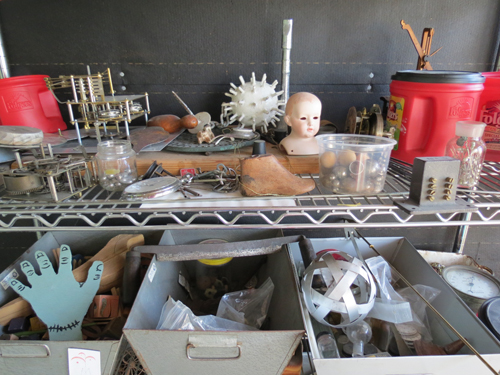 Richie has been picking up old knobs from mid-century furniture for years so I had several to choose from.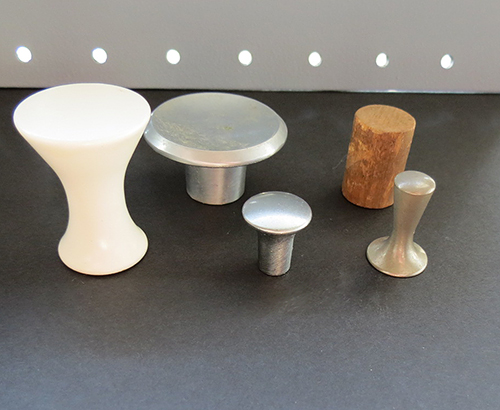 So once I was happy with the color, the old door also got painted to match. I really love wood doors in a house but the laminate was all chipped and the door was in pretty rough shape.  I patched and repaired, sanding and cleaned, and painted that sucker.  It was worth it because it's a solid door (not hollow core) so I really couldn't bring myself to throw it out or replace it.  Seemed silly to me.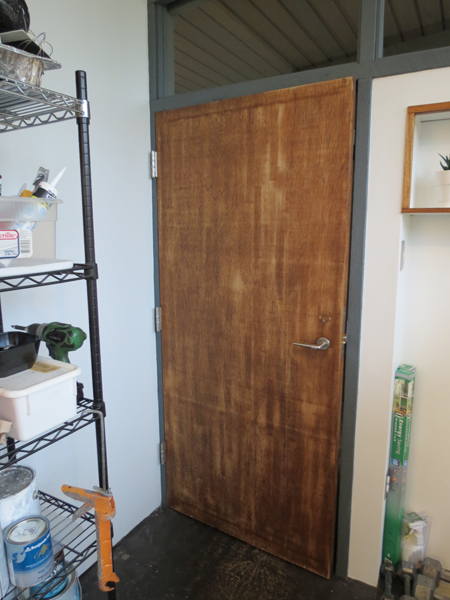 The hardware on this door was GORGEOUS!  I carefully removed it before I painted.
The hinges on the other hand were hideous.  For the life of me I cannot understand why people paint over hinges and hardware.  I'm a stickler for details and that just seems lazy to me.
Check out how nasty the were.  When "someone" stained the doors they just stained right over the
hinges.  TERRIBLE!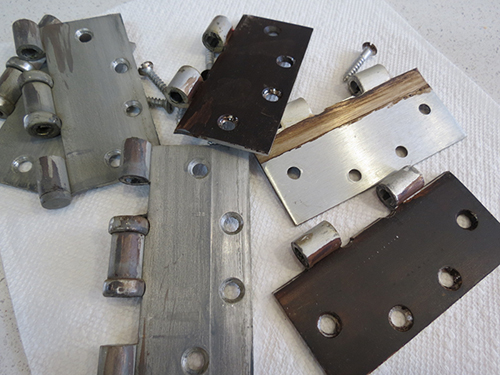 So I put them in a pot and boiled them until the gook just melted right off.  It's a great way to clean old hardware without having to use harsh chemicals or buy new ones.
Richie asked me what was for dinner and I became unhinged!  :-)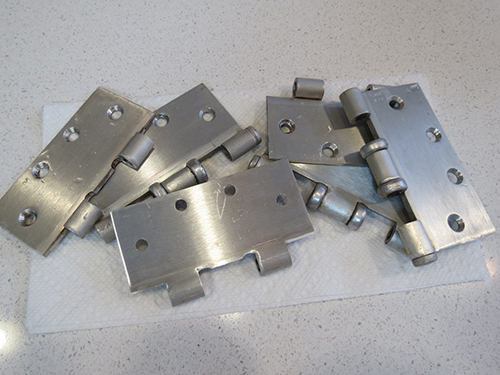 The door gets painted, and the hardware goes back on…..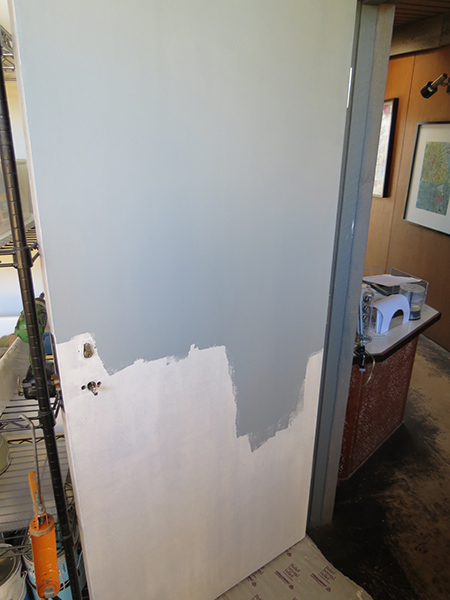 I love the hardware.  It makes me all warm and fuzzy!  Honestly, I only bought this house for this door knob.  (lol)  When I look at this picture I'm totally happy with the color choice.  It definitely works with the gray trim.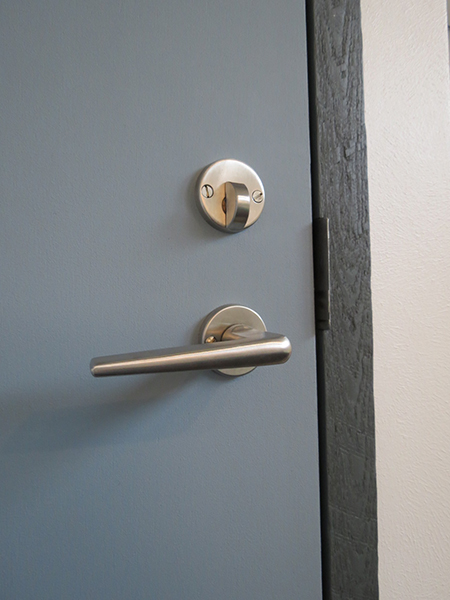 I'm trying to ignore the floor but it's SO HARD TO DO!  It's just yucky!  I know we'll get to it eventually but it does drive me crazy.  And that's pretty much where I have stopped on my work in this room.  After I painted the door and cabinet all hell broke lose at my real job and I haven't been back in there since.  But I guess progress of any kind.. big or small… is always a good thing.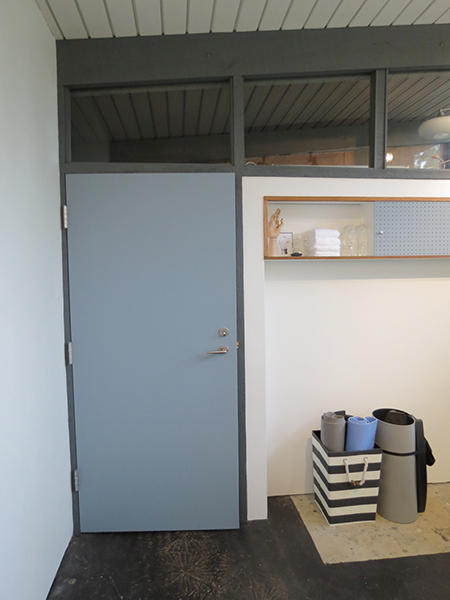 That's not to say that we've stopped doing work around the house.  That never happens!
And we've managed to have some good fun in between.   Since Morrissey ended up canceling his tour the only concert left was Sigur Ros and it was just what I needed after 4 weeks of crazy stress at work.  Sometimes cold beer and loud music is just what a girl needs.
(see concert post here)