The other night Richie and I got into this great conversation about Christmas' past.  He had me rolling with laughter telling story after story.  It was the kind of laughter that makes your cheeks sore and your back hurt.  He's great at making fun of me.  It's the sweetest thing EVER!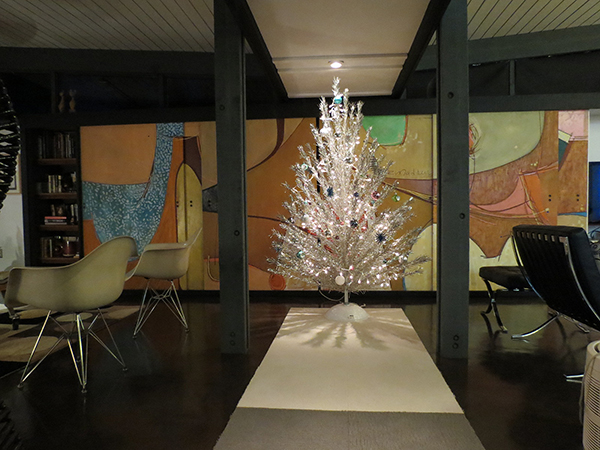 He reminded me of our first Christmas together when we didn't have a pot to piss in. NO MONEY for a christmas tree.  Are you kidding… we had to eat.  My dad wanted me to have a tree so he bought me a gift certificate to go pick one out at a local tree vendor.  I was so excited… but it was dark… and I wasn't REALLY paying attention.  We get home and the damn thing was BEYOND crooked.  No matter what we did to try to straighten it in the stand it was just plain defective.  (poor little tree!)  Richie reminded me that I actually cried over it and he began to reenact  the whole night in all it's crazy glory.  (we're both howling with laughter at this point)  OH MY GOD… was I really that crazy!!!?? Crying over a stupid tree!!  But yes, Christmas had to be perfect and I agonized over it to the point of sickness.  I did this for several years until one year it occurred to both of us (okay, mostly me, he already knew) that it didn't have to be that way.  It was time to change my way of thinking.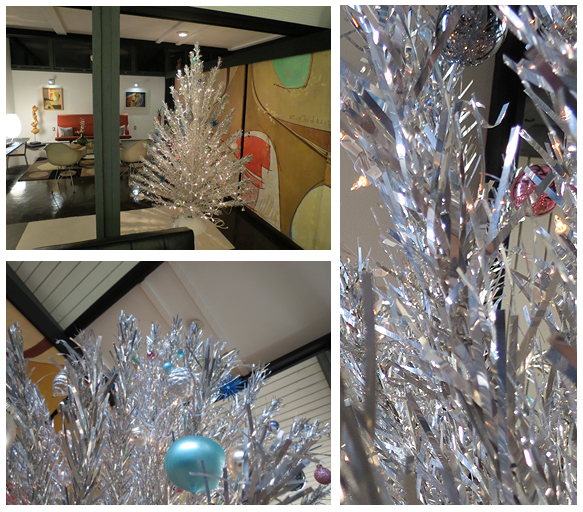 When we ditched our country decor and went all out with mid-century we ended up finding 3 of these fabulous aluminum Christmas trees in different sizes.  Things were going to be easy… simple… less stressful and I was determined to get beyond the craziness that Christmas had become.  A few aluminum branches… a color wheel… and some ornaments and we called it Christmas.  DONE!
And that's how it's been ever since.  We both LOVE the holidays, the time off, OTHER people's decorations and the general beauty of the season… but we refuse to get all worked up about it.  This year is no exception.  Hello you gorgeous aluminum tree!  You're not crooked, and you're so shiny you don't require much else.  You're perfect!
I put it in the hallway (I know it seems weird) but there are no plugs along all the walls of windows so I needed to be close to an outlet.  It worked out well, though.  I can see it every time I walk down the hall.  It's visible from either side of the house and from the front door.  I'm kinda diggin' it there.
But that's not all I did to celebrate the season.  I decided to have a little fun with my chalkboard doors.
I'm a doodler and nothing more… but it was fun!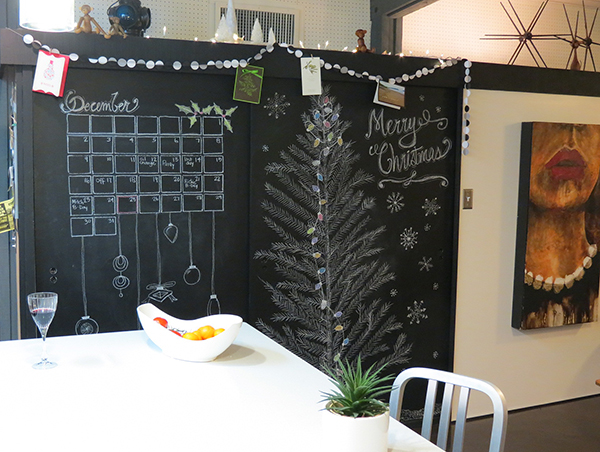 Out came the chalk and a tad bit of creativity.  The really great thing about decorating this way is when it's all over it's SO much easier to take down.  ERASE!!!!  Poof… Christmas is over.  (laughing)  It doesn't get any lower maintenance than that.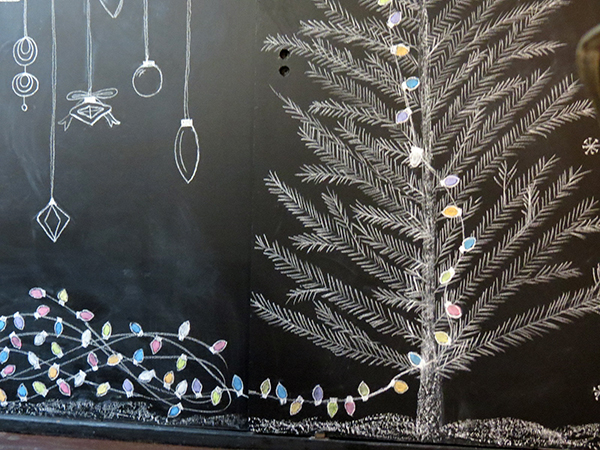 The colored chalk was extra fun.  It goes on so bright it almost looks like it's "lit up".  My hands were all shades of blue, green and purple.  (I'm like a 5 year old)
The truly funny part of all this is that when I was done with my "decorating" I stood back to marvel at my creation when I realized that the damn tree was CROOKED!  Ahhh, some things never change.  At least I'm consistent.  And no, I didn't cry!!!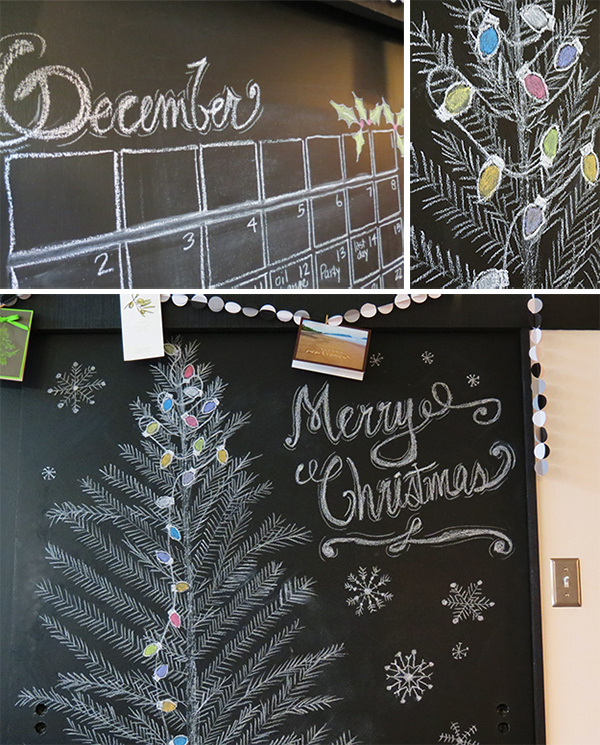 I normally don't have a calendar on these doors but decided to draw one on because when Richie and I are off for so long we forgot what day it is.  I certainly don't want to miss Christmas!  His birthday is the 21st and my brother's the 23rd.  This will help keep me from being stupid and clueless.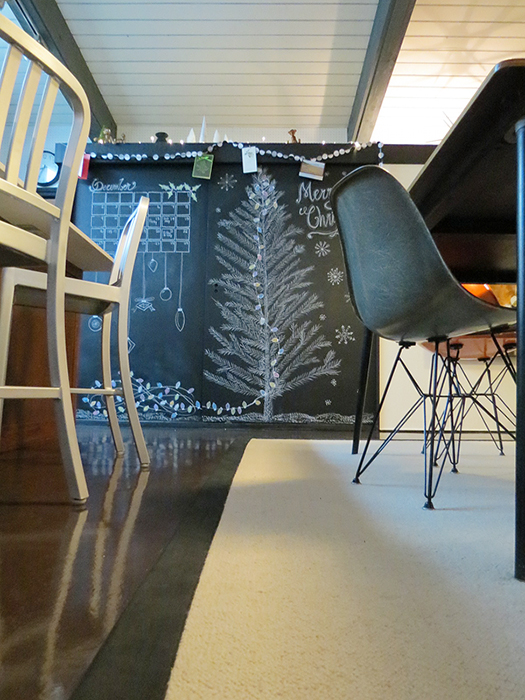 So there you have it.  And yes, that's it.  That's all I do for Christmas.  No stress, no anxiety, no fretting, no crying, and most of all no drama.  Although I guess it sucks for Richie because that also means no crazy stories to retell.  But I'm sure he'll figure something out.  He always does.
Today is my last day of work until the New Year.  I'm super thrilled to have so much time off and look forward to just doing whatever the hell I want.  Sleeping late, baking, exercising, making Christmas cards, visiting with friends and family and hopefully tackling one or two small house projects.  It's my FAVORITE time of the year.  And no doubt Richie will have me laughing most of the way.
P.S.  Okay, I lied.  I did put lights on the outside of my house.  (see blog header!)  Those should be easy to take down.  (giggle)  :-)
Happy Holidays!☃