We pick up where we left off on our Country to Modern journey.  If you missed Part I, you might want to back up and catch up. Our transformation began with the decision to get rid of everything and we did.
(I know, I know… I'm really late with PART TWO. I explain at the end of the post.)
The kitchen was the next room in the house to see changes.  It went though a lot over time.  Kitchens are expensive and we had to do things in stages.  So yes, like the rest of the house it started out a little bit country.  Okay, a lot!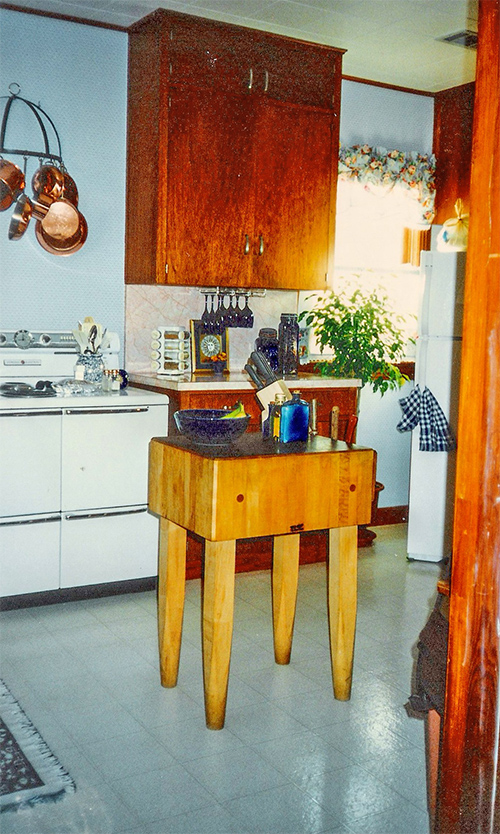 When we moved into the house the kitchen was pretty gross.  I eventually made some changes  by taking off the wall paper and floating out the walls. (It was all paneling behind that wallpaper)  We painted cabinets and did our best to make it more us.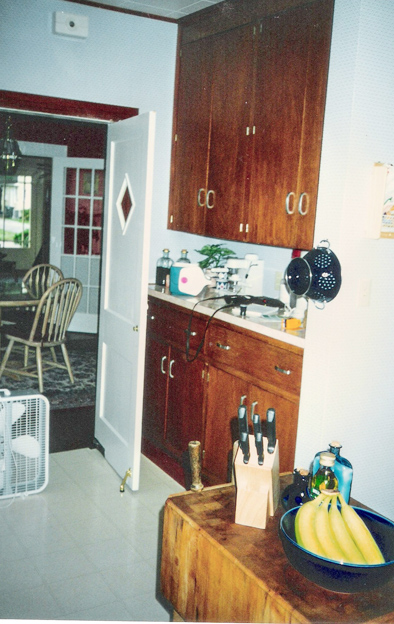 The pink counter tops were always a source of consternation with me but we definitely didn't have new counters in the budget.  That was something I couldn't even comprehend at the time so we just pretended they weren't there.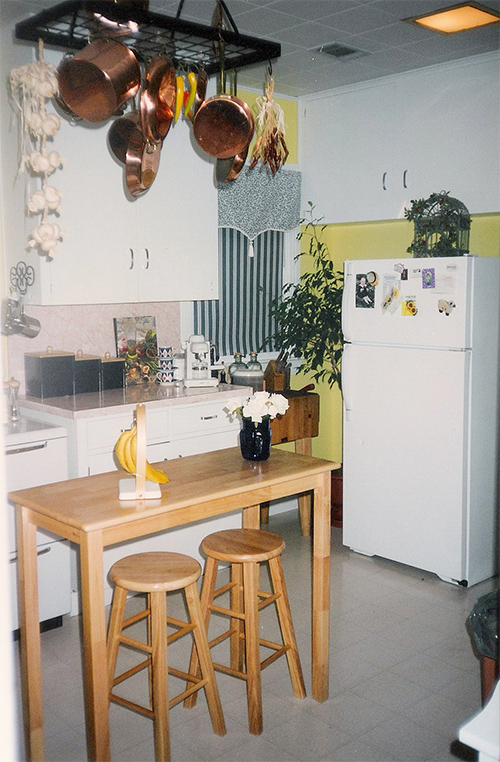 You have to admit the white cabinets were a huge improvement but why the hell I had a bird cage on the top of the refrigerator is still baffling.   The window treatments and shades were all handmade by me.  I created a pattern and sewed them up.   I loved sewing them and the projects I did made a real impact on the space.   Custom window treatments are so expensive.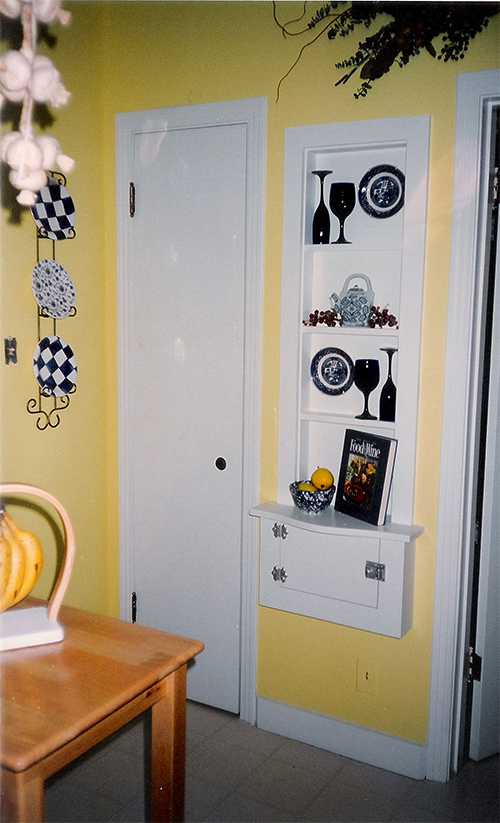 Oh goodness, I was so into blue glass.  That's an old ironing board cabinet I transformed into a little display shelf.  There was a door on the front where the board went and the iron was stored in the box below.   Old houses have cool stuff.   But lets face it.  I was never going to iron my clothes in the kitchen. 
Having a hanging pot rack was all the rage!  I had to have that and the hanger actually came from Ikea.  Funny thing is… I NEVER ONCE used those pots.  They were only for decoration.  HILARIOUS!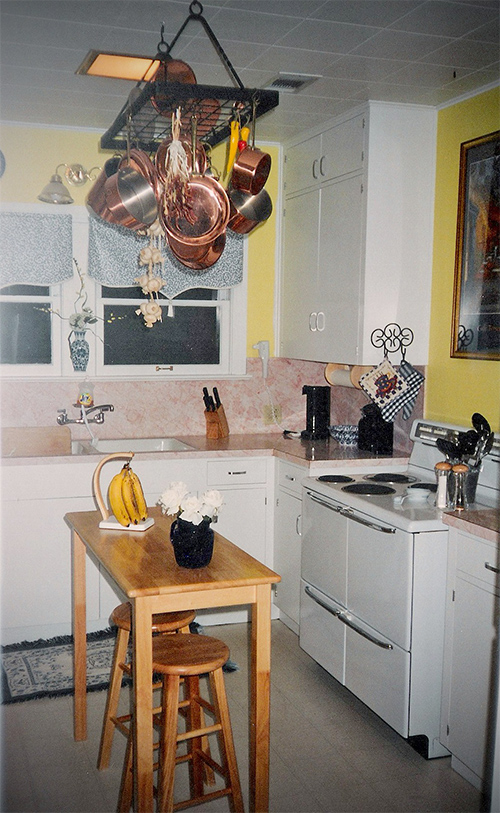 After more and more of the house started to get a makeover it was time to take the plunge and spend some dough.
We replace those pink counters and pulled up the sheet linoleum.  I special ordered some beautiful gray slate tiles and laid them myself.  It was a big job but it made the most impact.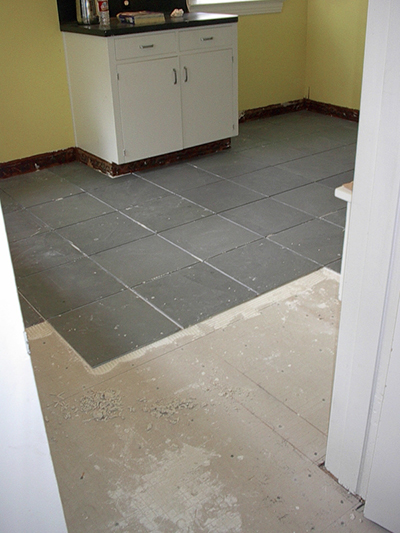 The kitchen was now more our style and I'm convinced helped up sell this house in 4 days flat!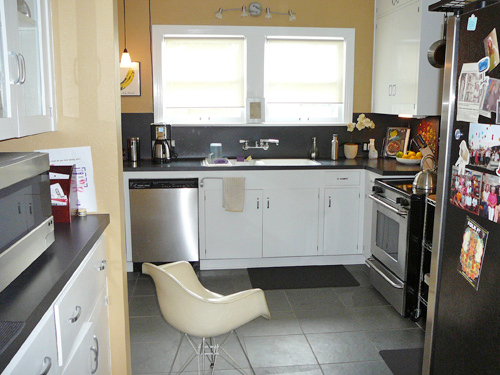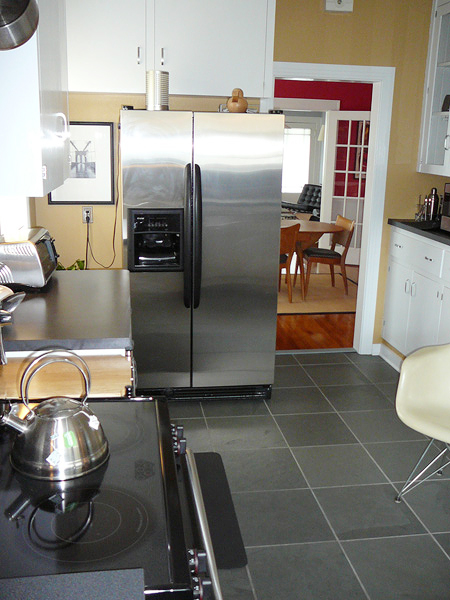 Now that I see these I really miss that floor.  You can see also how we added glass fronts into the cabinets below (compare to 2nd picture).  It was the perfect spot to display all my Russel Wright dishes. New track lighting, black counters, a new paint color with some stainless appliances and it was starting to feel right.  I loved this kitchen because it had so many cabinets.  We had some that were completely empty.  Compared to what I have today this space is HUGE!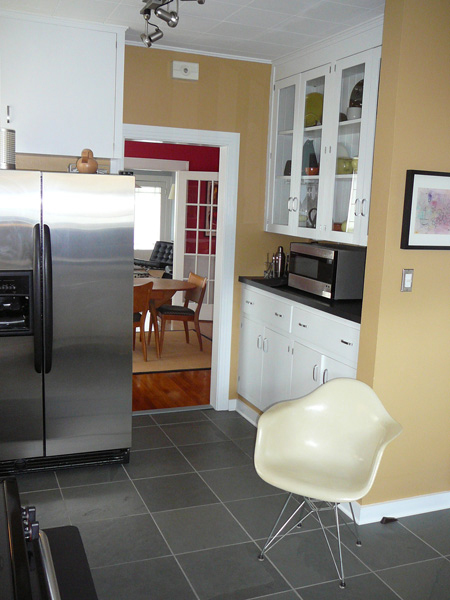 The laundry room was right off the kitchen and we continued the slate tile into that area as well.
The country wall paper and outdated space became really clean and modern.  Doing laundry became much more enjoyable.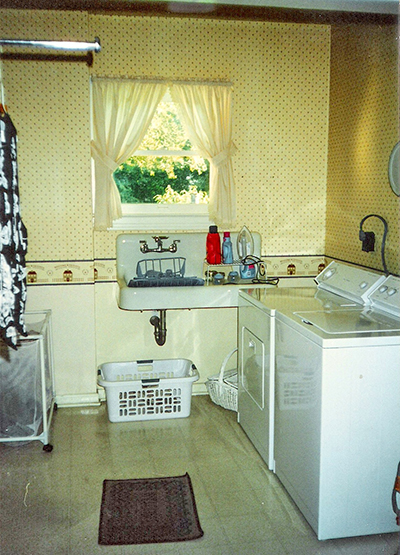 I had to keep that fabulous old sink.  It was awesome. I also have to cringe at the sight of that huge tank water heater! We currently have an on-demand water heater and it hangs on the wall and is the size of a small briefcase. I'll NEVER go back!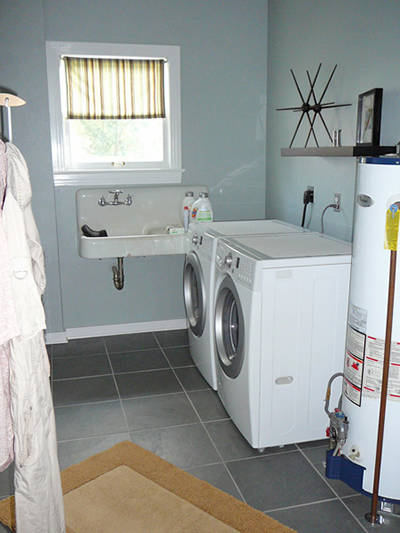 I sometimes can't believe we just dumped everything and started over.  It was a little scary but SO exciting.  I honestly can say that having a home with less clutter and more modern streamline decor makes a real impact on your every day life.  Or maybe it's just finally getting what you want and knowing you did the right thing.  Just feeling like it's YOU and not what you thought people wanted you to have. 
Little by little we ditched the country and made each room a little more modern.
The bedroom had a big sleigh bed and handmade armoire (by Richie's dad)  Now we have two of these modern platform beds made by Richie and his dad.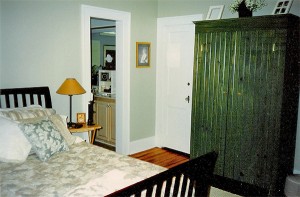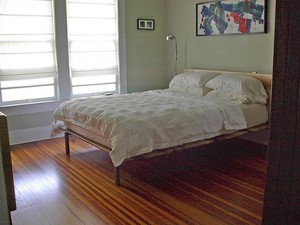 Even the bathroom was an explosion of dried flowers and wallpaper.  Every detail had to match.  I remember fretting about making sure I found fabric for the windows that matched the wallpaper and the swag I had placed on the back of the toilet.  I cannot lie.  This sort of makes me cringe!  I did love that hex tile, though.  Good times!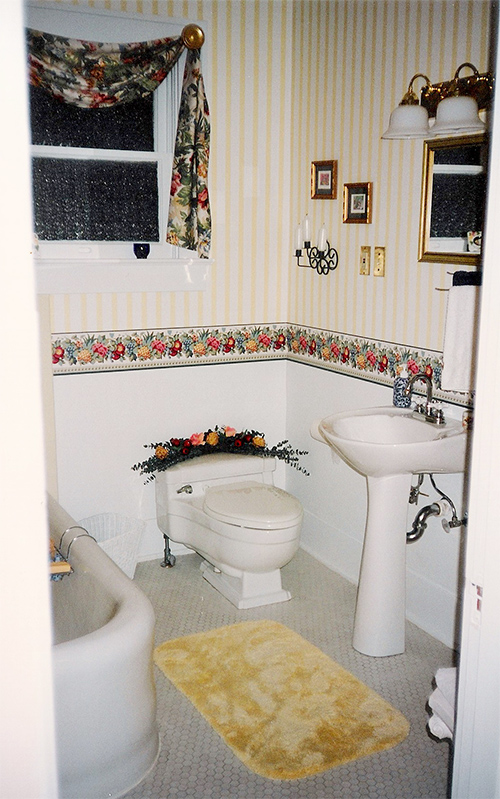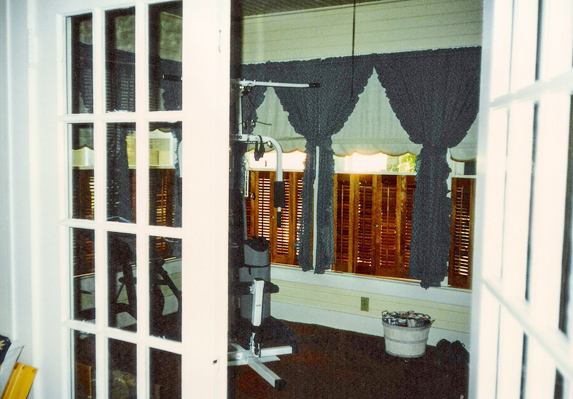 The old sleeping porch became my office area.  Getting rid of all those heavy (and hideous) window treatments made a huge difference in lightening up the space. All hail to the country scalloped edges!  NOT!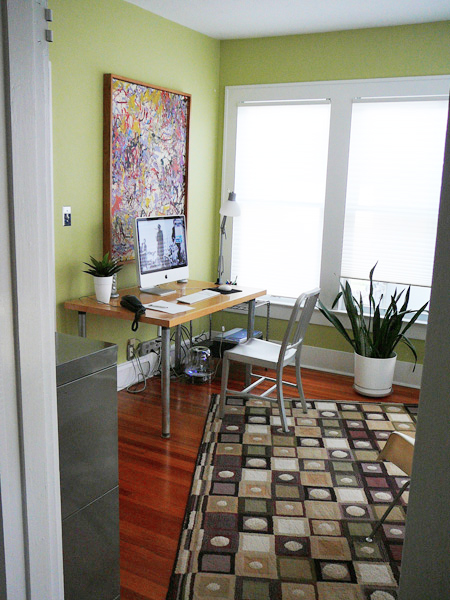 Of course the outside of the house got a face lift too.  It was always a very pleasant space to hang out in.  We lived out here.   We painted the outside a lovely shade of gray and really worked hard on the landscaping.
BEFORE: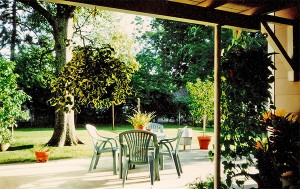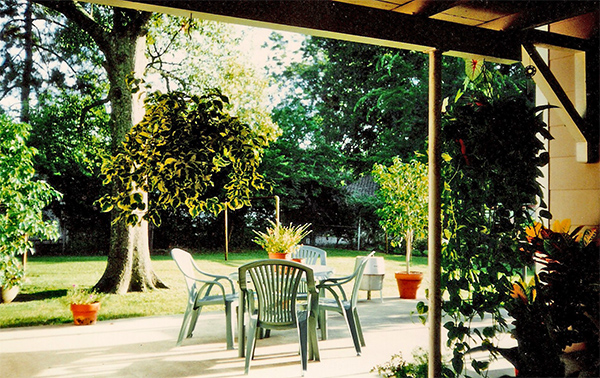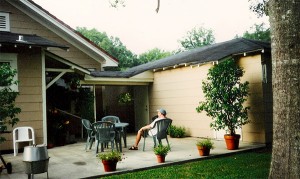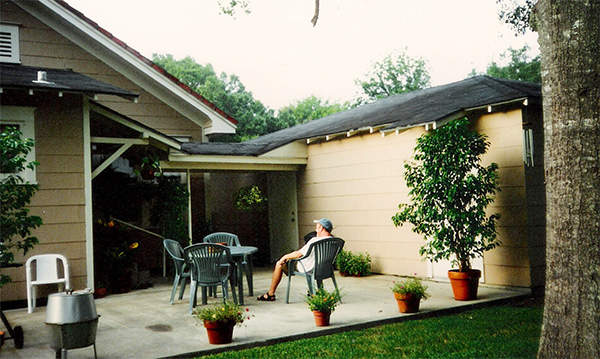 AFTER:
The only picture I could find of the front was after a snow.  But you get the idea.
BEFORE: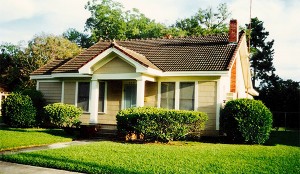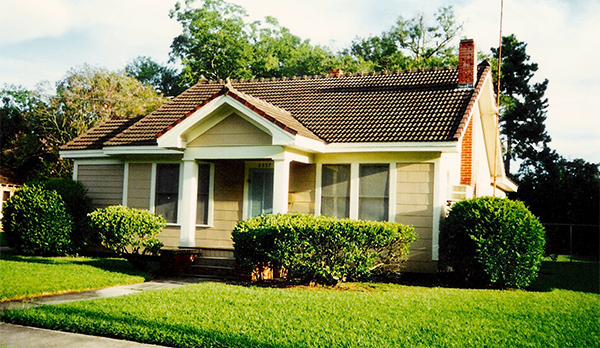 AFTER: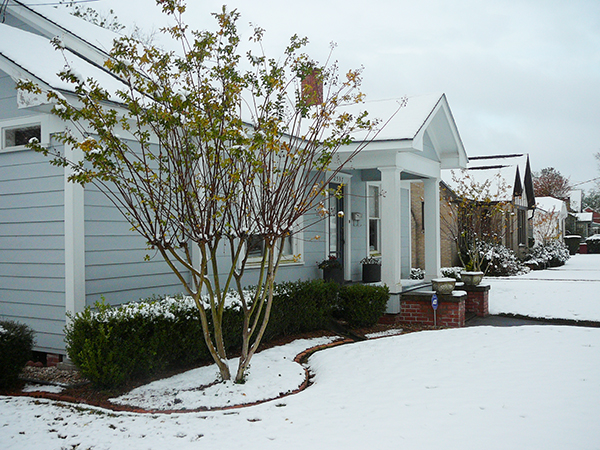 So now you know I was telling the truth.  I was a little bit country.  Okay, more country than I'd like to admit but it wasn't jiving with who we were as people.  I'm happy we found our STYLE and ditched it all.  It was the best decision ever.  It's also been great fun, over the years, hunting and searching for the things we really wanted.  A desire became a love and a new way of life.  It's never too late to get exactly what you want.  And now we're coming up on Year 5 of our modern renovation of our Goode House.  It's  still an ever changing, always exciting experience.  Thanks for being along for the ride.   And thankfully it's not a ride that involves a cowboy hat or horse….. or lace curtains and copper pots. YEE HAW!
UPDATE:
I actually started working on this Post February 18th and just could NOT get around to finishing it due to real life kind of crashing down on me. (I feel like I say that a lot! HA HA!)
I had mentioned in an earlier post about having some trouble with my back and how terrible it had made me feel. Come to find out after doctors visits, MRIs, and a trip to a Neurosurgeon I have a severely herniated disc that has cracked, leaked and is pushing outward on to my Sciatic nerve. The pressure on the nerve has caused my butt, leg and foot to become numb (hopefully not permanently… but without relief so far). It has made every day tasks almost impossible and has altered my life dramatically. I am now mentally preparing myself for the inevitable surgery that will most likely take place in April. I am scared to death! Of course I'm sort of a wuss when it comes to my health, so that's nothing new. So keep me in your prayers for a good outcome and a path back to a healthy lifestyle. I'm fairly certain the insane things we've done while working on this house over the last 5 years have contributed to this condition. My advice: Hire someone, or do it in your 20s!
As if that weren't enough… in the middle of all this madness…. I get approached with a job offer to take a position with the University I work at, to become a web editor for their campus website. Yes, it totally freaked me out! The thought of leaving a job I really love was heart-breaking but the opportunity to work full-time doing web work and a very lovely raise was too tempting. Thankfully they seem perfectly okay with waiting for me and holding the job until after the surgery. (which says so much!) I can't really think of a worse time to be making such a big decision. It's times like these I hear John Lennon's song "Beautiful Boy" and the lyrics "Life is what happens to you while you're busy making other plans".
So I'll keep you posted. And if I have surgery (which I don't see how I can avoid) it will mean I'll be out of commission for a while. Then, if I take a brand new job, it may mean a real change to this blog or an end to it. I hate the thought of that… but maybe it's time. Again, I'm being dramatic, as usual. But I'll keep you posted.
Many thanks to my dear friend Natalie over at Nat and Gang who has been there for me through all of this back business offering love, support and the kind of caring that seems impossible to find in a friend as you get older. She's a doll! And that woman can SEW like nobodys business. See her talents here >> NAT AND GANG
THANKS, NAT! xx