I don't know about you, but I'm always happy to get the holiday decorations back in their boxes. It's all so pretty when you put them out but when they come down you really appreciate your home just as it was — clean, simple, uncluttered. Okay, that made it sound like I'm the queen of keeping things clean and organized which couldn't be further from the truth. But it does feel good to get back to "normal" (whatever that is).
Of course that meant moving things around again and freshening up our space. The large glass dome (cloche) I pulled out of the attic to decorate for Christmas is definitely staying in the den. I love how pretty everything looks under it so I'm going to having fun changing up the items under it from time to time. I decided to go with a wood theme to start things off.
I can't tell you how much fun it is to dig through the piles and piles of things we've picked up over the years.  One day I will have to take you on a visual tour of all the weird and wonderful things we have.  I never have to shop for home accessories, I just head out to the shed.  Hilarious!    "Honey, I'm going shopping in the shed".
I gathered up a few really cool wood pieces and included an old banister piece, a wooden "egg", a vintage wood croquet ball, and some kind of pick.  I guess it's an old ice pick.   The wood on the handle is fabulous!  Each piece is old and possesses a patina that only time will gift you.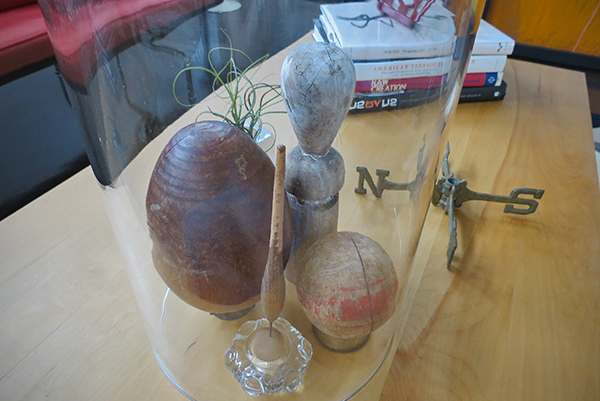 Most of the pieces needed a base so they wouldn't roll away and so of course I "shopped" for old parts that would make interesting stands.  I used an old metal gear, a clock part, and a piece of a chandelier.  I had endless options. The piece next to the cloche came off the top of an old weathervane.  Collected junk.  Great fun!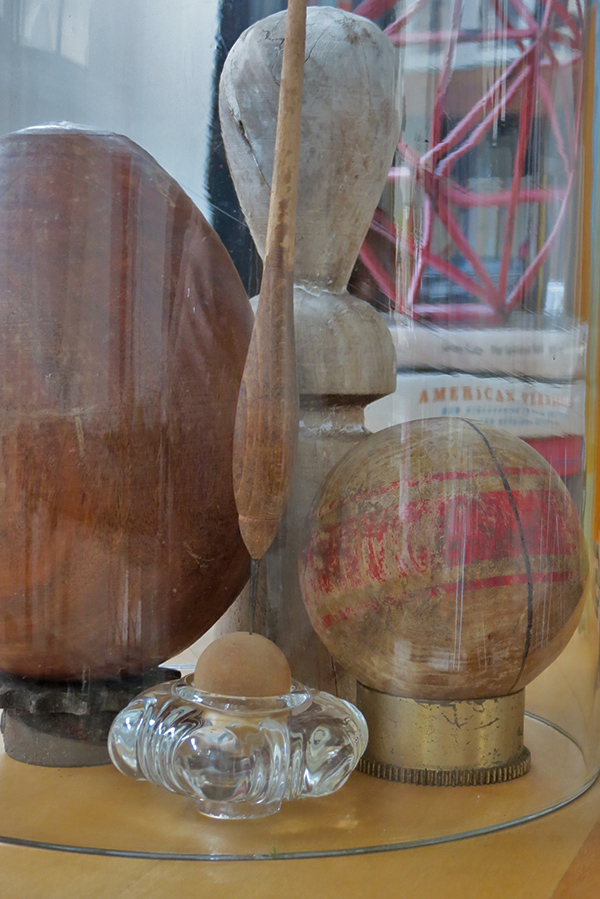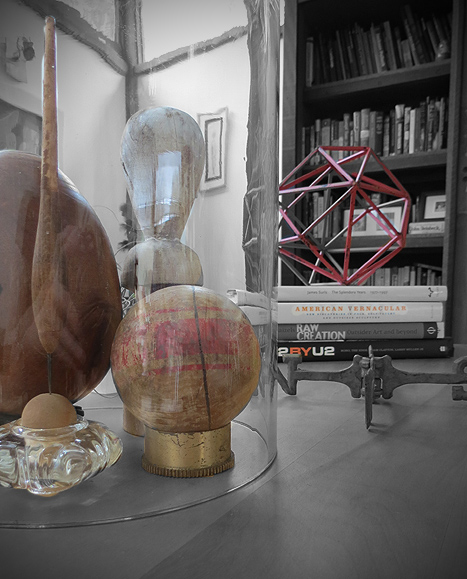 Freshening up also meant some pretty petals for the week.  Fresh flowers this week were Alstroemeria, Gerber Daisies, and White Roses.  The market definitely showed a change since the holidays.  Not much to really choose from.  I'm aching for some purple iris.  Maybe I'm just aching for Spring.  I tend to do that in January… when the new year hits.  I wish for warm weather and the first sign of Spring.  This is a good start, though.
Commonly called the Peruvian lily or lily of the Incas, Alstroemeria are almost always available at the market and they last a long time.  I mixed in some pink Gerber daisies and dropped them in to a simple glass vase.  Made me smile!!!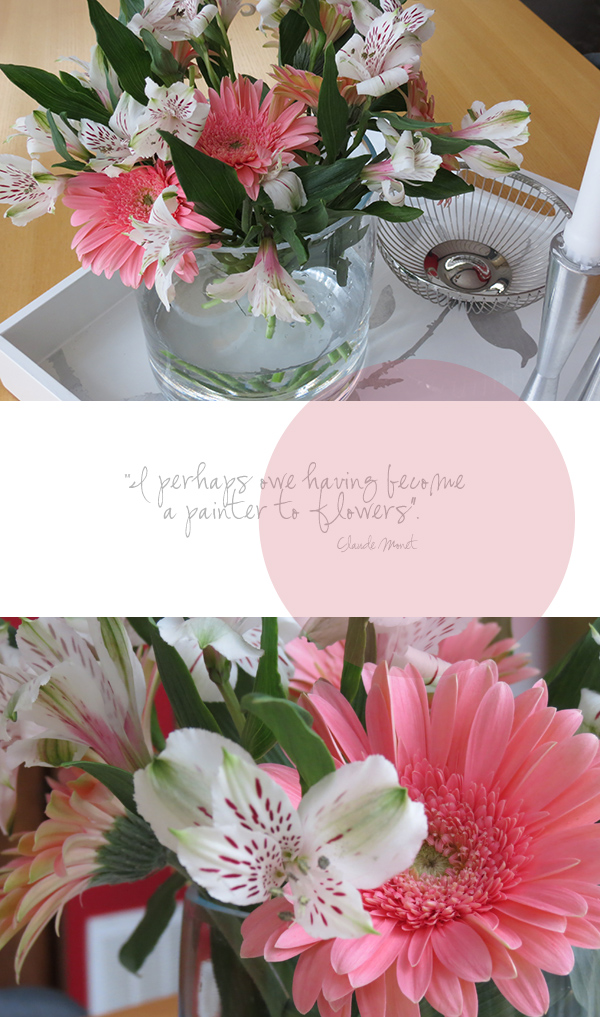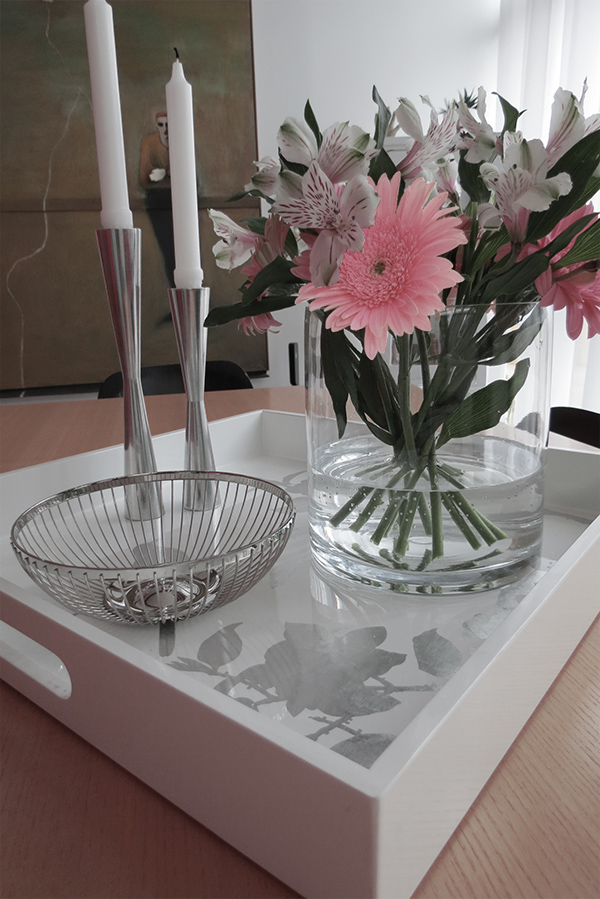 I'm a sucker for white ANYTHING, so white roses buds make me especially weak.  I wasn't going to ALLOW them into my basket… but they insisted!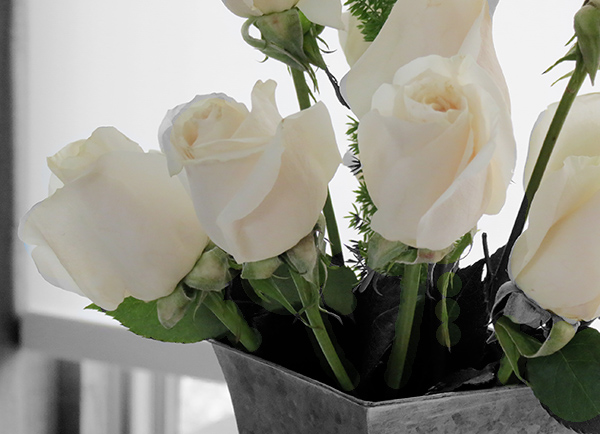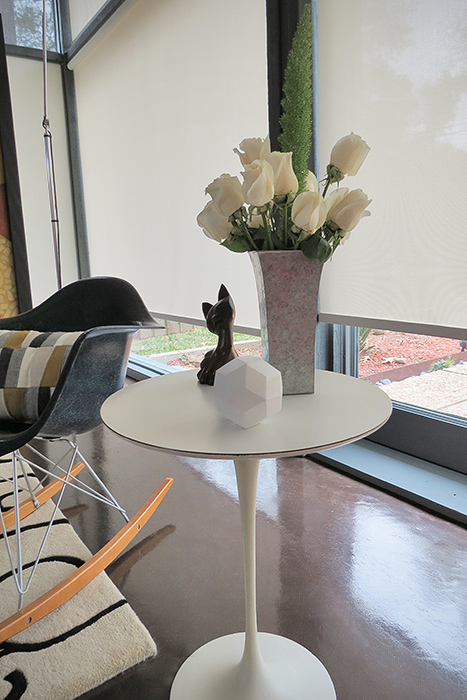 While most of the world went back to work this week, I was home, enjoying one more week off work and a chance to just relax, refresh, and enjoy my home.  I hate to see it come to an end.  It's so hard to be off for that long but I'm ready to get back to the "real world".  I did get a few home improvement projects done that I look forward to posting about in the next week.  I have a few more things to wrap up before I post photos but we did make small strides.
Happy New Year to you all.  Here's to fresh starts in all ways!