Have you ever run across a design trend that just knocks you over and you don't know why? Then it just sticks with you no matter how much you resist being "trendy" and you can't let go? It has definitely happened to me and I've been fighting it for over a year now. I decided to just give in and get over it…. and apparently that is SO MUCH MORE FUN!
I'm talking about this whole design cross trend. Or maybe it's called Swiss Army or Swiss, or Red Cross or what I like to call design cross. Lets face it, we've all seen this symbol and I'm sure something immediately comes to your mind when you see it. The Red Cross, the Swiss Flag, Swiss Army watches, First Aid, … maybe all those things. I just think it looks cool because it's very graphic and somewhat industrial. It's simple and it says so much.
Here's a sampling of how the design cross is being used in today's interior designs. I totally dig it!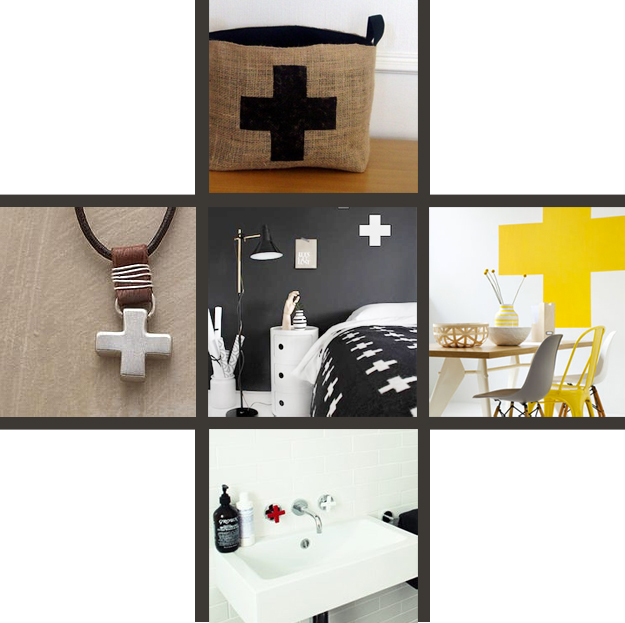 + bag, blanket, faucet, jewelry, wall +
Of course now that I've "gotten over myself" I could end up with crosses all over the house! I may need FIRST + AID before it's all over.  Lets ease in with a pillow.  Hummmm, that'll work!
I had some left over linen because I usually keep it around to make home decor.  It's so soft and I love the texture.  It works for everything.  I also always have felt in many colors, especially black, so this was one of those easy projects that took less than 30 minutes.  (the kind I like.. quick and easy).  I used photoshop to just draw out a perfect little cross then used the paper like a pattern to cut the felt.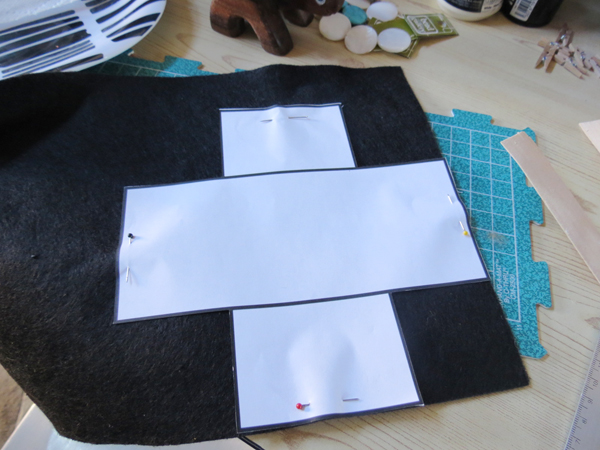 The pillow form I had was 16×16 so I cut 2 squares from linen and then pinned the black cross to the center of one square and carefully sewed closed to the edges.  I actually love to sew and use to sew all my clothes, especially skirts and dresses.  Before the internet tall people were just shit out of luck.  I can't thank my mom enough for forcing me to take home economics in high school. "Oh how dorky… I don't want to do that".  I also didn't want to play the flute, tap dance or play tennis, but I ended up making my clothes, was first chair in the band through school and went to state finals in tennis.  THANK YOU MOM!  (okay, that was off topic.  moving on…..)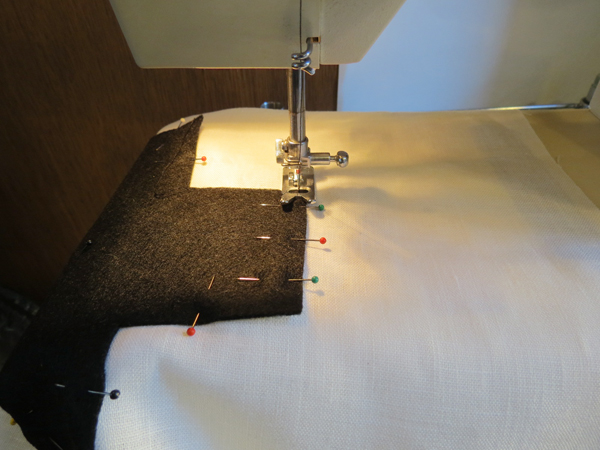 Here's the front and back of the panel after I finished sewing.  I then put the front sides together and stitched a 5/8″ seam around leaving a small opening for the insert.  I usually like to use zippers but didn't want to fight the BLACK Friday shoppers at the fabric store.  It's seriously insane.  Richie voted NO on piping around the edges – so this project went FAST!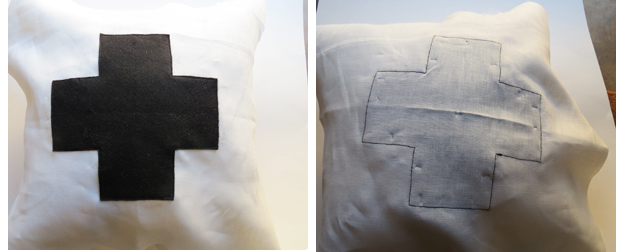 I recently saw a pillow with this design cross on Jonathan Adler's website selling for $98.00.  WTF!  Okay, it's probably really nice, but this one cost me $14 and it was way fun.  Now Richie wants me to do some REALLY big pillows for in front of the TV.  He has his own design ideas about that.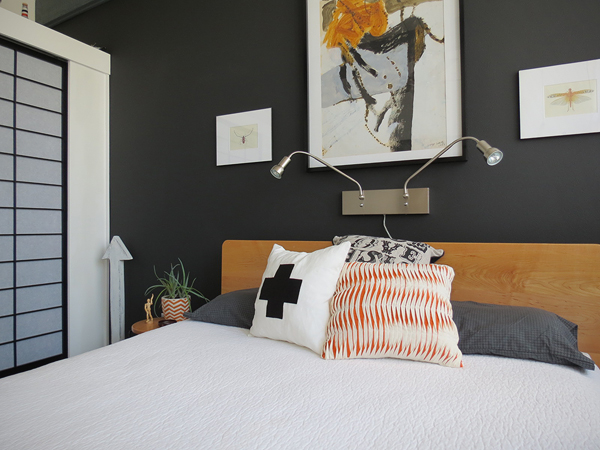 The big problem for me is when I do something like this I end up loving it and don't know where to put it.  Guest bedroom or living room?  See… I will need FIRST AID.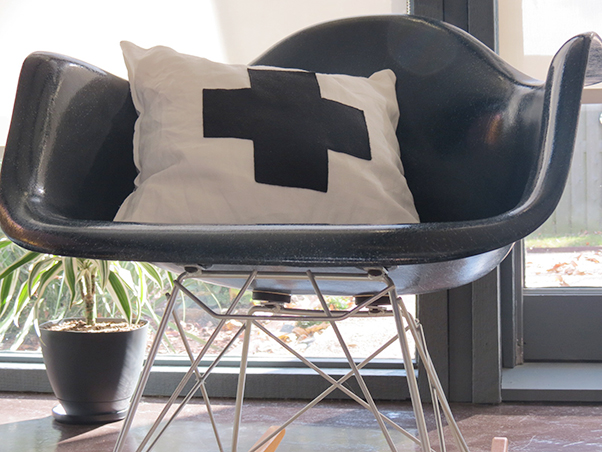 I do have a few more pillow projects in the works.  You can see the fabric I'm using next on my INSTAGRAM PAGE here on the site.  It's the orange and gray mod stuff.  I'm thinking a button in the middle and some piping on the edges.
SO that was FUN… and I may have to make a cross necklace or some dishtowels or some place mats, or just paint a big cross on the fence in the front yard. Now that would get my neighbors talking. Or I may get a few ambulances pulling up in the driveway. Hey, I know CPR!
Thanks for reading. I hope everyone had a wonderful Thanksgiving. I only have 3 weeks left of work and then I'm off until the new year. OMG, MORE CROSSES!