This morning my alarm went off at 5:00 a.m. and it was a reminder that a week ago today I set that alarm to prepare for my surgery.
It's crazy to think that a week ago I was headed to the hospital to have spinal surgery. Surgery is a trippy thing to me because basically it's something I elected to do. Oh yes please, cut me open, drill a hole in my spine and cut my disc…..that sound like a hoot! Sign me up! Insanity.
Since so many of you have emailed and sent texts I thought I'd just do a post and share this very personal experience.  And let's face it I have lots of time on my hands so blogging about anything is like a major event!
After arriving at the hospital I was taken to a pre-op area where I was placed in a sexy hospital gown with a very revealing slit up the back. Too bad my hair and make up team never showed up or I would have looked fabulous. Especially after they hooked me up with some super awesome compression stockings and slipper socks. Then the interviews started. It was so Hollywood!!! Question after question from the two nurses assigned to me. They were fabulous ladies by the way! I didn't make it easy on them though. My veins were still at home in bed and weren't quite ready to be poked with needles so it only took SIX tries to get the fucking IV in. Hello! That hurts.
There were distractions, though. While one nurse was fishing for a vein I was greeted by not one but two very young and hunky anesthesiologists. Sorry but these guys looked like they stepped off the set of greys anatomy or something. (Or maybe GQ). Sorry, I'm a pig…..
It's very weird to sign papers that say you are aware that you could die, etc, etc. I hate that part. What a downer. The hot doctors assured me they'd take good care of me. I was totally convinced. Where do I sign. Ha!
The little area began to fill up with family and then the OR nurse came in to comfort me while another specialist hooked me up with all kinds of wires to my elbows and ankles. I looked like a cyborg. Once the surgery would start they'd insert needles into my muscles and an electrode on my head. All these would monitor the nerve activity as the surgeon worked. Since the pain was being caused by a pinched nerve it has to be moved around and these keep track of normal levels so there's no damaging any nerves. Pretty awesome.
Then came the cocktail. A little juice into the IV and I was feeling fine. I remember the nurses pushing my bed out of pre-op and the lights in the ceiling going by one by one. I entered the operating room and began blabbering with the staff. I saw a jam box and speakers and asked if they'd be listening to music while they operated. They asked me what I'd like to hear and that was the last thing I remember. I'm hoping they totally rocked out… Maybe a little Hendrix!
I woke up in recovery to the nurses talking about their insurance agents and one of them was mine. I quickly joined the conversation like I knew exactly what was going on. They giggled at me and said " yep, she's back and doing just fine". Those are comforting words because you have no idea if you would be coming back or where the hell you've been for that matter. Anesthesia is a scary and weird thing. I wiggled my toes just to make sure and everything seemed fine. It was immediate relief. It was over.
They wheeled me back into my room and began the usual vitals, cortisone, muscle relaxers, a pain patch on my arm, and hung bags of good stuff on the IV cart. They also wrapped my legs with compression cuffs that squeeze and release each leg one at a time to reduce the risk of blood clots. It was loud and annoying but who wants a blood clot, right?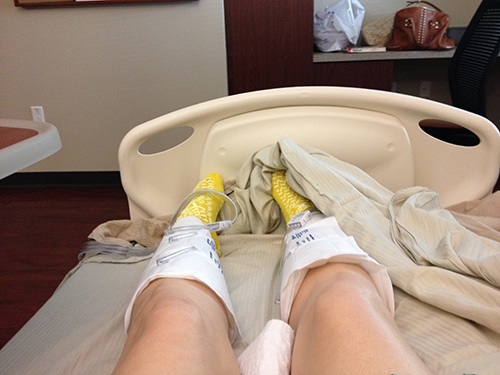 Just when I was getting comfy they hit me with a breathing treatment that would keep my lungs open to reduce the chance of pneumonia. That shit was awful. It made me shake like a leaf and my heart rate went through the roof. I guess it's kind of like primatene or something. Not enjoyable.
At that point I was wide awake and super alert. Then three chefs entered the room to take my lunch order. I have to say that I told them I didn't need the chocolate cake but they insisted (wink). So basically less than an hour after surgery I was enjoying an amazing piece of layered chocolate cake. I knew at that moment this was all gonna be okay. The dinner meal was equally good and prepared just like I would at home. The food was so delicious. Such a nice surprise!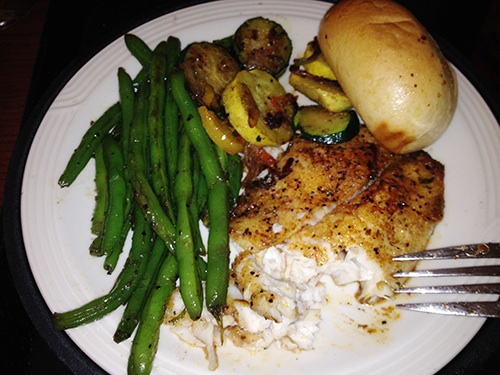 They had me up right after lunch to walk around and use the restroom. It was really amazing to walk with absolutely no back or leg pain. It's been months since I had no pain. Like a miracle…. It was gone.
They released me by 10:00 am the next day and I told Richie on the way home that the hard part was just about to start.
I began experiencing horrible nausea and dizziness. I couldn't keep my eyes open. The only thing I was on was a pain patch so I googled the thing and realized it was an opiate which could most definitely cause such symptoms. A call to the doctor confirmed it and he let me remove it. After that I started feeling more like myself and only had to take some aleve.  My sweet little girl was right there with me.  She never leaves my side. (Or rather my lap)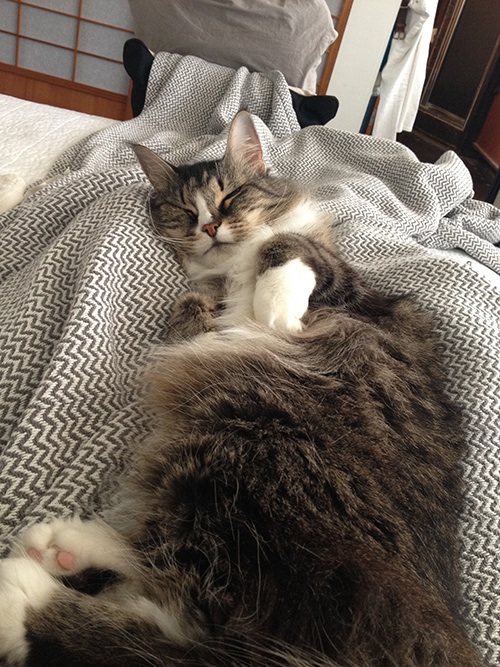 I'm thinking she is actually enjoying my "recovery".
After one week of healing I can say ( with fingers crossed) that I'm doing really well. I'm moving around a little like a robot because I can't bend or twist my body and can't lift, push or pull anything. That in itself is more difficult than you might think. My biggest complaint is the stiffness that come from being so sedentary. Richie was laying on the bed and the phone rang. He rolled over and leaped up like magic. I was so damn jealous and can't wait for the day I can do the same. We take our bodies and health for granted sometimes but I know I will appreciate every move I make from here on out.
So did it work? I'm only a week in but my answer is YES! It worked.
I'm so grateful to have had access to a skilled surgeon and a wonderful hospital. I'm one of the lucky ones who woke up and the pain was gone. I thank God for that.  I even got a get well card from my doctor and all the nurses who cared for me. (Pretty good hospital PR, huh?)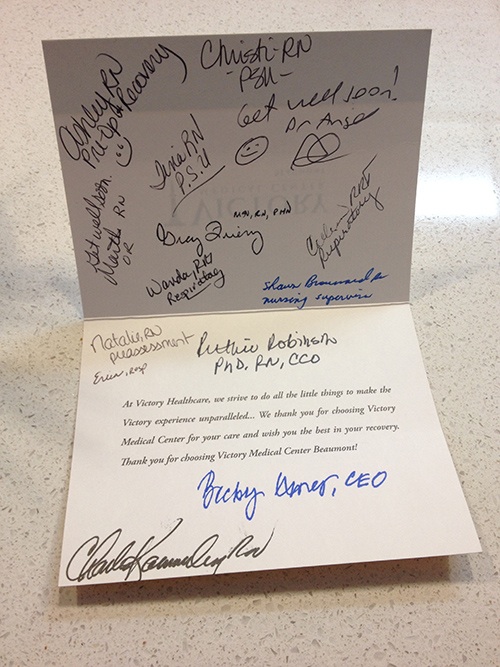 I also thank those of you who sent emails, texts, prayers and love. It worked…. And I'm on the road to recovery.
A special hug for my sweet friend Natalie all the way in Canada who sent me these beautiful flowers.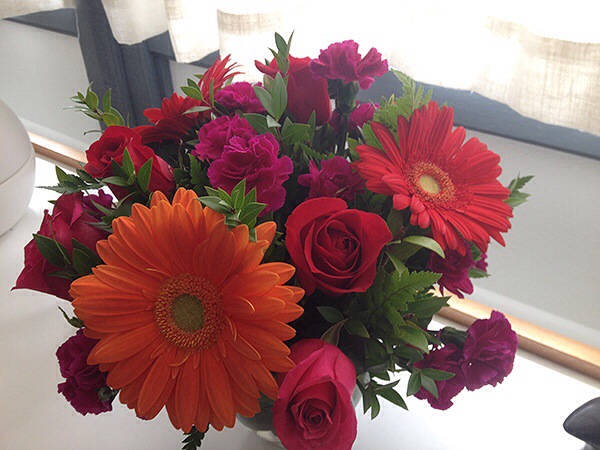 Meeting so many bloggers from all around the world and developing such lovely friendships has been the very best part about blogging. A pretty renovated house is great but sweet and special friends make life beautiful!
Thanks to all my lovely friends. We may never meet in person but you all mean the world to me.