It's been so nice taking a much needed break from renovation work.  The holidays were very restful and Richie and I enjoyed our weeks off.  I've decided that I really would love to be a "stay-at-home" chick!  I won't go into all of it because… well… it's freakin' OVER and without coming off as a grouch I'm happy it is.  The holidays stress us out and we are always happy to get through it.  (I know, I know.. cranky ass!)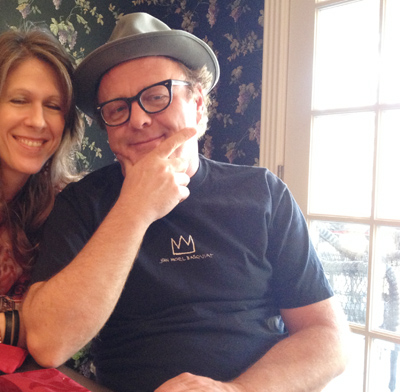 With three weeks off during the holidays I found myself getting pretty bored near the end.  I'm use to going full speed and always having something to work on.  So much for the "resting".  I couldn't stand it any more… I happily got back to working on this house.
Since the world didn't end on December 21st I knew the exact room I needed to get started on.
MY WORKOUT ROOM!  I thought if the Mayans were right all those pounds I had gained since we bought this house wouldn't matter… but we're STILL HERE and I just feel like a blob.  It's time to get serious and having a workout space that is not only motivating and pretty… but one that calls me to it each day…. is just what I need.  So if I'm going to work out it was time to WORK IT OUT!
One of the main reasons we bought this house was because it had an extra 600-700 square feet of "play space" in the back.  This studio or office space was built about ten years after the house and the architect (Rex Goode) built it to run his architectural business.  It was meant to be an office space complete with a small waiting room, reception desk, sink/kitchen area, a bathroom, and of course his main studio for drafting.  We knew it would be perfect for all those extra little hobbies we love and it would be a place we could "shut off" from the rest of the house and nobody would ever know it was back there.
At the end of our hallway is a door.  Behind that door is our FUN space.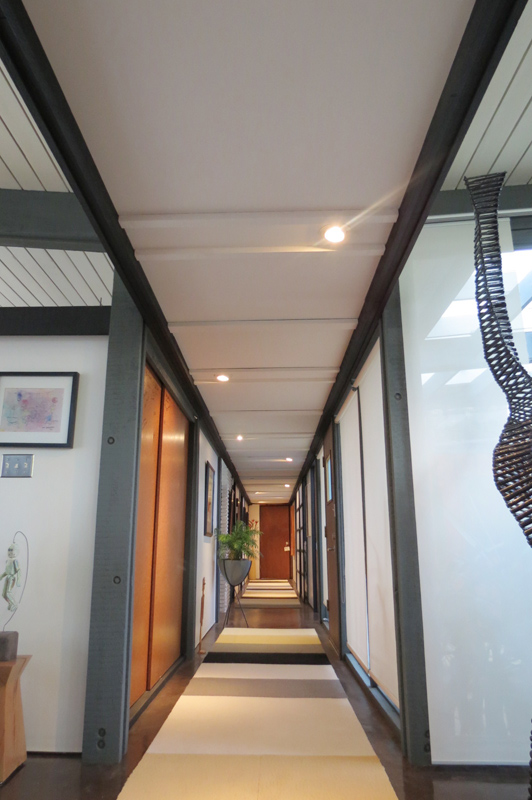 So lets get started!  Well, whether Richie is ready or not… I'm motivated and getting back to work.
This space is REALLY rough so it needs lots of love.  The entire space (the entire house for the matter) was all paneling.  Although it looks okay in pictures… it was in pretty rough shape and I'm NOT a big fan of paneling unless it's super nice!!  As we began to take down the paneling we discovered that some of the walls had sheetrock behind them.  This was FABULOUS news, as the rest of the house didn't.  It meant we would NOT have to hang new rock in every part of this space.  YAY!  The bad news was that once the paneling came down the sheetrock was in really crappy shape.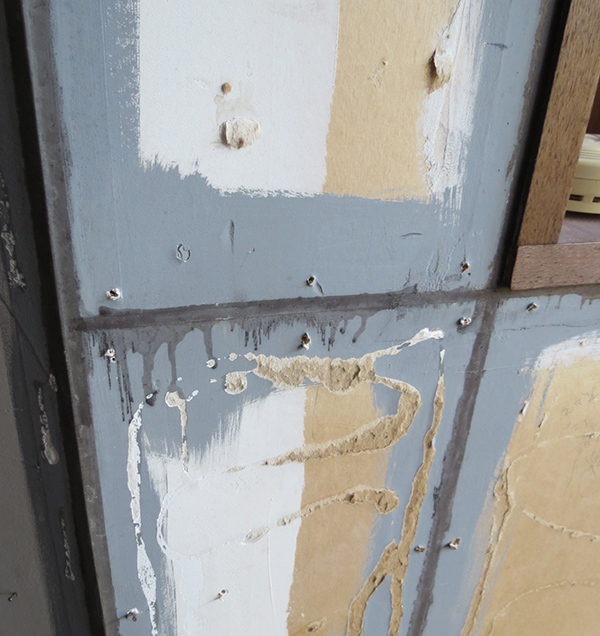 Yes, I'm actually going to keep this.  It's gonna be great!
When you walk through that door at the end of the hallway, to the right is this room which will be my workout space.  Through that door you see on the right you go into a small hallway where you see the receptionist desk (yes, I'm the receptionist in this house).  keep going and you hit the drafting studio.
Take a left at the receptionist desk and it winds back around where there's a bathroom and the sink/kitchen area  — which you can barely see on the left.
I first started by putting a skim coat over the walls.  Some of it didn't require complete coverage but others did.  I did two coats, sanded them and then did a light crows foot texture to hide any imperfections.  I'm good… but not that good.  HA HA!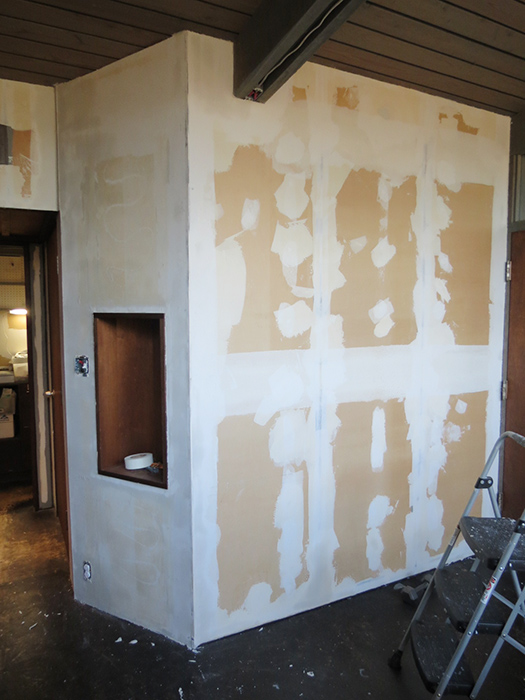 The little cubby hole was used for a public telephone but I'll use it for some sort of artwork.
It also got sanded and painted.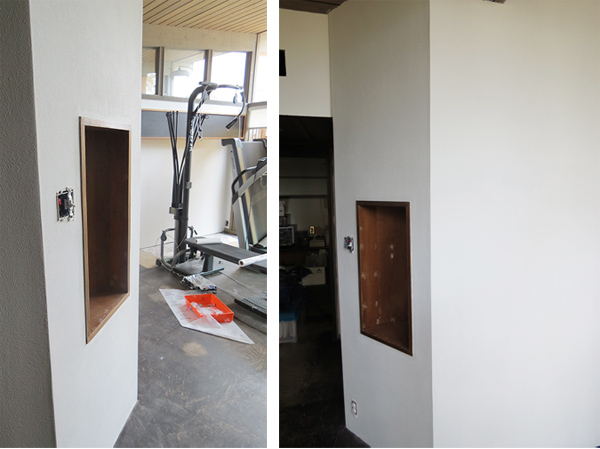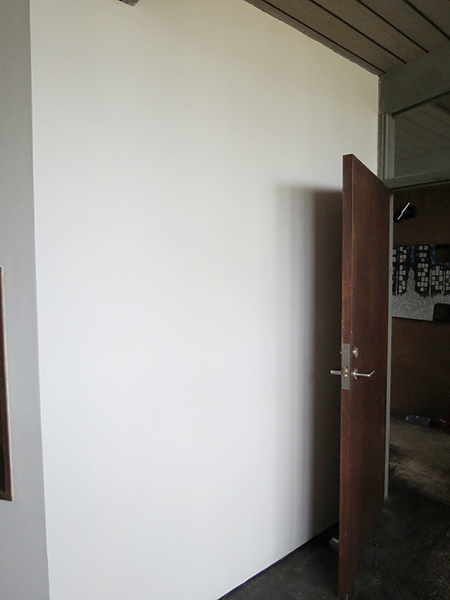 Holy White Walls!  Doesn't that make a huge difference.  It's going to totally brighten up this space and feel so crisp and clean.  Sheetrock compound works miracles!
Now to the right of the door you see above was a little nook with a couch for clients and some built-in storage.  You can see where that couch use to be.  They painted the floor around it.  We pulled it out the first week we moved in.  I'm definitely keeping the storage for all the little odds and ends I use for working out.  I'll be refinishing it when I'm done with the rest of the room.
The paneling came down….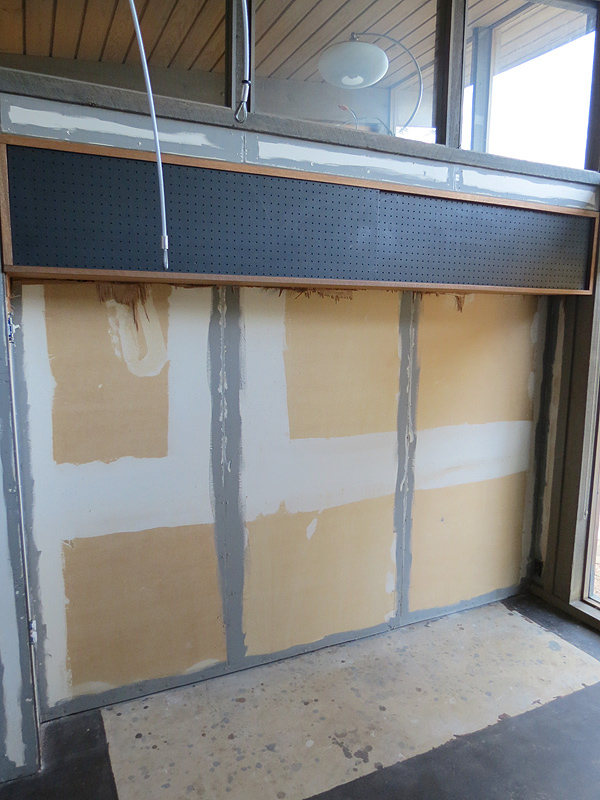 I floated the walls with compound, textured and painted.  More pretty clean white walls.
Next up was the ceiling.  The entire house has tongue and groove wood ceilings.  I would have no problem leaving them wood and sealing them but they just aren't those kind of planks.  They also seem to make the rooms look pretty dark (especially at night) so I have been staining them white throughout the house.  This part of the house will get the same treatment.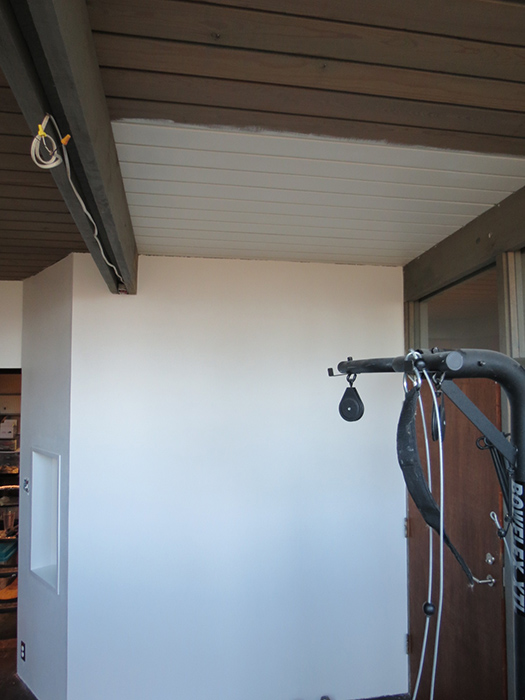 Before I could get started on the ceiling I had to call Richie in for help.  When we put our new roof on they are required to use a certain size screw in order for everything to be wind storm certified.  Don't forget that we're in hurricane zones here and in order to insure your home you have to have an engineer certify your roof.  It's a pain in the ass and as hard as the roofers tried… some of the screws went through the ceiling.  Normally I would have thrown a fit, but there was nothing anybody could do about it.  So Richie cut them off and let the sparks fly!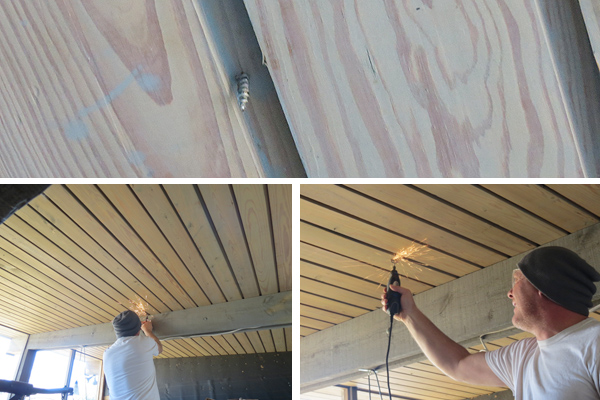 Once I stained them you can't even tell.  It turned out fine.  That's called "going with the flow".  HA HA!
Don't I sound like an easy going kind of girl?  HA!  Truth be told I'm hell on wheels.  But this I had no control over.  All is well.
It makes such a difference to have a white ceiling.  It's like someone turned a light on!  And no, I don't even have lights in here yet.  (you can see the dangling capped off electricity).  So I can only imagine how nice and bright it will be in here.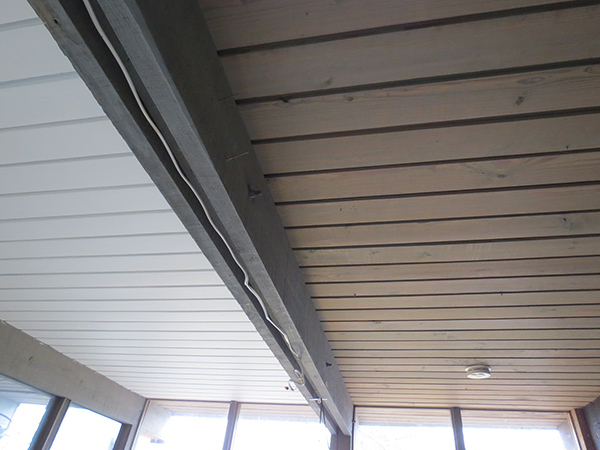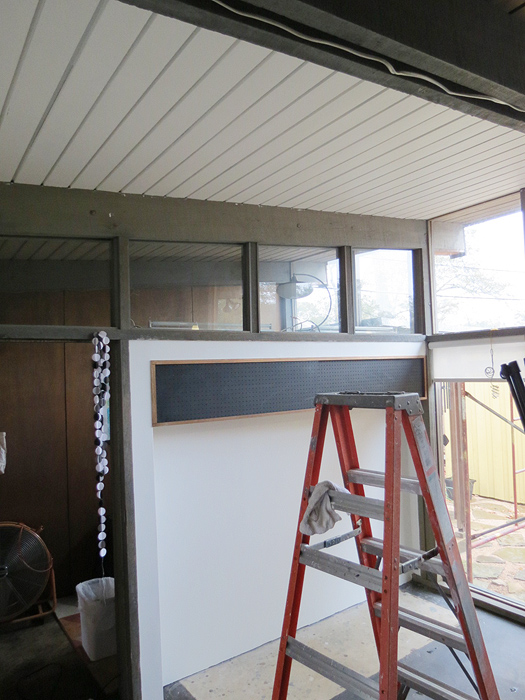 Next up was to go ahead and do some of the woodwork.  I sanded and cleaned the beam and window surrounds before staining.  They weren't in horrible shape but they definitely needed some TLC.  A fresh coat of gray stain makes everything seem like it's going to be okay.  Here's a before and after.
The rough cut beams are stained the same color as the outside of the house as you can see them extend to the outside when you look through the windows.  We kept it all consistent.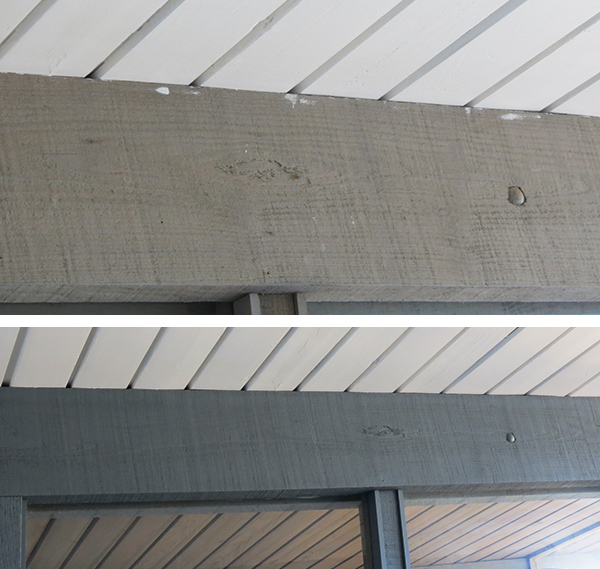 So there you have it.  I'm really just getting started on this room and there's plenty more to do and share but I'm happy to finally be in there and seeing some progress.  I'm working on one side of the room at a time because I have lots of equipment I have to work around.  There's nowhere to store it all so it just gets shoved around.
Here's a final shot and an idea of just how bright and happy this space will one day be.  It's going to be a wonderful workout room.  I can almost feel the burn!