When something doesn't go the way you planned… just put some hair-pin legs on it… and everything is alright! Nothing beats a nice pair of legs, right? Long, short, skinny, thick… metal, wood, or concrete…. there are so many kinds to love. Of course I'm talking about furniture and particularly the little tables we planned for our bed side.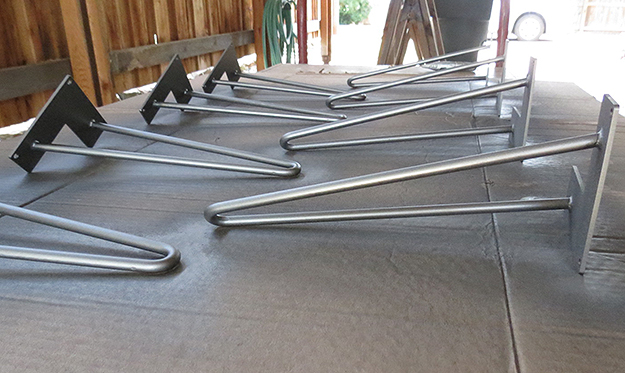 These pretty legs arrived a week ago after I realized the little "box" tables that Richie built for our last platform bed would not work in our new master bedroom. The tables are suppose to hang and "float" on the wall but unfortunately there is not enough support in the wall behind it to hold them. Our last house had shiplap walls (solid wood) so you could hang ANYTHING, ANYWHERE…. it was fabulous. But I really wanted to use the "boxes", as I love that you can put your books and magazines in the opening instead of on top of the table. We both enjoy reading in bed.
I got these beauties at www.hairpinlegs.com and we ordered the raw steel so we could paint them the same color as the bed legs. They also come in stainless steel (more $$). We just screwed them into the bottom of each "box" and they are now the perfect, small, modern little side table. (no holes in the wall, no crying, no screaming, and no frustration. It was an easy and hip solution.  I don't know about you but a set of these makes anything look better!
Here's my side.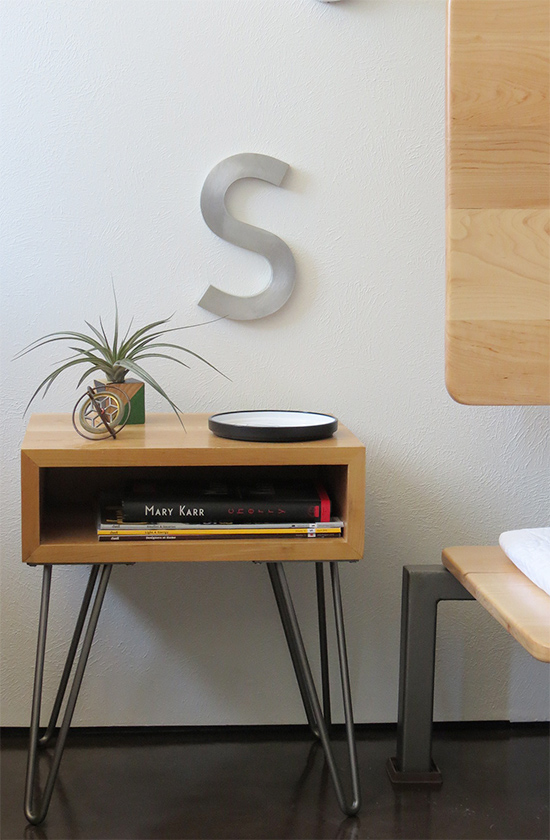 Each side got an aluminum letter that I have been saving for years. They came off a dentist's office building that was going out of business. We collect all kinds of letters and numbers from old buildings, schools, and estate sales. I couldn't wait to use these!  (update: The little metal thing is a gyroscope (spinning top) and you can see a video of it in action down in the "comments" section.)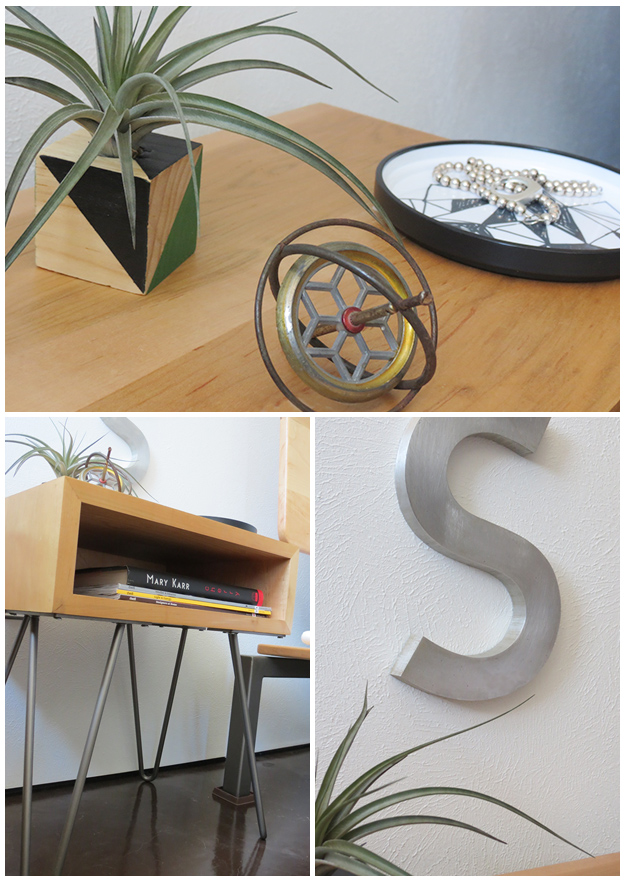 Here's Richie's side.
It was great fun to be able to pull some of our little collectables from boxes and cabinets.  When you haven't seen them for a while it's great to put them in the room and remember.  I know, I know… we have weird stuff.  But we're strange people!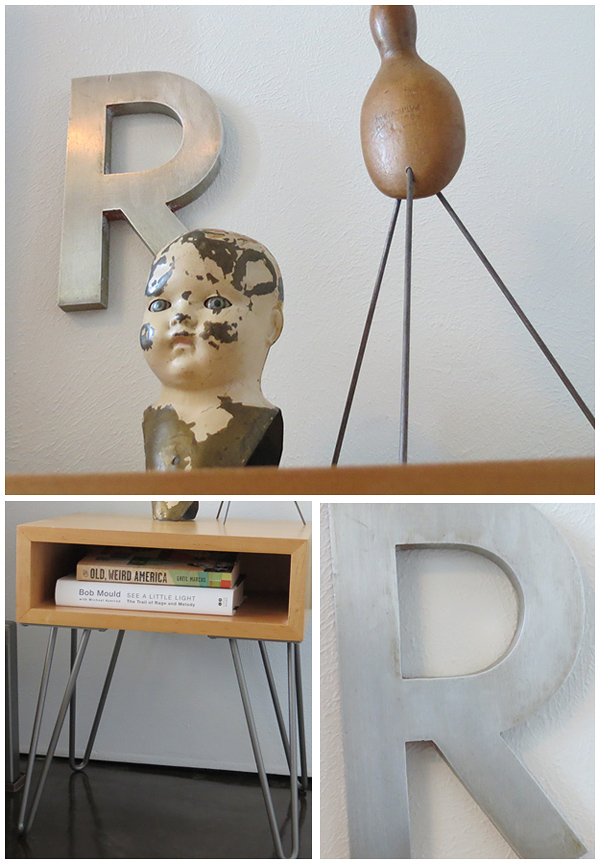 So the little tables turned out nice and now there's nothing left to talk about.  HA HA HA!  So when all else fails just show some pictures!  At least that's what I've decided. So … here's a look around the room and a sigh of relief that aside from some throw pillows and a new curtain track to install… I'm home.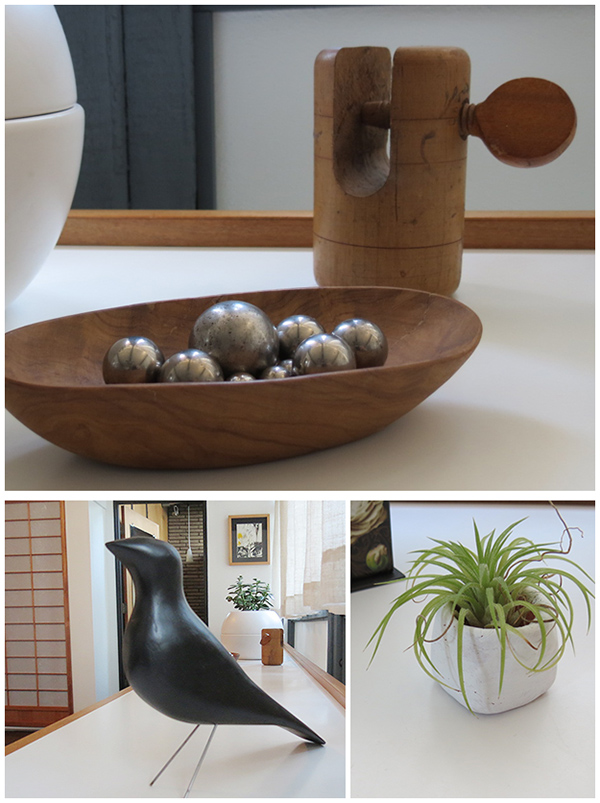 Love Richie's carved bird (Eames inspired).  The little clay pot I made for one of my tiny air plants.
You know me… a room isn't a room at Stacey's house without at least 3 or more plants!
This room is fun because there's lots of vertical space to put stuff. Since the closet isn't built into the wall it has a nice top to display things we love.  Of course the red arrow and Richie just found another monkey last week.  I swear there are a lot of monkeys around this house.  I think I have one in every room.
And a great picture of Richie!  We rarely if ever display personal photos in the house.  I don't know… I guess I just don't like it for some reason.  I love seeing other peoples pictures at their house but we just don't do that.  I do, however, LOVE this of Richie.  When we were younger and he was always playing gigs with his band and we traveled a lot from one dive to the next I did take lots of photos.  This is one of him on stage TOTALLY in the moment… right in the middle of some guitar solo, no doubt.  HOT GUY!  So this one is perfect for our bedroom.  Who doesn't want a hot guy in the bedroom.  (gasp!)
This little guy on his airplane is some sort of antique toy Richie found 2 weeks ago at a huge antique warehouse sale. He came home looking like he had just been rolling in the dirt.  Talk about a dedicated "picker".  I found an old block of wood in his pile of crap, stuck a wire in it and bent it to hold the little guy.  He's super cool, I think.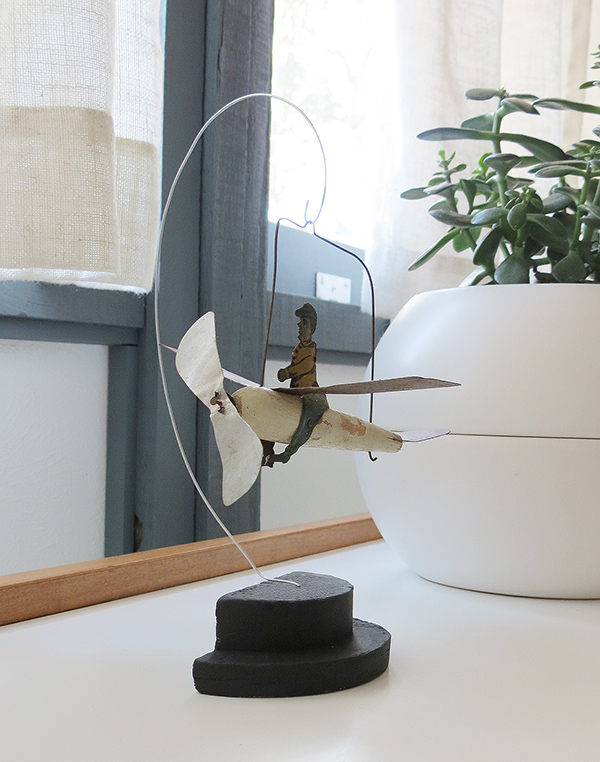 And a few more shots…
The Jens Risom chair made it's way under the vanity area and my George Nelson bench now resides at the end of the bed.  The bench will be perfect for extra blankets, pillows, books, or putting your shoes on in the morning.  I love it there.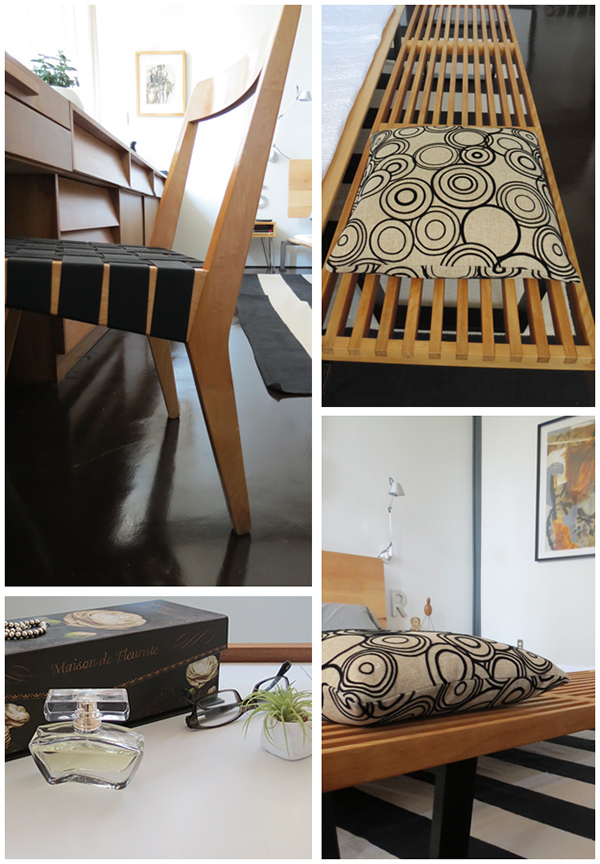 So I'm pretty pleased.  Happy to have the little side tables done and look forward to just getting creative with some handmade throw pillows.  My plan was to bring the color green into the room so I'll be focusing most of the fabrics with a green theme.  I love green and black together… so we'll see how it all goes.
Looking back at my inspiration board so many months ago I'd say I did pretty good at sticking to the plan.  Although lots of things changed, the room still feels just as I hoped it would.  Bright, clean, simple, and full of things we love.  We had to special order a mattress so it will be shipped to us in the next four weeks.  Good thing we're patient.  Or at least we have learned to be!
Thanks for reading and welcome to the many new subscribers.  I appreciate you following along and please feel free to join in on the conversation.  I love chatting with visitors!
Richie and I have been taking a break and enjoying the FABULOUS weather here in Texas.  We're talking 60's and 70's people.  Unheard of, really!  I've had my butt parked on the back patio in my butterfly chairs and it's been heavenly.  Next up…  I guess the master bathroom.  I'm still trying to muster up the strength!  We'll see.
Stacey