It's hard for me to envision a modern space without plants. When I think of the designs of famous architects like Neutra or Eichler, or modern day architects like Austin based Lake and Flato, it's impossible to imagine these spaces without the beauty of architectural pottery.  Their simple, modern, clean lines, unspoiled by fluff or distractions make each plant that resides in them a little more spectacular.  An ornate or colorful pot just doesn't seem to fit in a modern home.  These fit, these work, and it's why I am so proud to have not one but three pieces of Architectural Pottery for my own home.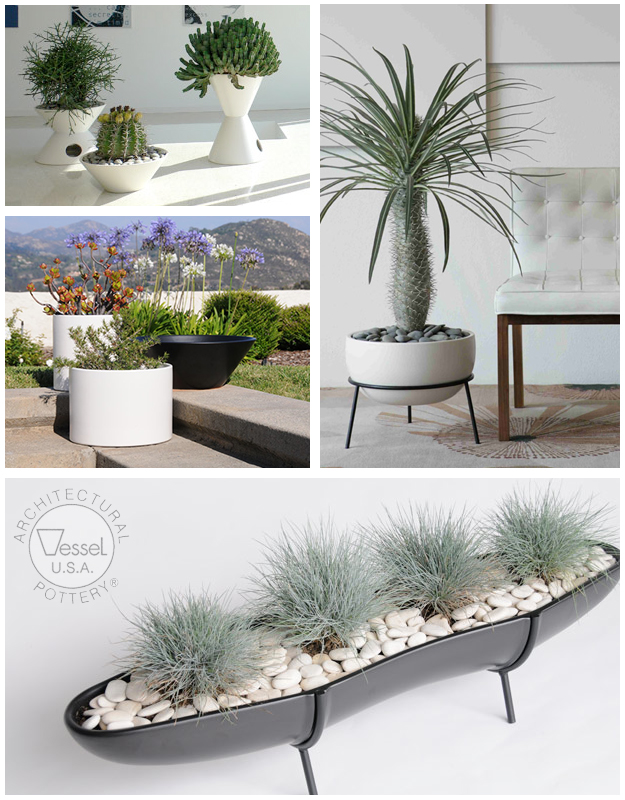 images via
The pictures above are lovely examples of Architectural Pottery, a Los Angeles company founded in 1950 by Max and Rita Lawrence. Prominent mid-century LA architects such as Richard Neutura and Pierre Koenig favored the pottery line for spare, geometrically ordered residential gardens and commercial buildings. The Museum of Modern Art in New York exhibited pieces as early as 1951 and these savvy planters appear in many of Julius Schulman's famed photographs of Southern California architecture. Molds can weigh hundreds of pounds and a single ceramic piece can take over a week to produce from start to finish. Today, Vessel USA Inc. continues to produce Modern Planters & Containers, Ceramic Sculpture and Garden Accessories from its studio in San Diego, California.
I was lucky enough to get my hands of three large architectural pottery pots for the outside of our home.  We have two white ones on the back porch and one black in the front of the house.  After working so hard staining the outside of the house it was inevitable that I would end up "fixing up" the rest of the area as well.  You know how that goes… you get a new couch for your living room and then the chair next to it looks ratty… then you decide you need new curtains… then the paint starts to look dull and before you know it that new couch has caused you to redecorate the whole damn room.  It happens to us all, I guess.  So I decided to do the same to our outdoor space.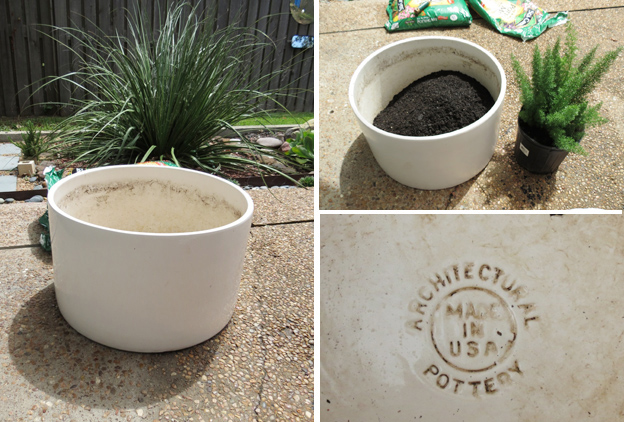 The two white pots as seen above are on the back porch and look really nice against the new stain.  The plants I had in them were "hiding" the pot… so I decided to pull them up and plant some foxtail ferns, as they grow "up" and won't spill over the sides.  These suckers are heavy!
It was also a great chance for me to do something with the two pots Richie found for me at an estate sale that have been sitting in the shed.  I love the shape of these (below) but obviously someone had painted them a nasty yellow at some point. I scrubbed the crap out of them but the left over paint wasn't budging… so out came the white stain.  Each pot got scrubbed, wire brushed, and then painted white.  White pots seem to be my thing, I guess.  I love them!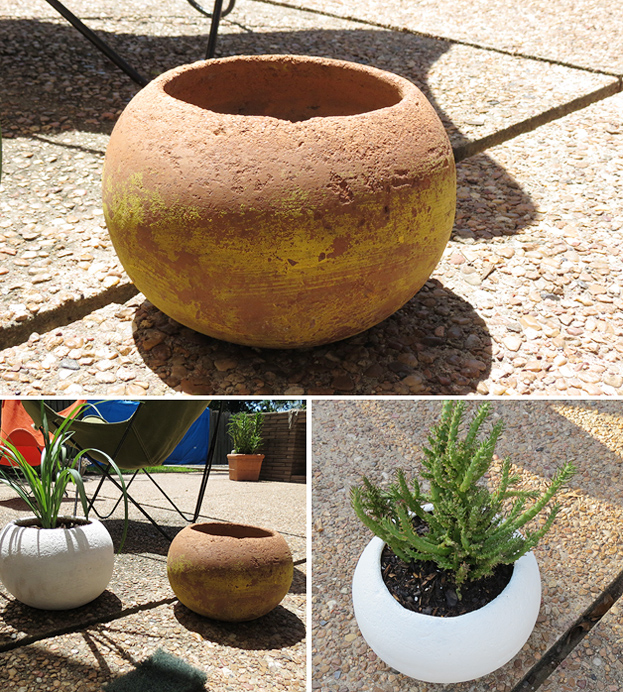 The staining of the house has been going really well so this also seems like the perfect time to share the results. We've been steady at it and it is really paying off.  The back of the house is now a place I love to be. We ended up giving our old patio set (table and four chairs) to some friends and we brought out 4 of our butterfly chairs in place of the set.  The old covers look crappy but I've got new ones on the way from Circa 50.  They are vinyl mesh and perfect for the outdoors!  Can't wait to get those.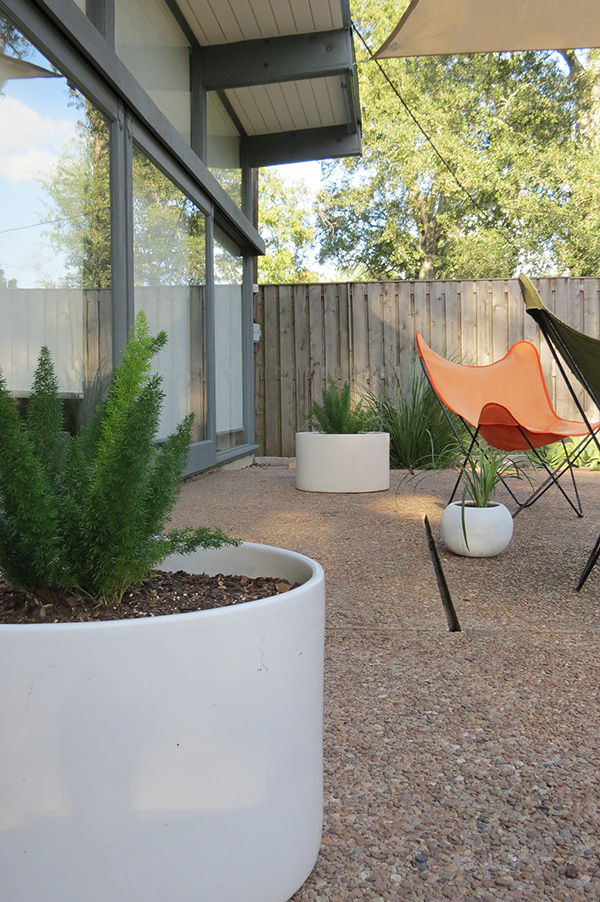 The large architectural planters look so much better and I love being able to see the whole pot.  The small white painted pots fit right in too.  But how about that paint job!  I could just pinch myself.  You may remember what it looked like when we started.  >>> SEE HERE!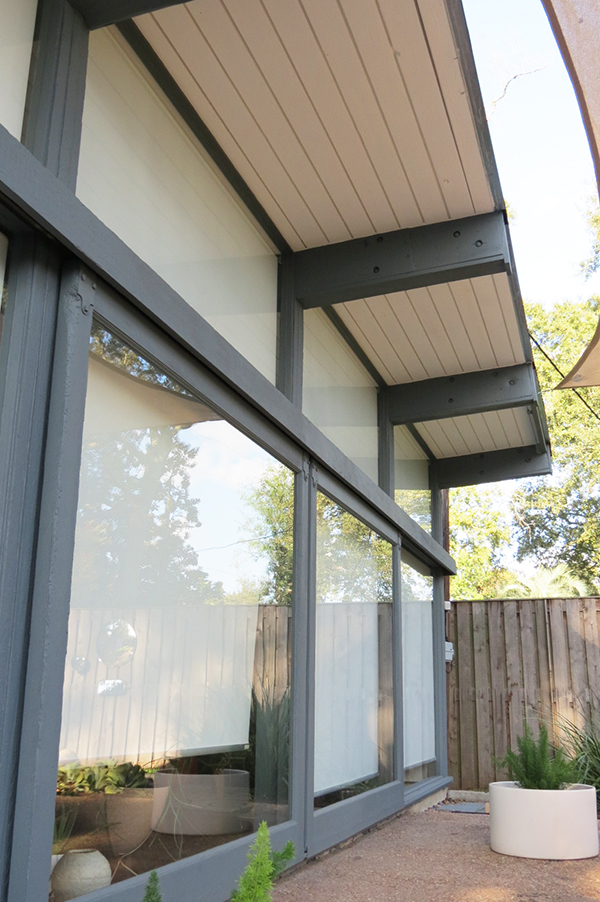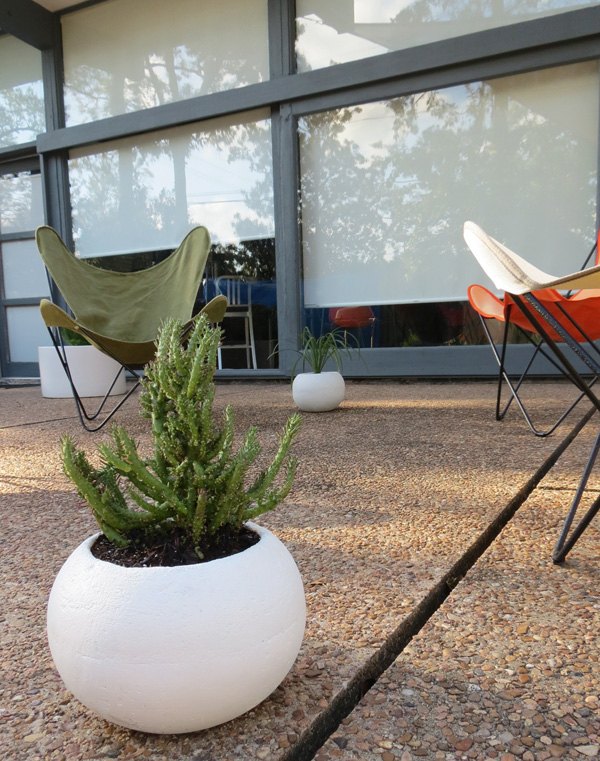 So, it was definitely one of those moments where making one thing look pretty made everything else look shabby and forced me to make some changes.  With the old patio set gone, the butterfly chairs out, and the new pots and plants I feel like things are really shaping up outside.  Just in time too.  We're expecting our first "cold" front this weekend. By Tuesday we'll be down in the 60's! HELL YEAH! If that happens, it will set a new record for us here in SE Texas.  Bring it on!  I'm so ready.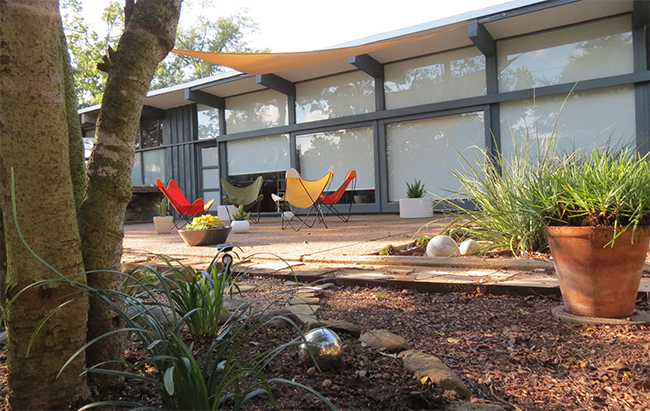 Of course I had to snap a shot of my baby.  I think she approves of the upgrades.  (laughing)
Since we put the chairs out she loves jumping up in them for a little cat nap.  I'm sure she thinks we did it all for her.  The little priss!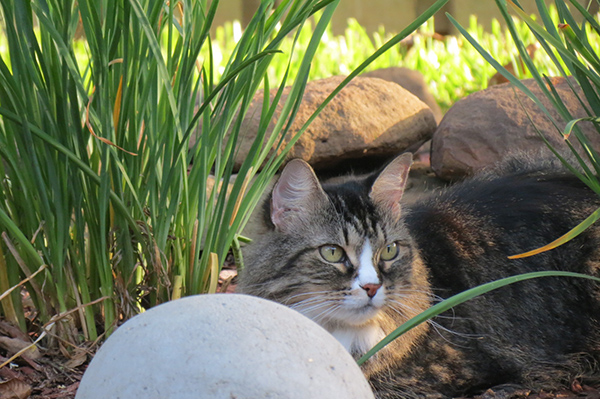 And one more picture of the other architectural pottery planter in the front.  This one is black. I'll probably never find another one… but we've always got our eyes peeled! They truly are perfect for our modern home.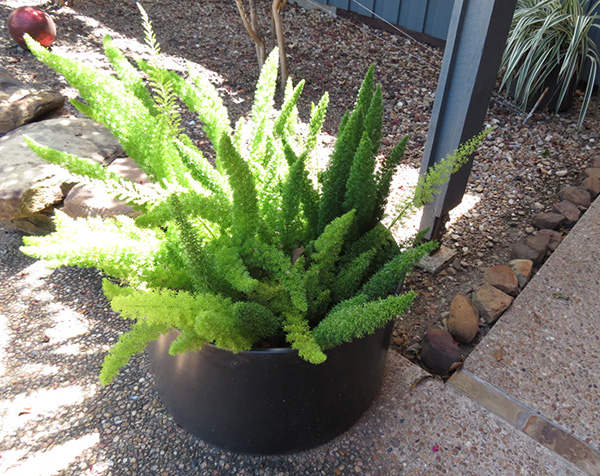 I hope to be back again this week with an update on a small project I did in the bedroom. Glad it's a short week. I vote for a 4 day week every week!!!!