After lots of work and a failed attempt at making our king sized platform bed for the master bedroom I'm happy to say "roll over and stay on your side"….. IT'S DONE!  Well, almost… I still need a mattress (minor detail).

Poor Richie… check out the sweat drip coming off his nose in the 100 degree weather. Wonderful husband!!
Boy does it feel good to say "it's done".   I know Richie just about had a heart attack when I told him I wasn't happy with our first attempt at making this bed.  If you read a recent post that we were making our king-sized version of this platform bed out of plywood to save a little time and dough, then you might also remember that it pretty much bombed!
After cutting all the slats out of plywood I knew that I didn't want to keep the edges raw, so I ordered some birch banding to glue to the edges.  Seemed like a good idea and it did go okay for the most part… until I got to the rounded corners and tried to get a slightly rigid material to bend and stick and actually STAY.  HA HA HA!  I laughed for all of one minute and then cried because I knew I'd have to tell poor Richie that I wasn't happy.  Trust me men… women hate to torture you with our unhappiness.  But it's our job.  (kidding!)
As you can see in the picture above the edges were horrible.  Once you got the banding on and then sanded the edges, the thin plywood veneer on top began to sand away.  So not only did the banding look horrible, but now we were sanding through the veneer.  Top that all off with a stain that showed every flaw and you have a pretty crappy looking bed.
So after staining two, I stopped completely and decided we had to make them out of solid hardwood.  So off to a hardwood specialty warehouse we went and Richie picked out some maple.  Of course these places aren't like Home Depot where everything is cut and ready.  It's raw wood sold by the board foot, which means it all has to be planed and sanded. =  more work!  (sorry Richie!)
FYI: Wood Planers are used to flatten, reduce the thickness of, and impart a smooth surface to a rough piece of lumber.

After planing, joining each board with biscuits, sanding, rounding corners and routing all the edges… he turns the project over to me.  I asked him to please take pictures of all his work leading up to this… but his response was "I'm too busy for that!!!!"  Okay, okay…so here we are.  The boards are laid out and ready for me to apply a satin polyurethane finish.  Coating the back sides first then turning them over the tops got 3 coats of poly.
See above how much nicer a solid wood board edge looks compared to our fail.  YAY!
Another trick that I'll share with all you DIY refinishers is this…. After your final coat of finish use the back side of the sandpaper to "back sand" ( Richie makes fun of me because I made up this word ) the piece.  Once you do this it polishes it silky smooth to the touch.  It's a miracle.  The carpenter who built my kitchen taught me that trick and it's amazing!
The frame is made of steel tubing and his father helped us weld up the frame.  We don't have a welding machine but it's on Richie's list.  After it was primed and painted they began putting it together.
The ends will get finished with a black plastic cap that snaps into the tube.  I still have to order those.
Each wood slat has a hole drilled to match a hole in the steel tubing but the board doesn't actually set on the metal.  We purchased some rubber "feet" that are actually amplifier feet (Richie is a musician and knew this would work).  The rubber foot sets on the metal, the board sets on the rubber foot and the bolt holds it all together.  You can see that the board actually floats in a way.  It's very sturdy and solid.
The headboard may be a little bit high but we're going to wait to make any adjustments to see where the mattress hits.  If it's too high, we'll take the headboard off, cut down the metal tubing and reattach the board.  It'll probably be fine but we have that option.
Over time the wood will darken and take on a lovely dark honey color.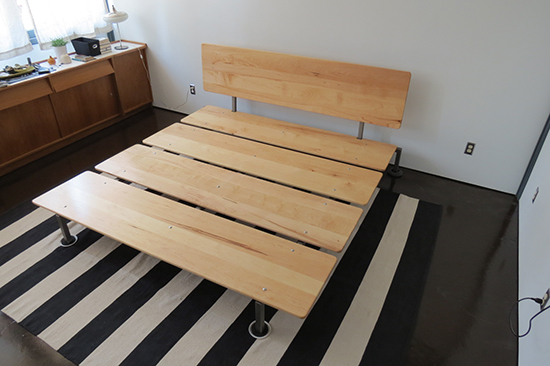 I'm so excited to finally have a king sized bed for our king-sized selves.  It will be really nice to finally get the mattress on this sucker complete with some crisp white sheets.  WOO HOOO!  Thank you Richie… you did a great job and your wife loves and appreciates you.
So since I appreciate all your talents I'll brag just a little more….
Richie has always had a need to create and he's done a few more things around the house that I thought I'd share.
Here's the coffee table he made us after seeing one in a magazine.  He made this about
12 years ago.  It's still hip… I think!

He does like to use metal.  This is just flat bar bent, painting, and drilled for wheels.  It's topped with a big slab of SOLID maple that has 3 or four pieces joined together.  It's a heavy sucker, which makes the wheels very convenient!
After hurricane Rita back in 2005, Richie went around town and gathered up all the huge oak stumps he could physically get to and ended up cutting 5 of these pedestals/tables in different sizes.  He actually used a chainsaw and guide for these.  They have been finished and feet were added to the bottom.  We have 3 and he gave away 2.
The pedestals are mostly used for art but I do have one beside the bed in our guest bedroom too.   He was inspired by the work of Christian Liagre who makes amazing furniture pieces (seen below).
He has a few more projects in his head like an outdoor table he wants to build to set along side our butterfly chairs.  I'm looking forward to it!
More to come as we finish up with the pretty stuff but the bed is done and that's worth a glass of wine or two.  Cheers!