It's been really quiet here on the blog… but in real life it's been anything BUT!  I don't know about everyone else but spring is my favorite season and I find myself full of energy, motivation and in general the happiest of happy!  Take note of the beautiful skies in these pictures.  We had days and days of this with temps in the 70′s.  It was heaven!
Thanks to daylight savings time and Richie getting a week out of school for spring break we have accomplished some pretty good stuff in the last 10 days.  Of course I'm covered in scrapes, cuts, splinters, and even have a bruised butt (can't remember what I backed in to but I do remember thinking "OH, that's going to look lovely!)  So yes, the Advil bottle is empty but the smile on my face makes up for every ache I feel.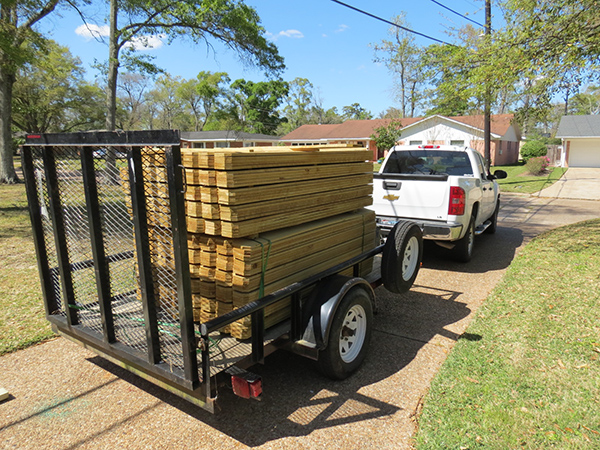 It seems like yesterday we said "we need to replace our rotten fence".  Oh wait… that was like 4 years ago. Time really flies when you're having fun, doesn't it?  Apparently it does even when you're NOT having fun.  HA HA!  So let there be more fun.  Lets build a fence!
I tried and tried to find some really good pictures of how horrible our fence was.  The fact is that I didn't take that many simply because it was so embarrassing I realized that I purposely would "crop" the fence out of photos.  I did find a few little gems from the day we got the house and these will definitely give you an idea of what we had to deal with.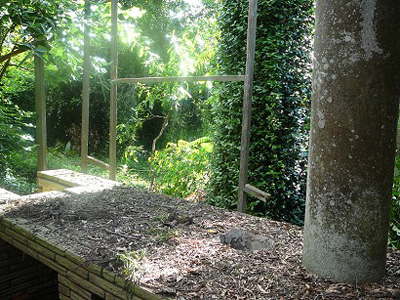 The one above is a view of the back fence standing at the fire pit.
The one below is after we cut out vegetation and trees.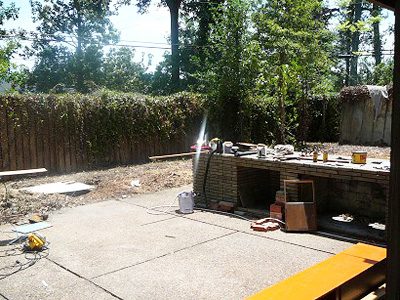 You can see how much jasmine had been allowed to grow on the fence and cause it to rot and deteriorate.  The first big task was to pull all those vines off of there and actually kill the jasmine to keep it from coming back once we built a new fence.  The neighbor behind us said "do whatever you need to do".  So for the next 2 years Richie battled all that stuff and finally killed it all.  Jasmine is EVIL!
We were then left with a rotten fence that was literally being propped up with wood scraps and tarps.  It was pretty trashy.  But it was low on the list when you have no walls in your house.  You know how that goes… "we'll get to it".
So with the help of his father (who is the finest man on the face of the earth!) They tore that sucker down and built "me" a new one.  They love saying that —  "We built YOUR new fence".  Why is everything MINE? MEN!  (later I caught them beating their chests and saying "LOOK WHAT WE HAVE CREATED!".  It was a Tom Hanks "Castaway" moment.
Okay… back to our Island….  Check out that nasty fence.  I seriously have no idea how it was still standing.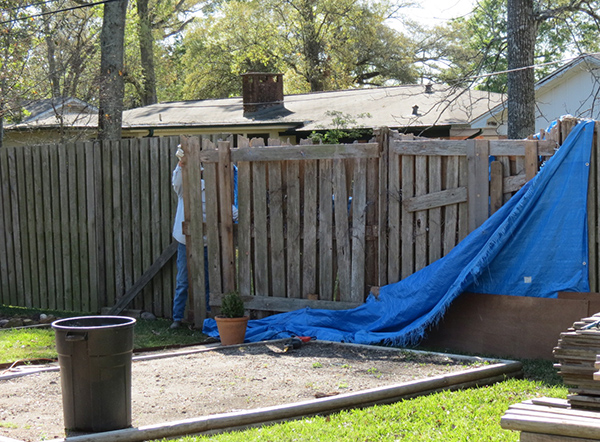 With the help of some manly tools the fence came down.  I had to giggle because I went out to help start hauling the fence off and I was literally pulling it down with my hands.  I think Richie just looks for a reason to get out the power tools. (LOL)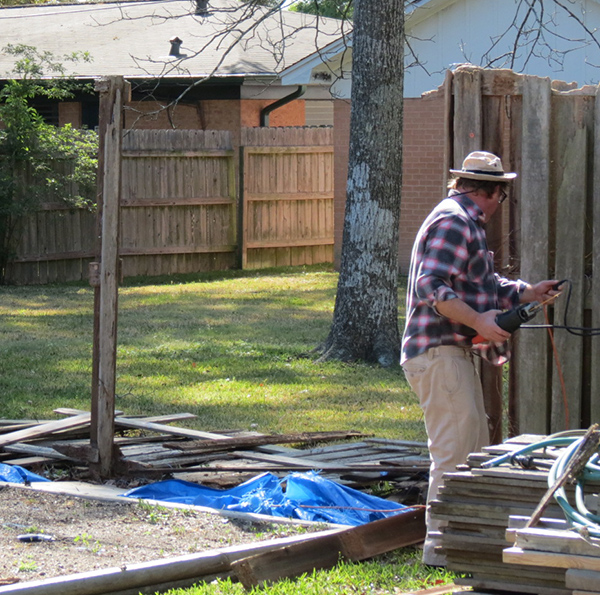 Every once in a while we get some really lucky breaks and we were quite happy to find that most of the posts were still in excellent condition.  We decided to use what was there and only had to replace 3 posts.  That saved so much time!  Unfortunately they weren't all plumb so we had to do some adjusting by digging around them and moving them a little.  No big deal, really.
You can see below some of the posts being pushed into place and held while new concrete was poured.  This evened all the posts up.  Such smart men!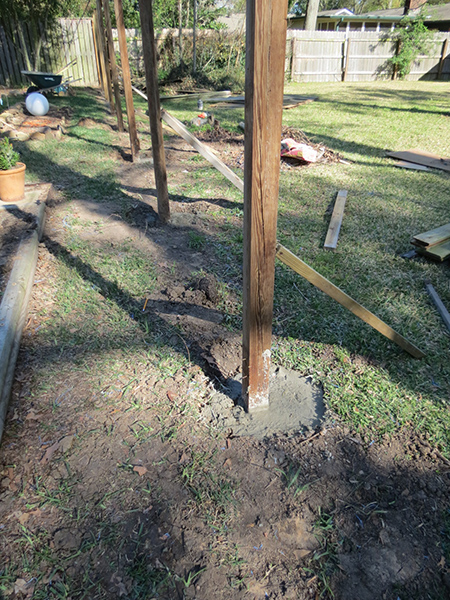 Once the cement dried they began running the rot board and the stringers.  The pretty stuff was about to begin.  I'm happy his dad helped with this because Richie is a stickler about everything being level and plumb.  My patience runs thin… so thank you to my father in law!!!!!
After the stringers were all up Richie and I finished it up by hanging each picket and doubling up so there were no gaps after the fence begins to expand and contract …. with the help of a massive nail gun (more power!!!)  That thing scared the crap out of me.  It blows air out at you with each drive and I swear it feels like it's going to blow you over.   It is a life and time saver, though.
After the pickets went up Richie topped it all off with some trim at the top.  I love how that looks… so finished and neat.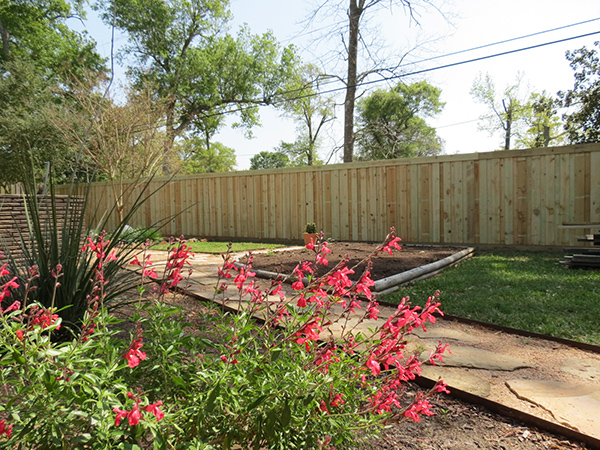 LOOK WHAT HE CREATED!  Okay, it's not fire… but it sure lights me up!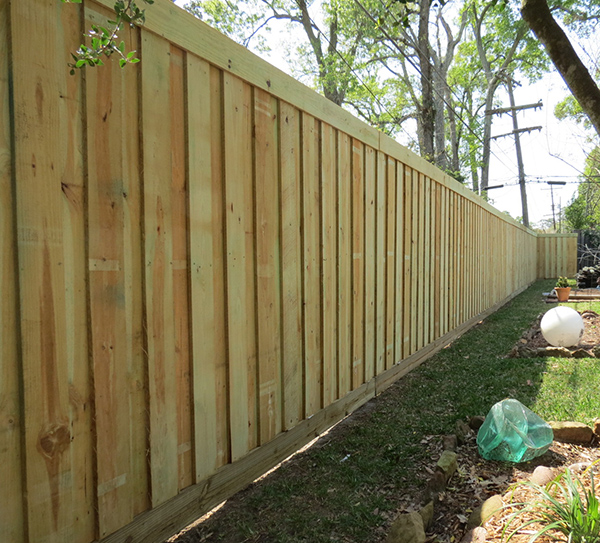 I look forward to it aging a bit.  I'm not super fond of the new look.  I much prefer that grey weathered patina. NOT ROTTEN, just weathered.  :-)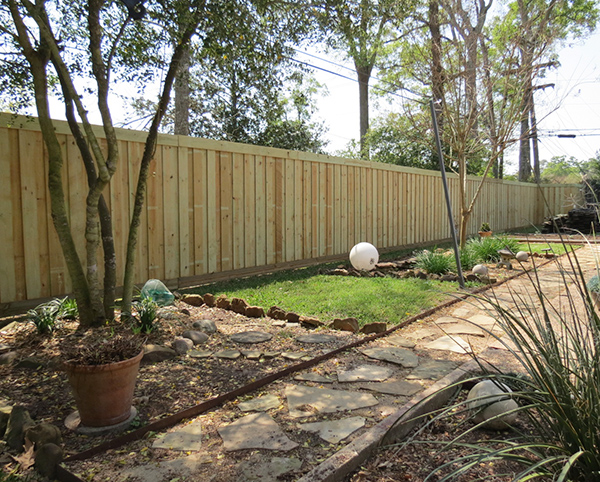 So hello you pretty new fence.  I love you and I know how good you were built.  May you live a long and happy life!    Now only two more sides to go.  More fencing this summer….
I also want to take a minute to thank all the new subscribers in the last few weeks.  There's been a wonderful flurry of new blog followers and I'm so thankful to have you here.   I probably don't say it enough but I truly appreciate having so many kind people watching and cheering us on.  So many of you are doing your own renovations so it's great to have such a terrific support group. I look forward to meeting you all.  Please feel free to leave comments or drop me an email any time.  Anyway… WELCOME new followers!