We're definitely staying on "track" in the back of the house as I continue to work on sheetrock, painting, and now installing the new track lighting that arrived recently.  The lighting in this space has been a long time coming… like so many things in this house.  Richie rewired this area allowing us to put lighting down the supporting beams of each room.  He also replaced all the outlets and switches.  I have a thing for white outlets.  They can't be off white, or tan, or "ivory".  They must be white.  It's just a thing with me.  THANK YOU, RICHIE!
So for several years Richie has been bitching and moaning about how we need to order our track lighting but honestly I was always so focused on other parts of the house it just wasn't a priority.  Now that I'm finally in the studio space and getting close to completing my workout room… lighting quickly became a priority. Richie wanted black, I wanted simple, and I think that's what we ended up with.  Lets face it, track lighting isn't all that pretty, interesting, or fabulous.  It functions, it lights stuff up and  it's adjustable.  I guess those are all good things for a studio space.
I ordered 3 track lines and 10 track heads.  They are all WAC brand and it's a "H" track in case anyone might be interested.  Track lighting comes in J, H, and L.  That's Juno, Halo, and Lightolier.The H system is known as 3-wire single circuit systems and is the most popular track system.   The J is a 2 wire-wide single circuit system and the L is a 2 wire-narrow single circuit system.  It's very confusing to me.  Richie tried to explain it but honestly "who cares"!  My eyes were rolling to the back of my head and I eventually passed out.  All I know is mine is "H" and all the tracks in my house are.  What would he say to me "that's woman's work"…. well, "that's man's work".  Just make it look pretty, sweetheart!

Shamefully the beams in the studio part of the house have had wire dangling from them for years.  I'm sure we were violating all kinds of code and habitation laws.  Whatever!  We're trashy like that.
First Richie had to actually install a box for the wire and then nail up rough cut boards to cover the channel.  All the beams in the house are rough cut which means they are not sanded nor have a super smooth finish.  We had to stay "rough" with the cap so it resembled the beam.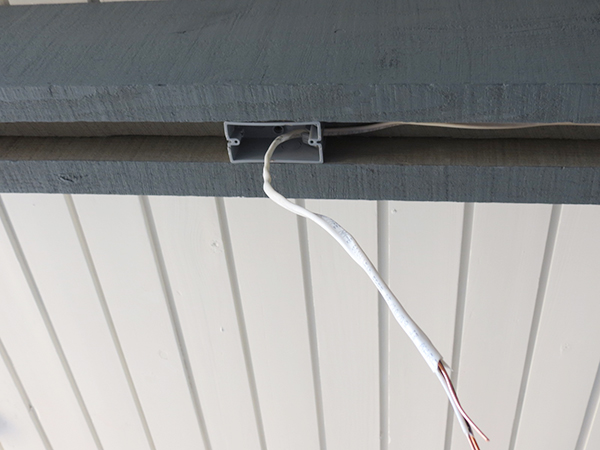 The board gives the beam a nice finished look and it hides the Romex wire.  (always a good thing and it's code required).  It doesn't come perfectly flush with the edge of the beam because again… rough cut means NOT PERFECT.  One side might match and the other side hang over.  You have to compromise and leave a small gap on each side.  It's cool.
Then the track wire gets tied to the electricity and the track screwed into the newly installed boards.  Actually track lighting is SUPER simple to install.  I think even I could do it if I wasn't so freaked out over being fried with electricity.  (yes, always turn off the electricity, friends!)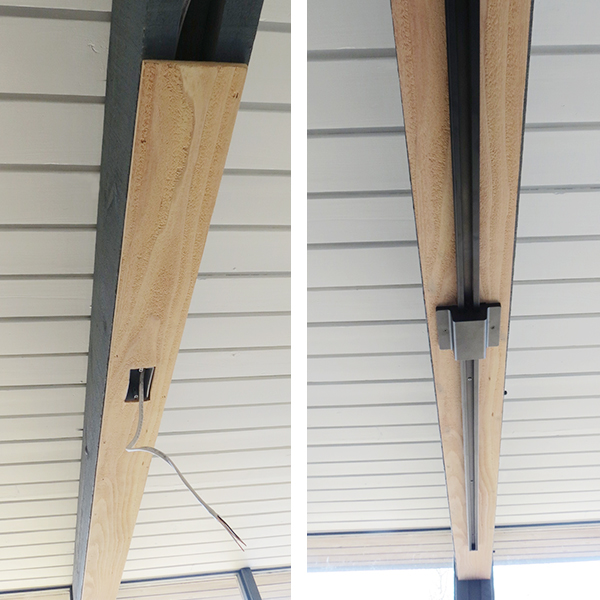 Once that was done I stained the boards and put the lights in.  I'm still playing around with them and haven't decided which type of bulb I'm going to end up with.  I love the idea of LEDs but I'm having a hard time finding ones that will fit.  Not to mention the LEDs cost almost as much as the lighting!  INSANE!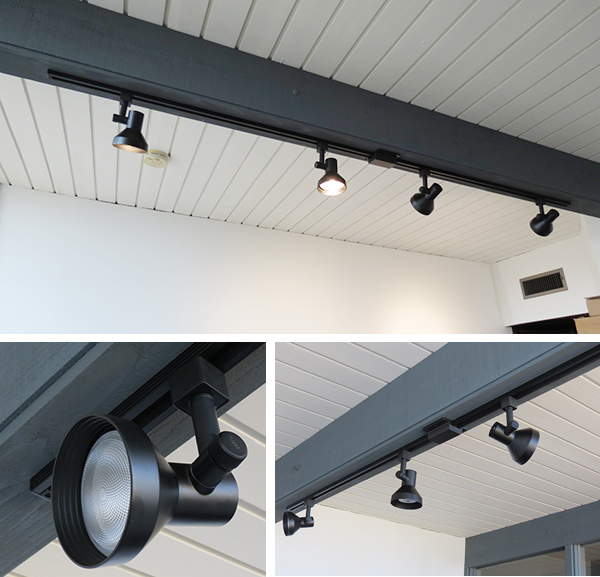 oooooo, pretty!  Well…. sort of.  YES, it is.  Okay… maybe.  I'm diggin' it.  Yes, pretty works!
Richie's studio is around the corner from my workout room and it's a total and complete wreck but we went ahead and installed the lighting in there too.  Best to get it all over with.  Richie can do just about anything but gets cranky if I don't do it in a way that makes sense to him.  It all had to be done at the same time.  Okay, okay…
So here is his lighting.  Excuse the mess.
The lights on the wall that I have circled came with the house.  They are AWESOME and we love them.  They're Lightolier fixtures. Yes, again with the word "Lightolier".  Lightolier is a company that manufactures and sells a wide array of lighting fixtures. It was founded in 1904 by Bernhard Blitzer under the name of New York Gas and Appliance Co.  In its early years, the company specialized in fancy decorative chandeliers then made a shift to high-end design and architectural in the 1920s.  They also happened to be the first to introduce track lighting systems.  It's all so intertwined, isn't it.  I just can't keep "track".    These were most definitely made in the late 50′s, mid 60′s and they weight a ton. They just don't make anything like they use to.  (another reason we stuck with black… it matches)  You can see I've started on the sheetrock too.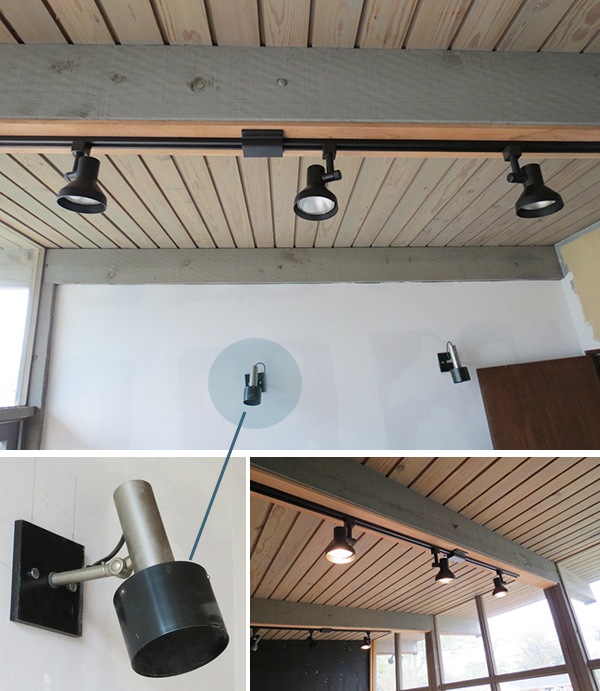 His studio has 2 six foot tracks and 6 heads.  We'll also add some under cabinet lighting when it gets closer to the finish line.  (like 3 years from now)  JUST KIDDING!  It better not be.  HA HA!
I look forward to him having a lovely space filled with light (track and natural) so he can get back to making art and being creative.  Richie is a wonderfully creative person and he's an amazing musician. All of this has been put on hold while we work on this house and I'm excited for him to get back in the groove.  Artistic people suffer when they can't do their thing!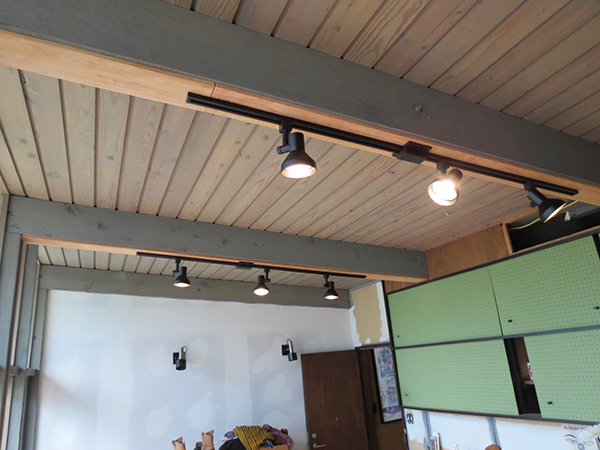 So the lights are up and I'm happy about that.  I've also been working on my storage cabinet in the workout room (below) … trying to pick out a touch of color for the sliders and I also want to paint the door the same color.  Picking out paint is NOT my favorite thing to do.  TOTALLY MADDENING!  Another reason that white rooms have been so much fun for me.  Stress and fret-free choices are becoming more and more welcome in my old age.  :-)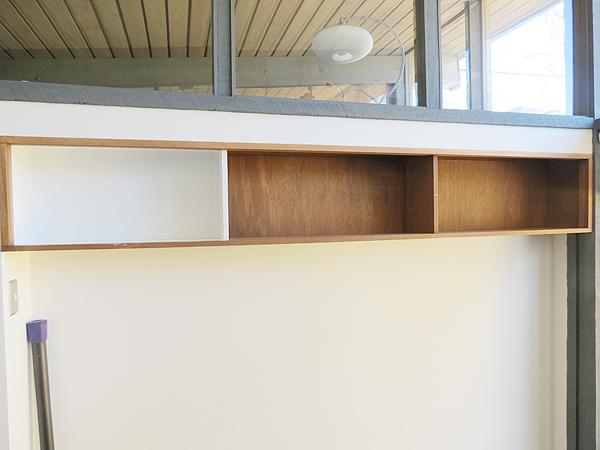 A teaser!  I'm working on it.  …….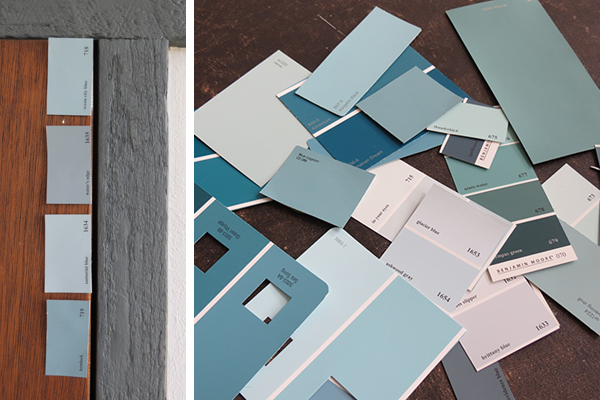 So which one did I choose?  Well, I'm saving that for the next post. Lets just say that the color I've had in my head for years didn't quite turn out the way I'd planned.  Home renovation is such fun!