Progress in my work-out room is happening. I've got all the walls, ceiling and windows done and now we're working on hanging sheetrock on the only wall that needed it. I'll definitely give an update on all this progress as we approach the finish line. When I get close to finishing a room I always start to put things together in my head and then eventually begin gathering, purchasing, or making the things I need. Decorating a room is by far my most favorite part. DUHHH, isn't it everyone's!! The work sucks… but the decorating makes up for it all.
This post was inspired by ONE of the really special pieces that I'm going to use in my room. It's a piece that we've been saving in our stash of special finds for almost 6 years. I'm pretty excited to finally have a place for it and as CRAZY as it may seem…. it's gonna be GREAT …. A VINTAGE ANATOMY CHART!!!!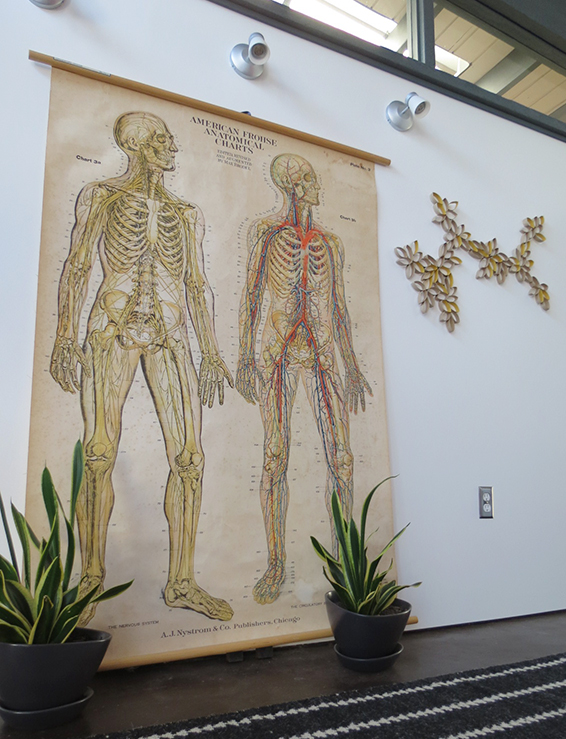 Richie and I are NOT doctors (or nurses for that matter). Unless you count the naughty nurse outfit… but that's for another post. (KIDDING!) We've never worked in a hospital and actually hate even being in them. Although I have to admit I've diagnosed both of us with all kinds of ailments. It seems the internet is really all one needs to be a doctor. Forget medical school…. and at our house there's no appointment necessary. HA HA!
It seems that these charts are highly collectable and are being used in the coolest ways. Here's a couple of images I found online. Crazy that the are both the exact charts I own.  The bottom right image is another one I have but I'm not hanging it anywhere. I've seen the 6 chart set on 1st dibs for $4,500. Ha! Yes, I'm dying of laughter too. Who the hell would pay that much? But they are cool….
I suppose it seems crazy but there are things in my house that might make someone think we were in fact medical professionals… or maybe just creepy as hell people. Definitely the latter. We have collected some really great medical stuff over the years so here's a few things we love. Thanks to my friend Tamara (Scrap and Salvage) who encourages me to share this stuff!
Here's a vintage medical cabinet that came out of one of the schools where Richie taught. The nurse knew he loved it and when she retired she quietly had him back his truck up to the back door and the rest is history. It's in our dining room and we've filled it with all the little wood pieces we've collected.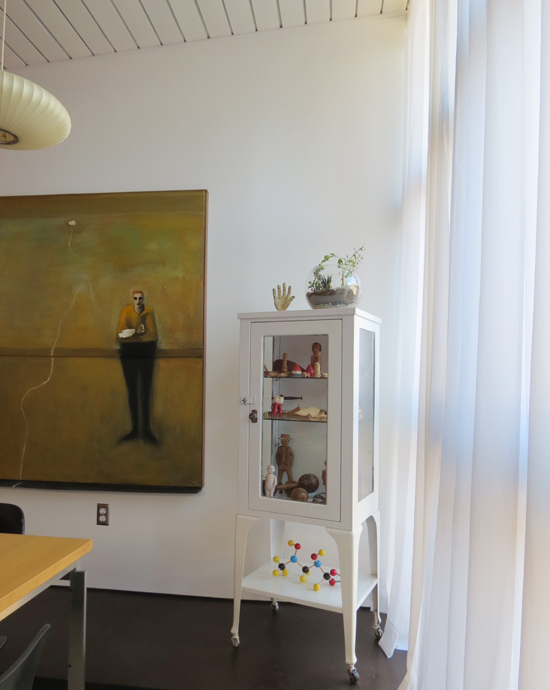 Some of them Richie carved himself… like the airplane and the tooth. We love it!  We've started a great little vintage top collection.  I once did a post on the little man in the back on the left.  His penis pops out.  It's hilarious.  SEE HERE.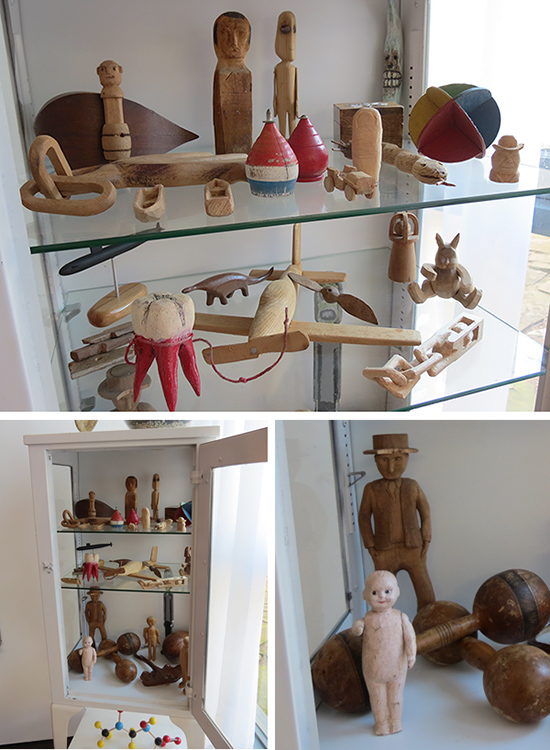 Of course after 20 years of estate sales he's brought home some pretty crazy stuff. Here's just a few more pieces from our "doctor bag of goodies".
Lots of Anatomy books, old medicine bottles, the man with his removable organs (always fun on a Saturday night!) and the strangest thing yet.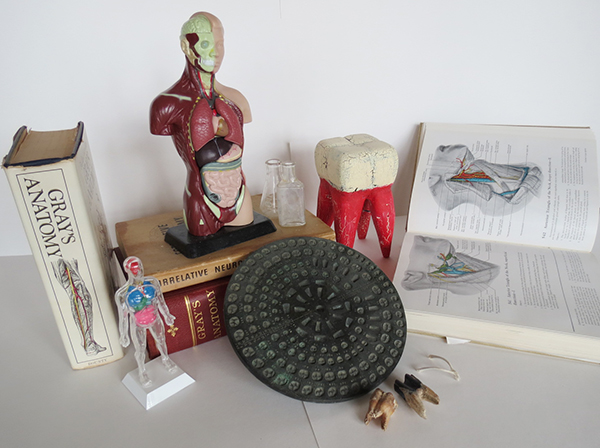 (the display above is only for the picture… trust me, this is not how I decorate my house! HA HA!)
A plate for making teeth impressions.  Those teeth our kind of gross.  Richie loves them and is always on the hunt for glass eye balls.  That's all I need… more creative ways for Richie to "Roll His Eyes" at me.  (NEVER!)
Decorating our home with strange and unique pieces is what we love to do. I'm really looking forward to using the chart in my work-out room.
Speaking of… the work is going well and we're sheetrocking the final wall. I'm SO motivate to finish because this is where I'll hang the chart.  Here's a sneak peek….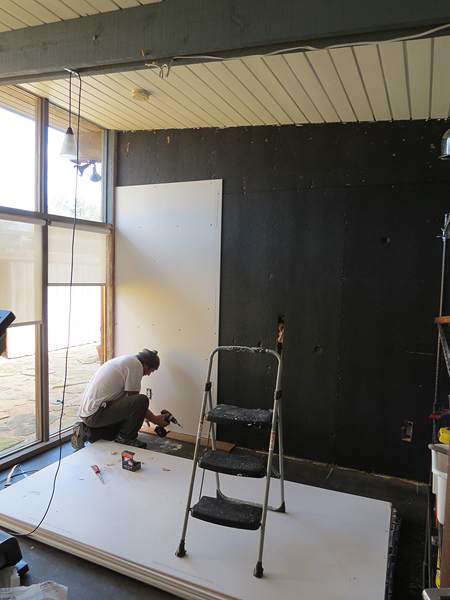 More to come soon. Until then… if you have an ache, need to be diagnosed, want to know where your liver is, or if your tooth falls out.. let me know. The doctor is IN!
An Unrelated Note:
---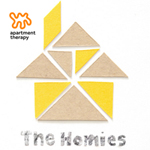 A friend and fellow blogger, who is always encouraging to me and Richie, has nominated our blog for the "HOMIES" award through ApartmentTherapy.com  We are nominated in the "Best Home Design & Inspiration Blog" category.
To find out more and vote for my blog (if you're so inclined), please visit their site and get all the details.
From their site:
Join us as we survey the blogosphere together in the fifth annual Homies. We're looking for the most notable home design & home cooking blogs that we can find. It's all about sharing your favorites, checking out the ones you don't know and being inspired. The Homies isn't a competition as much as its about celebration and discovery.
THE 2013 SCHEDULE
Week 1: 
Add your favorite home design & cooking blogs in six categories
Friday, February 1 – Friday, February 8 (until midnight EST)
Week 2: 
Vote on the top nominees
Saturday, February 9 – Wednesday, Feb. 13 (until midnight EST)
 THANKS!
---