Just a quick post this week about a lovely mention we received over at Good Housekeeping.
Thanks to Kathleen Corlett who found me in this never ending sea of home blogs and thought we'd be a nice fit for a slideshow they were working on –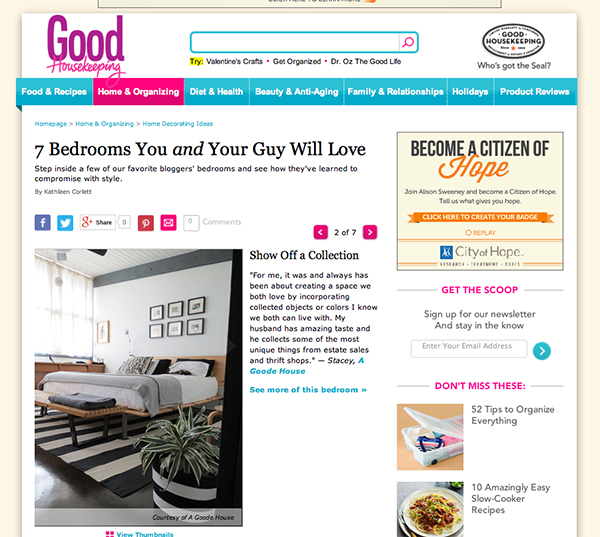 It's always a complete surprise when this happens because lets face it, I'm the WORST at social media and promoting our home blog.  (worst, meaning I don't do it at all!) It's just not something I have time for and with so many amazing homes out there it's quite intimidating to even try and push that on anyone.   So for those of you who have found us, enjoy what we're doing, and check in from time to time… I THANK YOU!  There are so many jaw-dropping home blogs to visit and follow, so it's a real treat to be chosen by YOU or a magazine/website like Good Housekeeping.  So lovely!
Please swing by and check out the slideshow.
You can also see more pictures of our master bedroom and the many steps we went through to bring this space back to life.   It's been fun!  CLICK HERE for more pictures.
I'm still working on my country to modern post.  My back issues are still affecting me so I'm moving slow.  It's coming, though!  And good news…. I'm NOT pregnant!   HA HA HA HA!
Okay, I'll explain that one.  They took an xray of my spine and though I had fractured my tailbone.  They said they'd have a radiologist read it and call me with the results.  So when they did call… that's the "big news" they gave me.  "Mrs. Haynes… you're not pregnant".  BLAH HA HAH!  And that was it!    Ummmm, excuse me but what about the xray?  DUH?  Turns out it's not broken but apparently I'm still a pain in the butt, which means an MRI is next.  Thanks to those of you who sent me emails and sweet comments.  Love you!