Last Christmas I had a great time doodling on the chalkboard pantry doors in my kitchen. Not only was it fun and somewhat therapeutic, but it got me in the Christmas spirit… which is not always so easy.  Turns out it got lots of people in the Christmas spirit, thanks to all the fabulous internet junkies who love Pinterest.  My silly Christmas drawing was pinned and repinned over and over again. WOW!   Thanks for the love!  People are so incredibly kind.
The doors have been blank for a few weeks now.  BORING!  They definitely need some holiday love.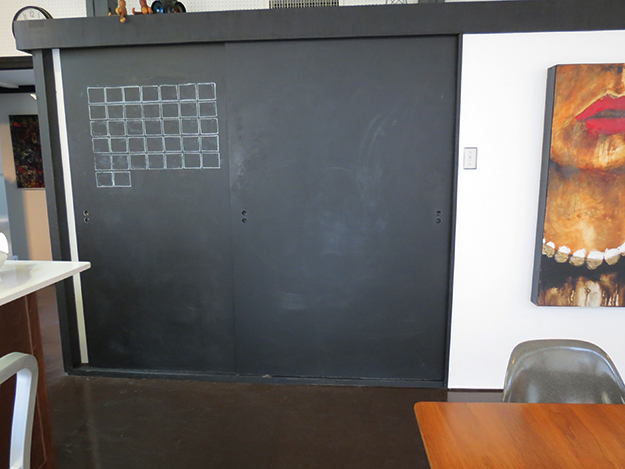 It seems this may now be a new Christmas tradition for me.  So I sent Richie to the store to buy lots of chalk, and I got started.   I've said it before and I'm sure I'll say it every year… I'm NO artist and my drawing skills could easily be at a third grade level.  I never got that gene but it doesn't stop me from trying!  I really envy people who can sit down and draw anything.  (sigh!)
The secret I've learned over the last few years is you have to wet the tip of your chalk.  It goes on really faint but when it dries it's a SUPER BRIGHT white that just jumps off the board.  Of course it makes a huge mess and I had chalk all over my clothes, in my hair, and on the floor.  It's all part of the fun.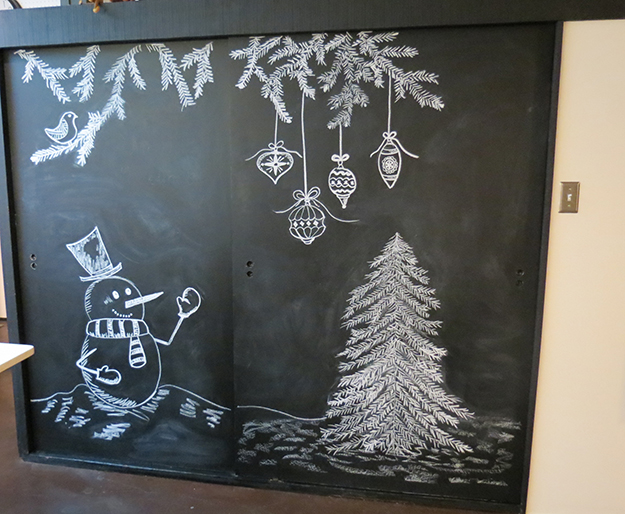 I knew I wanted to do a tree (of course) and this year add a snowman.  Snow is something we DO NOT experience much here in Texas so I think most Texans dream of a white Christmas.  When it does snow it's a reason to shut down the whole city.  Seriously… an inch of snow means schools close and everyone stays home.  Not necessarily because you can't get where you need to be… but because it rarely happens and everyone wants to enjoy it.  It snowed the first year we moved in to this house and that was 4 years ago.  It would be fun to see the white stuff again.  I guess white chalk will have to do for now.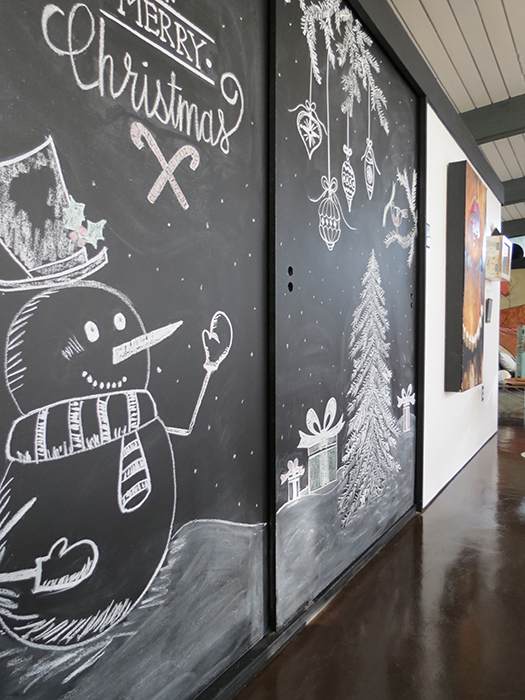 I got a little carried away. The thing just kept growing and growing. It's like I couldn't stop!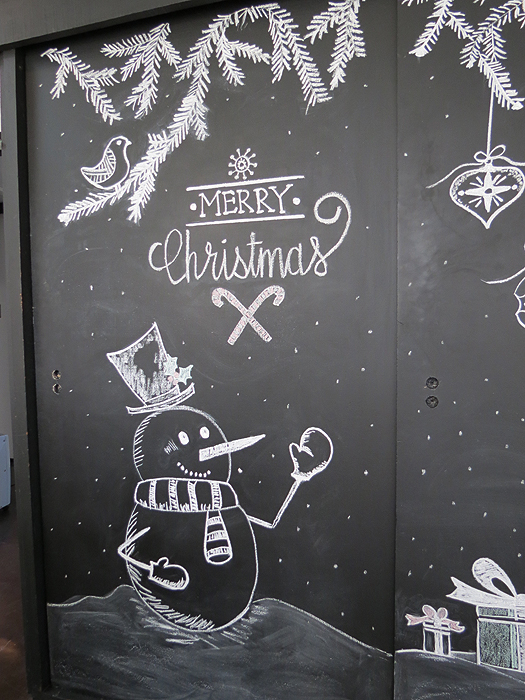 I do it all free hand, so yes, it's kinda wonky.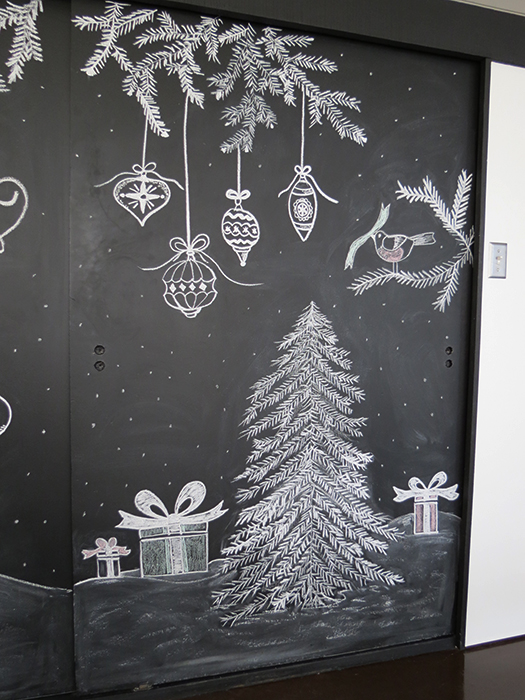 There's a really cool modern home down the street from us that has a lovely row of crepe myrtle trees on the side of their property.  They always hang these big colorful Christmas balls from the branches and it makes me happy every time I drive by.  Simple and beautiful!  So I drew my own.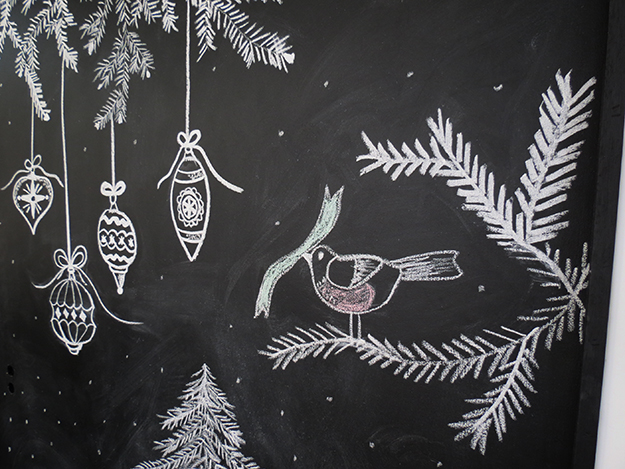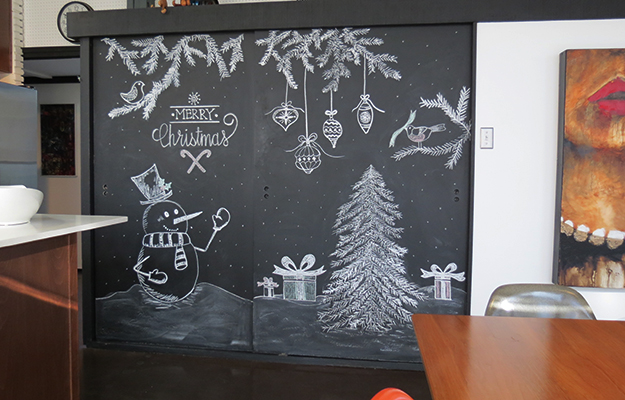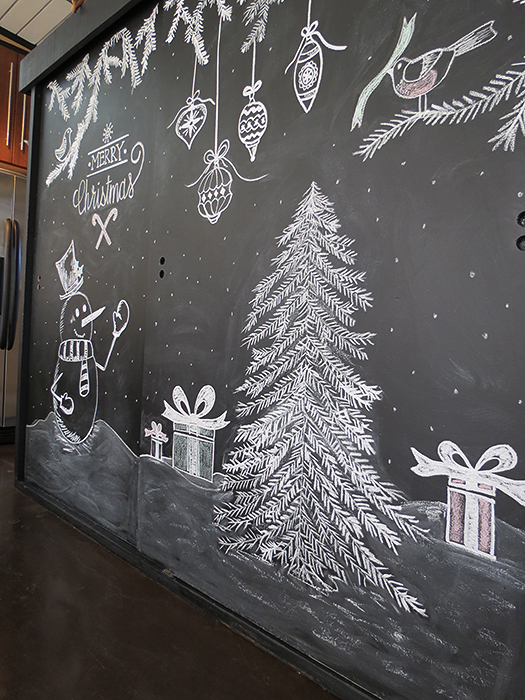 Richie has been whining about putting up a tree so I'm thinking I may break down and put the damn thing up. I'll keep you posted!
How about you? Are you in a decorating frenzy or do you keep it simple?