I hope everyone had a wonderful Thanksgiving (in the U.S.) and if you managed to NOT overeat, then you are far better than me at resisting the Thanksgiving temptations.  It also doesn't help that my mother in law cannot control herself and had to bake 3 pies, bread pudding, a German chocolate cake and enough food for an army.  The woman is mad… mad I say!
It's been nice to have a few extra days off and what better way to spend a day than to hop in the car and drive to Houston.  Richie had told me he was driving over this week to sell some of his vintage shirts to a resell shop and did I want to take a day off work and go with him.  HELLO… YES!  A day to get away is like eating 3 pies all at once and NOT gaining a pound.  Pass the whip cream!
The man had over 300 BEAUTIFUL vintage shirts.  I'm SOOO happy to be rid of them.  They were in boxes piled to the ceiling.  Since I need to paint the ceiling it was a choice between painting the boxes or painting around them. Load 'em up… they're gone!


My reasons for going were very selfish, I have to admit, because I LOVE LOVE LOVE going to the Menil Collection Museum every chance I can. There was also an exhibit there that I had been dying to see.  Art is a huge part of our lives and if you've been following this blog at all then you already know how much we love it.  We're so artsy fartsy.
Another thing I was dying to see was a public art sculpture that had been installed on an esplanade on the infamous Montrose Blvd, right across from the Art League of Houston.  The wood tunnel installation is by artist Patrick Renner and it's 185 feet of reclaimed wood that kind of snakes through the trees.  It was so COOL!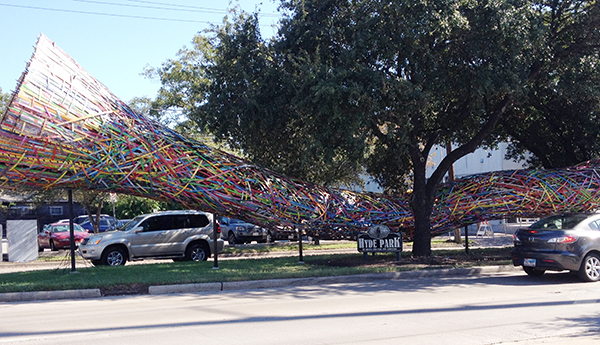 The piece is Funded by the City's Initiative Program Grant from the Houston Arts Alliance (HAA).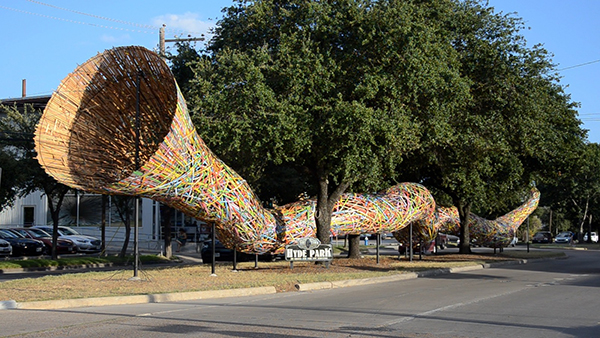 The funnel tunnel was great to see but visiting the Menil  was the highlight for me. The building itself is a work of art. It's such a treasure to the City of Houston and people love to gather on the lawns and spend sunny days basking on the grounds. It's so beautiful.  Then you go inside and … well… I find myself forgetting to breathe.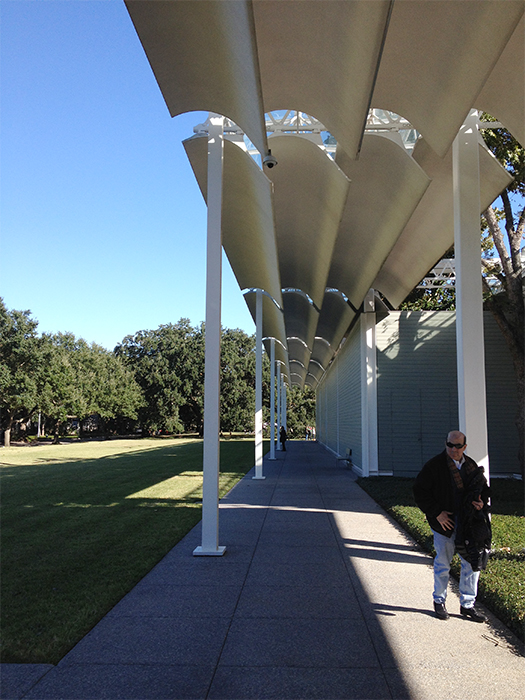 It was such a beautiful day!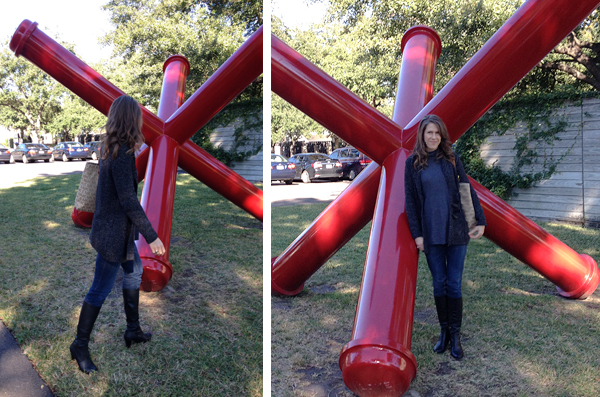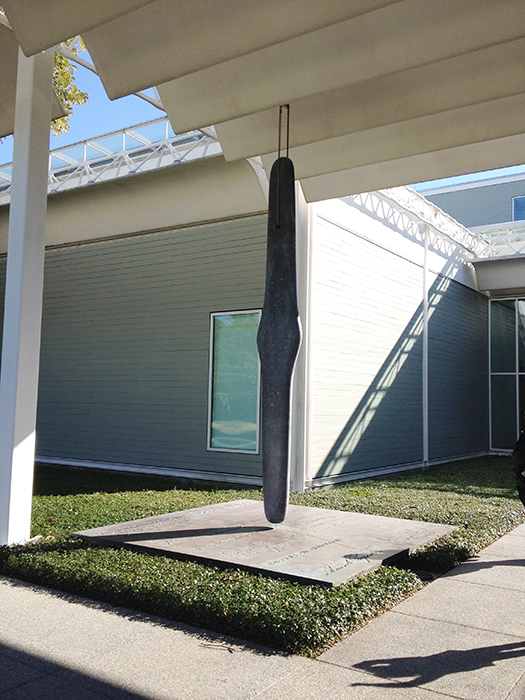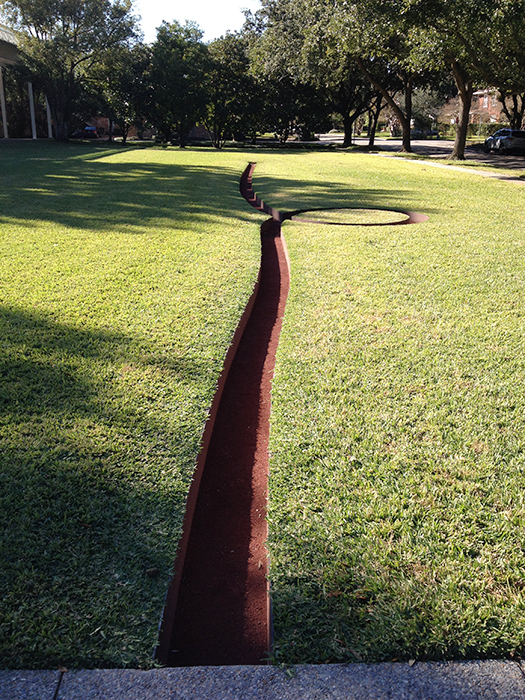 WOLS: Retrospective was going to come down January 12th so it was perfect timing. Born Alfred Otto Wolfgang Schulze (say that five times fast), Wols was a draftsman, painter and photographer and was considered to be the European equivalent of American Abstract Expressionism. Most of the work on display was done in the 1940s and ended up to be a complete surprise to me.
Here's the thing… after seeing much of his art in pictures I assumed I was going to walk in and see these fairly nice size paintings. Boy was I shocked and surprised to see one of the two exhibit rooms filled with work the size of post cards or slightly larger. INCREDIBLE! The tiny little painstaking detail of each painting kept me mesmerized as I stopped to see each one. I even had to get out my glasses to see some of them. I'm fairly quiet in museums but I can remember having little outbursts like "OH MY GOSH"… "AMAZING"… "RICHIE DID YOU SEE THIS ONE". It wasn't at all what I had imagined. He did have another exhibit room where the works were much bigger but the tiny treasures were mind blowing.
Feel free to view a few and note the tiny details of each one. Feather thin lines drawn with such precision and perfection. I'm so happy I got to see it and if you ever get the chance yourself… take it!
The Menil also has a separate gallery dedicated to the work of Cy Twombly. The floor to ceiling canvas makes the room feel so grand and yet so quiet and beautiful. We love his work and enjoy camping out in this room. Twombly studied in New York where he met Robert Rauschenberg who was actually born in a small town called Port Arthur, which is about 10 minutes from my work.
I always get questions about TEXAS in general and people wonder if it's nothing but cowboys on horses living on Ranches. Not quite! If any of these names ring a bell just remember that they all lived within 15 minutes of us: George Jones, Janis Joplin, Robert Rauschenberg, Johnny & Edgar Winger, Babe Didrikson Zaharias, JP RIchardson (The Big Bopper), Mary Karr (author), Kelly Asbury (directed Gnomeo & Juliet and worked on Toy Story, The Little mermaid, Shrek, and more). Texas is so diverse and REALLY BIG!
I realize I have totally gone off on a tangent with this post and it started out small and grew WAY TO BIG.. but it's been a while since I've posted here so I'm full of it. I had to just slip in this one last photo from the Menil and it's specially for my friend Tamara over at ScrapandSalvage. She recently became enamoured with the work of Alexander Calder and loves his mobiles as much as I do. So here's one of his mobiles that hangs in the Menil. It's gorgeous and humongous and is perfectly placed right in front of a painting by Joan Miró.
BREATHTAKING! See, I told you I hold my breath a lot in this place. :-)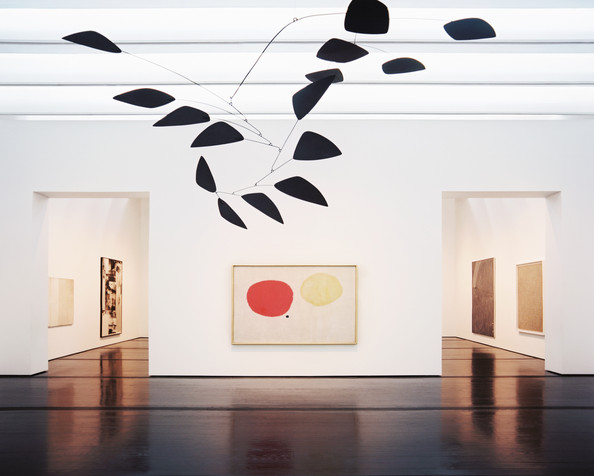 source (Lonny)
The really special thing about the Menil is it's FREE. So anyone and everyone can enjoy art of all kinds.

I also wanted to thank some lovely ladies for including me in their blogs recently:
The hilarious and super hip Sandy over at Urban Rustic. She's patiently waiting to receive some air plants – all the way in Australia, and shared my airplant post with her readers.
Alex, at Northstory, who somehow manages to take care of her family, DIY her little heart out with amazing projects, and nurture frienships with people from all over. She's a doll and I thank her for mentioning me in her recent post.
And one last lady who has stole my heart over the last couple weeks.. Natalie, over at La Gang a Nat. When things are quiet on this blog and you're not getting anything "new" from me it's usually because I'm having fun working on someone else's blog. I worked with Natalie to move her blog from blogger to wordpress and helped her achieve the look she wanted for her creative space. It's always a joy to meet, collaborate and develop friendships through my website work. Not only is she talented (sewing, crafting, painting, vintage lover) but she holds down a full-time job for the Canadian government. She has been an inspiration to me. Check out her blog and the beautiful clothes she sews for her 3 gorgeous girls!
THANK YOU, LADIES!!!