We're piddling here at The Goode House.  Yes, it's back to school, end of summer, schedule changes and a shift toward the fall.  It's been HOT and we're tired.  I think by the end of August everyone is worn out, no matter where you live.   Which makes this the perfect time to do little things.  Fun things.
Back in January Richie and I went to see Neutral Milk Hotel in concert.  He came home with a t-shirt but I wanted the poster.  I knew it would look so good all framed up but I also knew that there were more pressing things to get to and finish.  Frames were at the bottom of the list.
Richie finally flexed his frame making muscles for me and I couldn't be happier with the results.  He wanted to paint it black but when I saw the frames after he glued them up I knew… natural wood was the way to go.  I think it looks amazing!  So he sprayed some lacquer on them, had a piece of glass cut and then pulled out his mat cutter to complete the job.   He also made another frame that went around an estate sale find which I'll share later.  But for now I'm in LOVE with my poster.  I hung it in my workout room.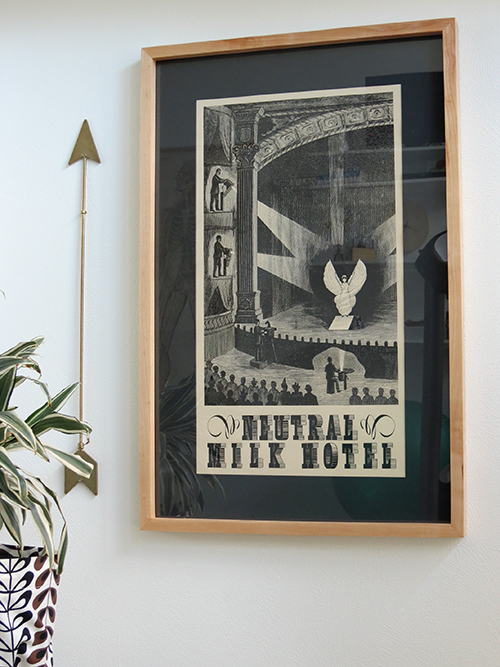 It's so wonderful to have a guy who can do just about anything.  It's not so wonderful to try taking pictures of things that reflect light and other objects.  Glass and windows don't mix.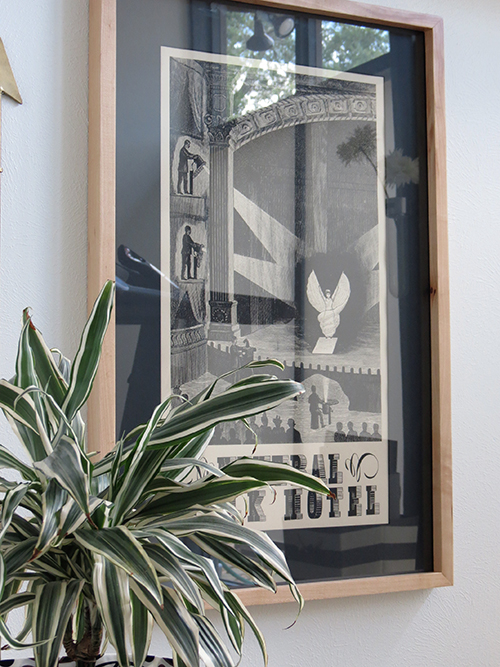 When I hung the picture I just loved the look of the natural wood.  It sparked something in me and I knew I wanted to add a few more wood accents to the room to tie it together.  I ended up taking the silver handles off my storage sliders and replaced them with wood.  I purchased a square dowel and cut it into three pieces.  Two for the front slider and one for the back.  They all got two coats of a poly-crylic finish. Water base tends to leave it more natural looking without the golden hue.  I used small screws through the peg holes and into the wood handles.  So Simple.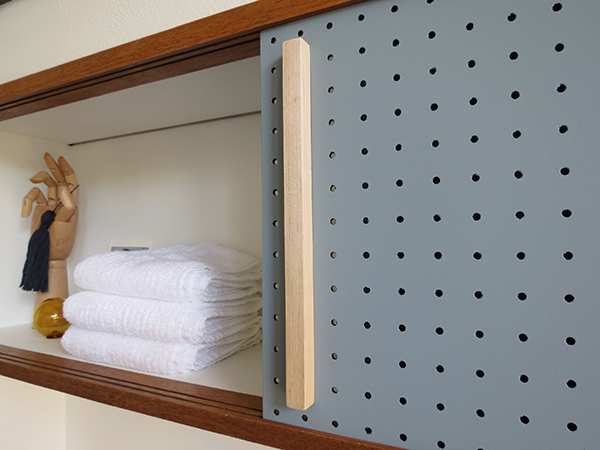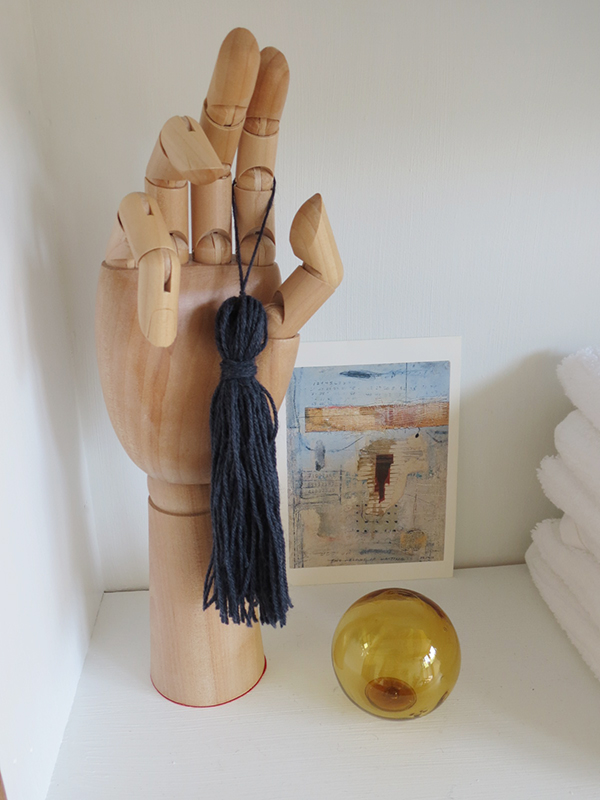 That glass ball is the top of a blenko vase. The vase was broken but we snagged the top of it. I think it's pretty.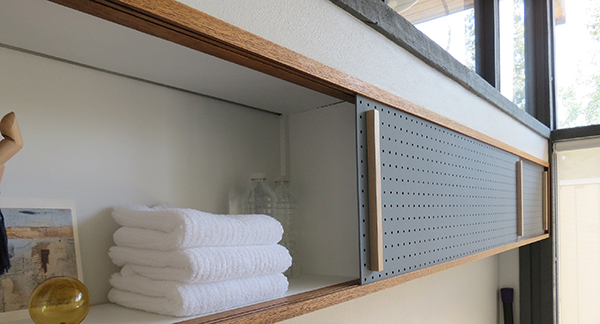 Put it all together and all the woods just play off each other in such a lovely way.  My eyes like it!!!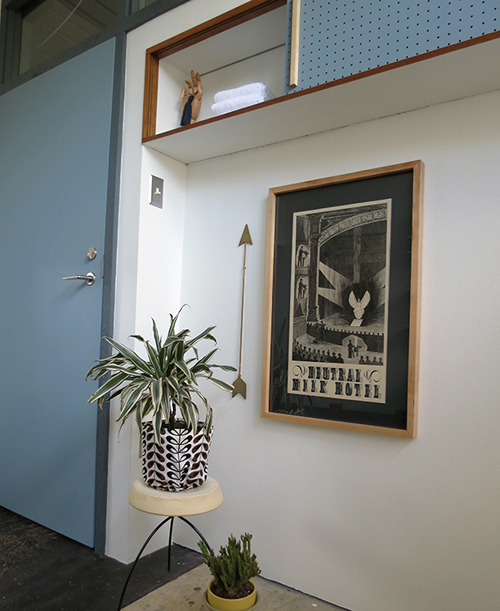 I also needed a clock and had my eye out for a very simple, VERY minimal wood clock for this space.  It would be another perfect wood accent.   I did find a few that I liked but didn't see the point in spending that much money on one.  I decided to make my own.  I've always heard that making a clock is one of the easiest things you can do.  MAN, was it ever!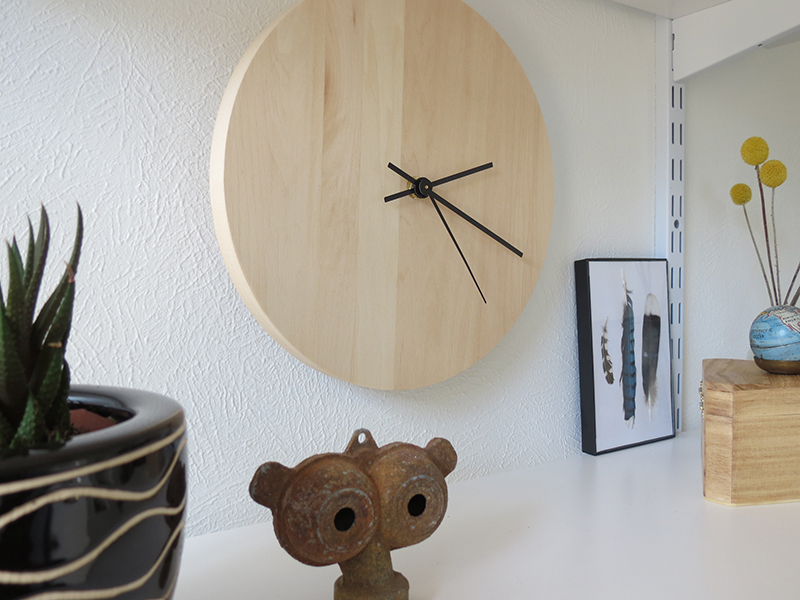 I bought a piece of wood at the craft store that was already cut into a circle and ready to go.  I drilled a hole in the middle, applied a few coats of poly-crylic and inserted a 3/4″ clock kit through the hole and it was done.  I just love a project that takes all of 10 minutes. It was so much fun and the instant gratification made me want to make another one.   It's in the works!!  If only I had more "time".
(maybe I could turn the hands back a little and pretend I do)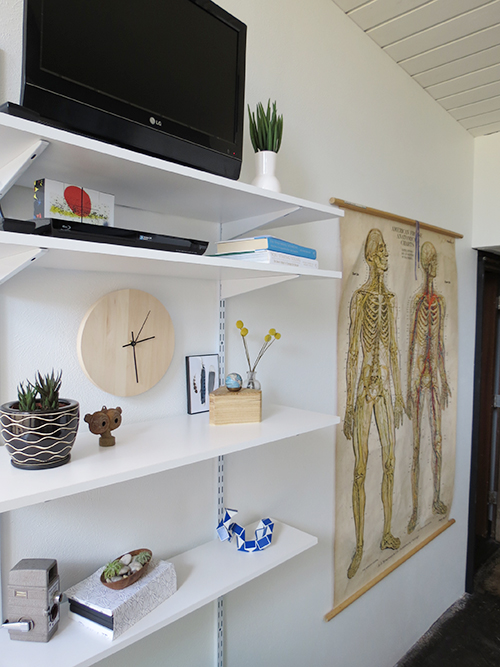 I installed some shelves in my workout room so I could have a TV and blu-ray.  It's a fun little display/storage area.  That huge wall really needed something and I love being able to work out and watch TV, play a DVD or just hook up to Netflix.  It makes those clock hands just fly.
So thanks to Richie that simple little wood frame sparked a few fun projects and I love how the tiny little details of a room can make you feel like it's "finished".  Of course we all know that we're never really finished with anything.  The best part is just having fun and enjoying the space.