With all the work going on around the house we haven't had much luck with our thrift finds lately.  There's been no $20.00 barcelona chairs or $5.00 faberge eggs. (giggle)  That doesn't mean we don't get out when we can and find a few things worth picking up.  I do believe the days of scoring big every weekend with designer mid-century furniture is over.
My husband is a hoot!  I don't talk much about him except to tell you how awesome he is at home renovation but he's also one of the best story tellers I've ever known.  He's an avid reader, English professor, and a lover of literature, art,  and music.  He's also a rockin' musician.  He plays the guitar, bass, drums, piano, mandolin, harmonica and a mean tambourine and triangle.  (Oh, wait that's me, tambourine is my specialty.  And being the doo-wop girl back up singer.)    :-)
He grew up in a VERY small town and some of his experiences are well.. lets just say TOTALLY BOOK WORTHY!  If you're familiar with Mary Carr's books then you know exactly how Richie grew up.
My point being that he's lived a crazy life, knows some real characters, and is always threatening to write a book.  If his books are as good as his story telling then he'll be famous in no time!
He says ridiculous things like "I can't type an awesome book on a keyboard.  It has to be a vintage typewriter".  So he's always got his eye out for one.  So here's one of his latests finds fueled by his (dreamy) desire to be a "writer".  A vintage Remington typewriter.  For $10 it was coming home with him.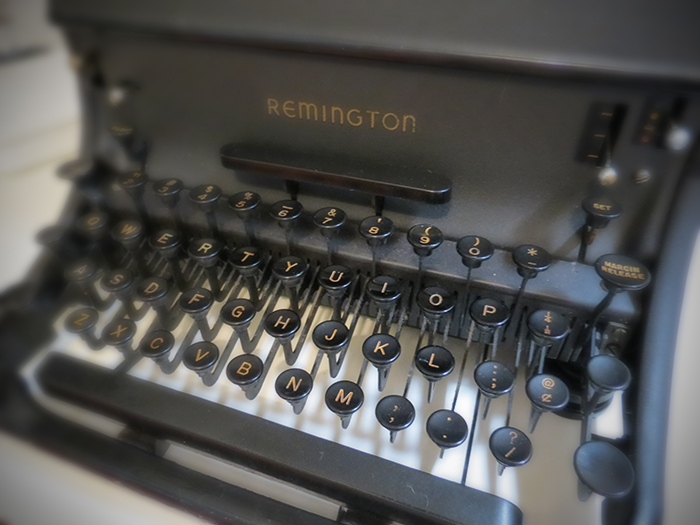 Yes, it works.. and really well.  Except there's just one thing.  You would never want to type a book on it.  IS HE CRAZY!  Okay, so for now it's just cool to look at and maybe I'll use it to type some thank you notes or something.  I love the action of the metal hitting the paper and leaving such a lovely impression.  Black or red ribbon makes it fun too.  So I'm afraid if he ever gets serious he'll have to live in the real world and sit at the computer to do it.  But I'll keep the typewriter close to make him feel all warm and fuzzy!   We both think she's so pretty!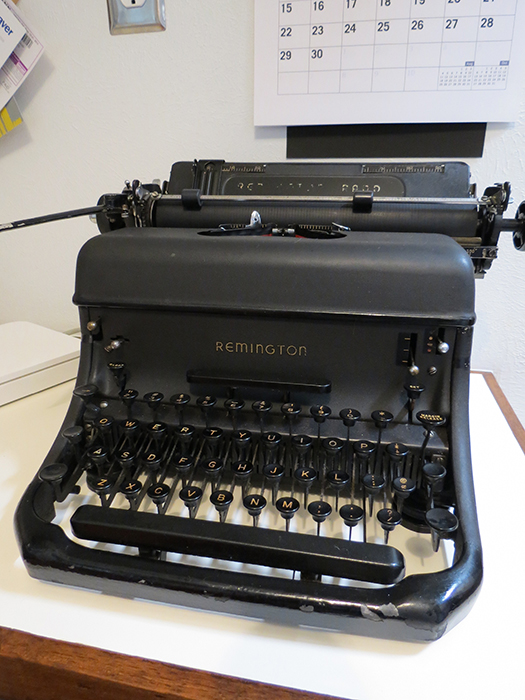 Over the years we've collected quite a few compasses and I'm looking forward to someday having a cool place to display them.  Richie found another really nice one we can add to our collection.  It's quite heavy and the patina on the case is fabulous.  It's an oldie but a goodie!  But where do we go from here?  Ah… WEST YOUNG MAN, WEST!  … or maybe to a local storage unit sale.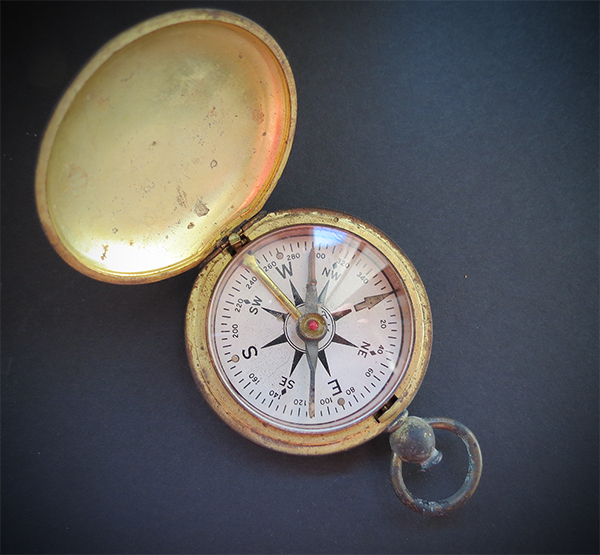 …. and so we did…. and found ANOTHER Emil Bisttram painting for $5.00.  Yes, another one!
It is also from 1958 and has a modern feel to it.  I swear I do believe the art Gods intended for us to have these or we wouldn't keep stumbling upon them.
It was so gross, though.  Roaches or moths or something creepy crawly had chewed their way through the backing and were only a few bites away from getting to the actual art. After taking it all apart and cleaning the paper… it was in really good shape.  No holes, no stains, and no roach poo.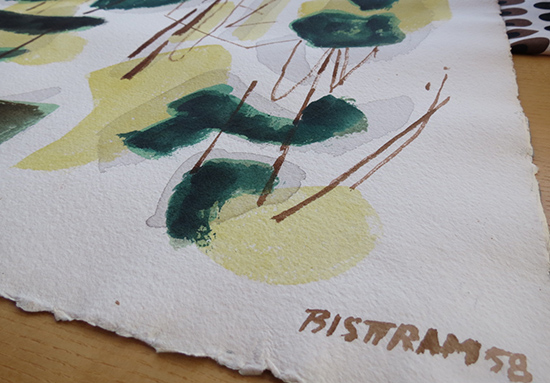 Richie is so good at building frames for the art we collect.  We have never had to take anything to have it framed.  So he got to work and made a frame for it.  He also made another one for my concert poster you saw in my last post.  They both turned out so good.  THANK YOU, RICHIE!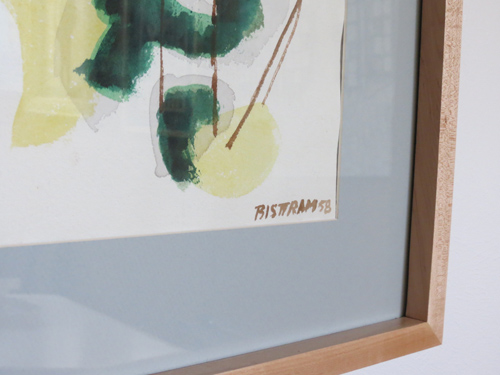 Again with the glass difficulties.  Sorry for the bad images but you get the gist.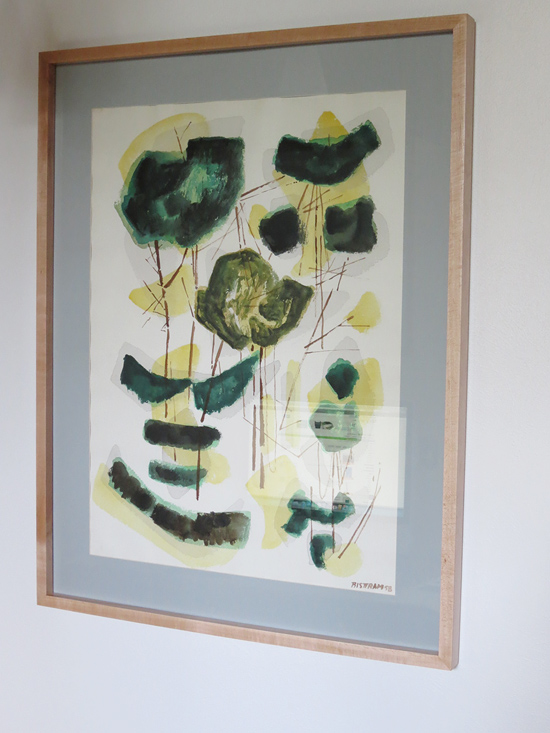 You may remember the last Bisttram painting we found.  (see below)  If you don't know anything about him…. please google Emil Bisttram.  You'll see that he's pretty amazing.  His work is collected by museums and galleries all over.  I feel so lucky to now have two of his pieces.
Here's the other one we have….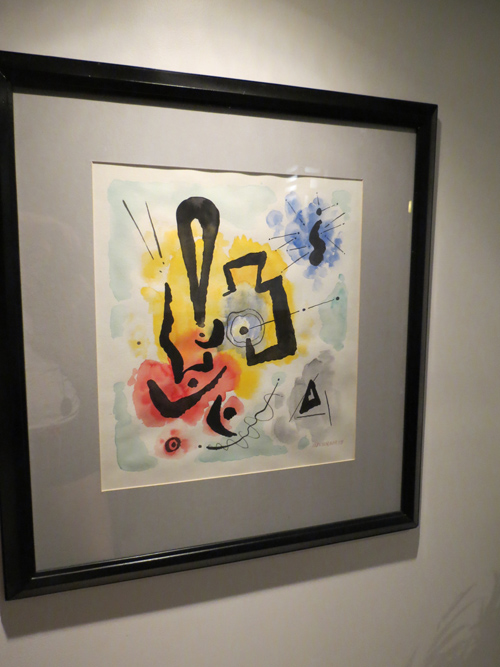 The really neat thing about the timing of this is that I recently received a comment through my contact page from Emil Bisttram's cousin who found his work on our site and wanted to thank us for appreciating and rescuing his art.  HOW NICE!  We certainly do.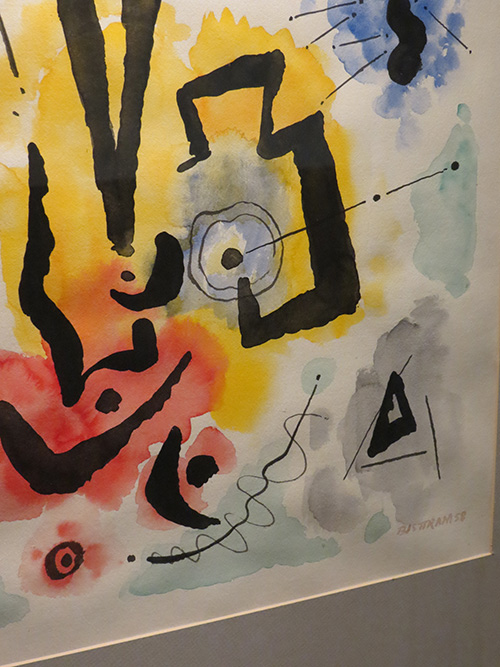 We also found this really weird painting I call "the running man".  I have no idea who did it but it was worth picking up for $2.00.  I guess you could call this cubism.  Weird?  Maybe, but I hung it up just to see how I feel.  So far I'm not hating it – it's growing on me.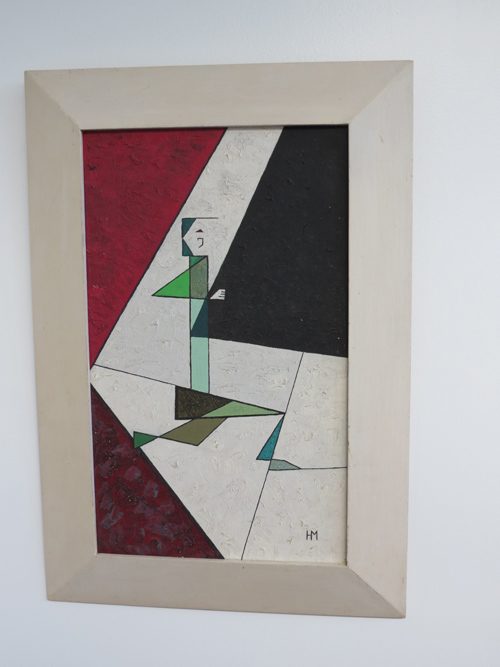 Richie also brought home a vintage 1930′s Dixie Cup holder made of glass and metal.  They definitely don't make 'em like this anymore.  I've seen these go on auction sites for about $150-$200.
I knew we'd never use it for dixie cups.  I did however, think it would be great to repurpose it and make it into a hanging vase.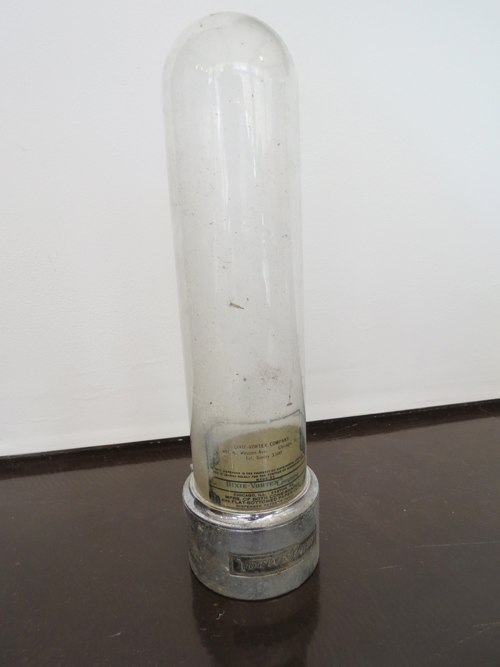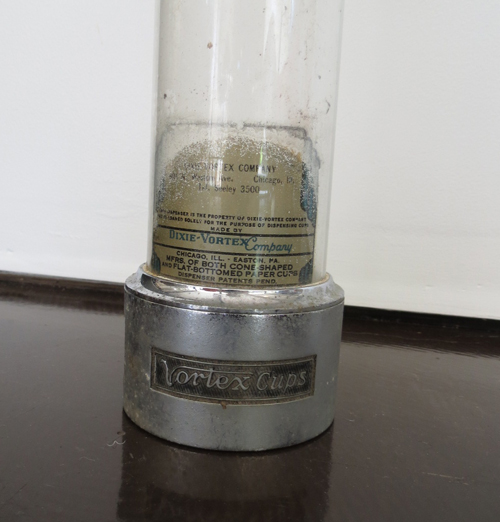 I think it's so much fun to find other creative uses for something that might not ever get used again or just thrown away.  I think it's important to save some of the past and use it in your future.  So great!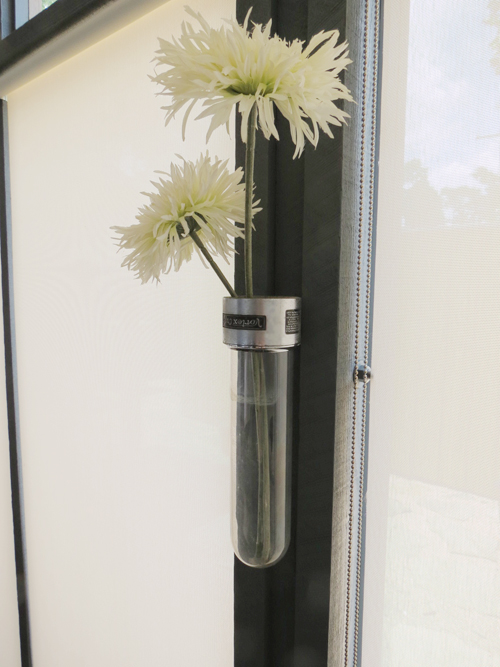 And so we continue to hunt and dig for vintage, rusty, industrial, modern or just plain cool stuff.  Finding artwork is always a highlight and after all the years of searching there are stories to be told about each and every piece.  Maybe that can be his second book!
And my final thing to end this very interesting week is this guy.  Do you recognize him?  Let me know in the comments if you do.  I met him on Tuesday.  He and Juliette Lewis have been filming a movie 15 minutes from my job and had to come into the station to cut tags for the cadillac commercials he does voice overs for.  It was my job to stay in contact with the scripting guys in Boston and deliver his scripts as they came in.  It was a nice change of pace in my day.
I'm NOT a person who is star stuck.  I never look at people that way but I do find the whole idea of having a job you LOVE awesome.  So I certainly appreciate a person being able to do what they love and have great success with it.  It think this is HIS TIME.  Have you guessed yet?
He's very short.. but I'm 5'11 so that's not really fair to him.  And he possibly could have been high, but that's just a guess.  Maybe that was why he was wearing all that cologne.  (laughing)
It was interesting to say the least and I'm a big fan!!!
Have a happy weekend and may you find or do something fun and interesting!
Notice about comments:
If you have commented on this blog before, you received replies via email as well as on the blog.  I have had to discontinue this due to entirely too much spam. I'm sorry for any inconvenience this may cause.  Thank you as always for your comments.  I love them!  All replies will be posted to this page.