I'm often asked… WHY?  Why in the world don't you hire someone to finish up this house of yours?  Good grief, that's an excellent question and my usual answer is … well, because there's lots of stuff I can do myself and hiring someone is not only expensive but a nightmare.  (we've all been there!)  NIGHTMARE!  But this post is about another reason we do it all ourselves.
The thing is that I'm not a rich person.  I make a good living and so does my husband… but we are not wealthy people.  We have beautiful things that we've worked very hard for and that is the exact reason we have them.  WE WORK HARD FOR THEM!   When I'm not at my day job, I'm usually working on websites ( to support my husband's book buying habits).  The man can read a novel in 1 day.  My bookshelves are overflowing.  Anyway, I work hard for every penny at work, and here at home.  It was how I was raised.  We spend our money on things we need but I am one of those women who HATES to shop.  Don't ask me to spend a day shopping.  I'D RATHER CHANGE THE OIL IN MY CAR.  NOT!  I buy a few nice things and wear/use them repeatedly until they fall apart.  I save, save, save my money.  I always have.
Buuutt… when it's time for something I really want I have no problem getting it.  Because lets face it… you've seen how hard we've worked and what all we've accomplished —  that adds up to a lot of savings.
So when it came to wrapping up my office renovation I knew the only thing it needed was a beautiful office chair.  It was a no-brainer.  It has been on my list since 1997.  YES, I have a list.  Don't judge me.  Ha Ha!  An Eames Aluminum Group Office Chair made by Herman Miller.   There, I said it.  I WANT IT and I wasn't going to wait any longer.
It stared with a friend allowing me to use and sit in his vintage chair for a week just to be sure I was really going to like this chair.  DUH!  Of course that only made me love it even more. It was a done deal.  Call me spoiled.
The fabric samples arrived.  And a choice was made.  Hello Maharam Messenger Satsuma.  With your 100,000 double rub abrasion rating.  YOU WILL BE PERFECT!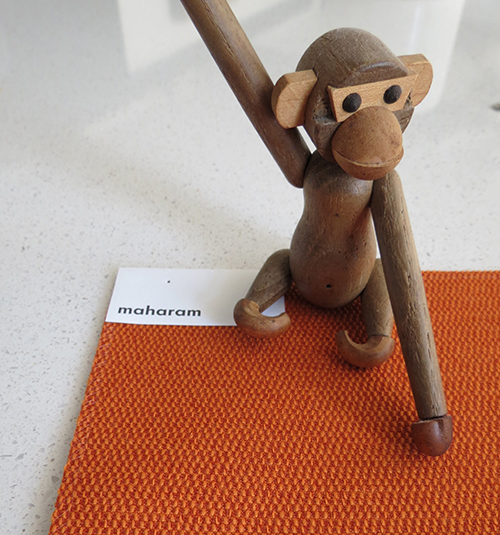 Of course it almost makes me sad to see the market so saturated with mid-century designs.
When we started out is wasn't very popular and you could get vintage pieces for next to nothing.  Now it's so much more difficult and everywhere I turn these pieces are popping up in main stream design.  It's like punk-rock going top 40.  That sucks!  But I guess you can't really blame designers for loving beautifully made pieces that are timeless.  So I forgive.
People are using these chairs in lovely spaces… even their dining rooms.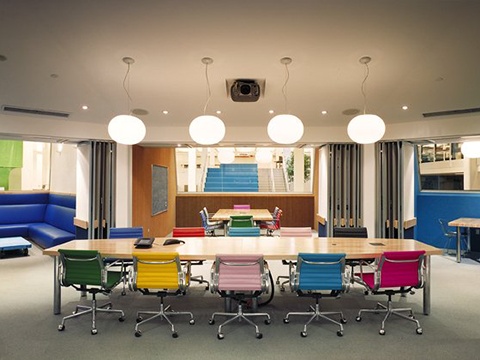 So COLORFUL!
I ordered the chair from Y-Living and they were so accommodating; checking up with me via email and sending out sample after sample, all arriving in less than 48 hours.  I highly recommend them.
They kept me updated every step of the way.  I hate online retailers that never tell you what the hell is going on with your order.  BUMMER!
Since the chair was customized with the fabric of my choice I had to wait 5 weeks.  I was amazed how fast that went.  Then I got totally freaked out because 5 weeks went by and I have no idea what I did in those 35 days or where it went.  I'll be dead soon!  (kidding!)
The thing is that without going into too much detail… Richie can retire in 3 years and I can in 10.  I would really love for him to do it and maybe find a totally "fun" job that he can do part time.  It would be awesome.  So at this point in our lives I'm trying to cross things off that list while we can.  Get the things we want now, and enjoy and want for nothing when we do retire.  It may seem silly but I do think like that.
So here she is.  One more thing off my list.  Forgive all the photos.  Most people take pictures of their kids… I take pictures of my office chair (same thing).  HA HA HA!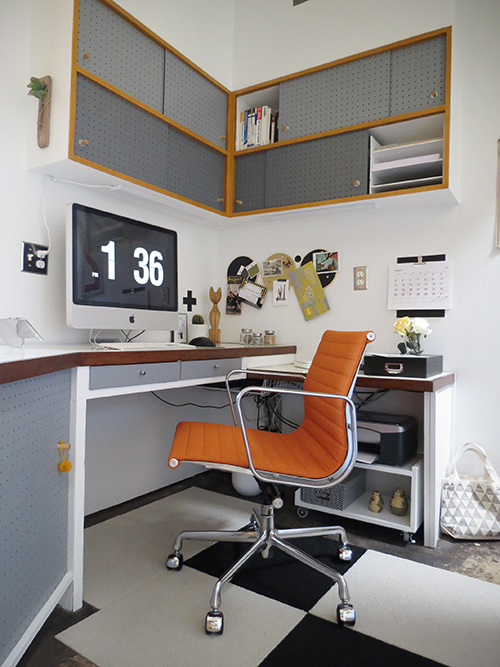 A good pop of satsuma orange is just what this space needed!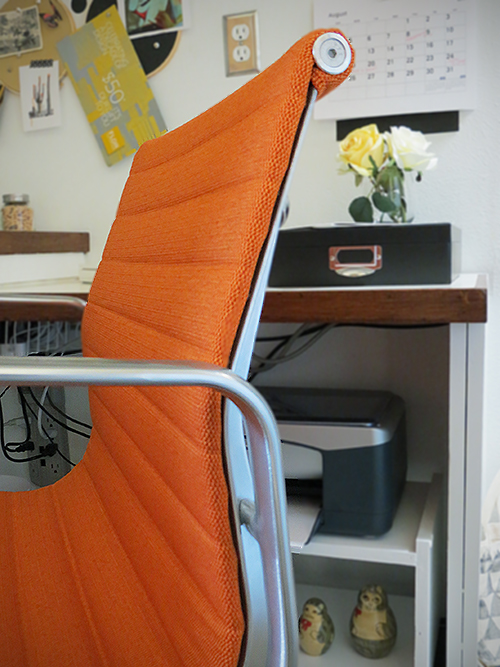 The shiny new aluminum body and chrome wheels just beg you to sit and spin.  YOU BET I took her for a spin.  (I'm a child who is easily amused)  She's smooth.  The wheels are fast too.  You've seen my hallway.  I raced her down it.  Yes, I did!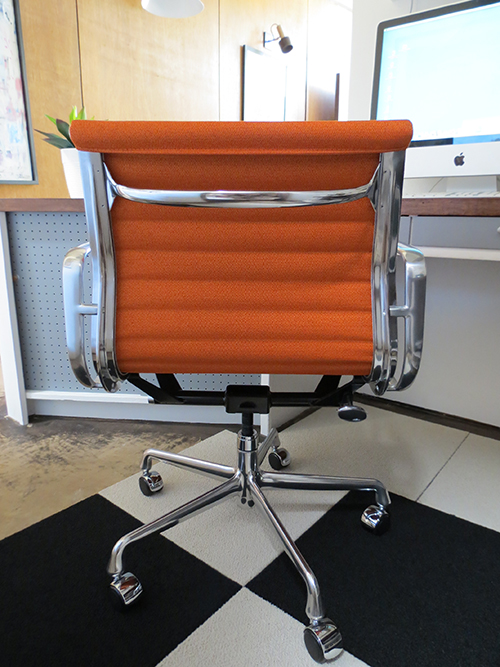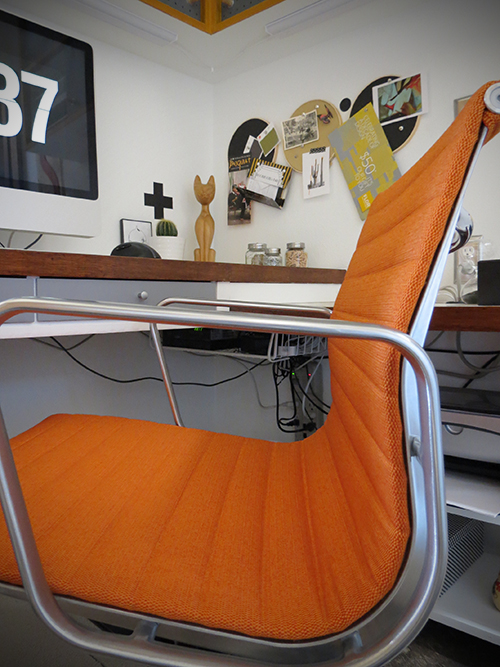 So hard work, whether it be on this house or at my job, does pay off and the pay off is different for everyone.  This is mine!  If I had hired all the people I would have needed to finish this house I wouldn't be sitting in my orange delight.  :-)  It's so worth it!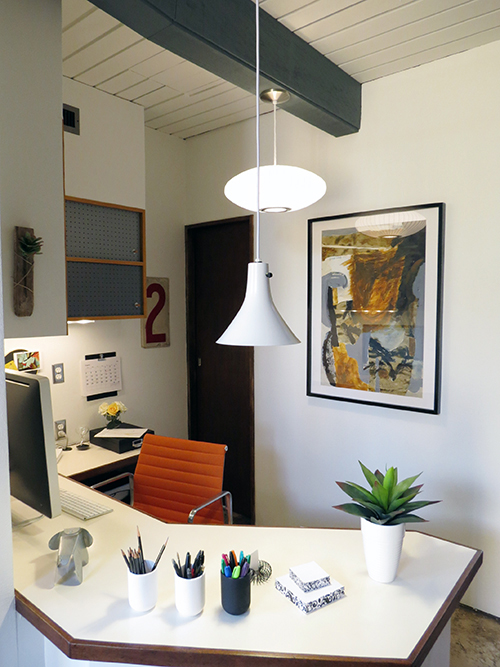 So yes, I'm excited and I love sharing that excitement with you, but just so you know…  it could all go away tomorrow and I could be sitting on a milk crate.  I'd still be happy because things are just things.
But I cant lie… I'm giddy!