There's The Great Wall of China, and The Wall in Manhattan…. the Lennon Wall in Prague and Pink Floyd's THE WALL…. but our wall is not the kind to be celebrated, and I'm pretty sure it won't attract tourists. One thing I am sure of is that it's been nothing but trouble.  After three years of waiting we finally conquered this hideous beast.  Lets look back and see what all the fuss was about.
I'm still in my workout room but we are making progress each week.  Richie and I have about a day and a half each week to work on the house so it's slow but steady.  When we bought the house my now workout room was the lounge area of the architect's office.  It looked something like this: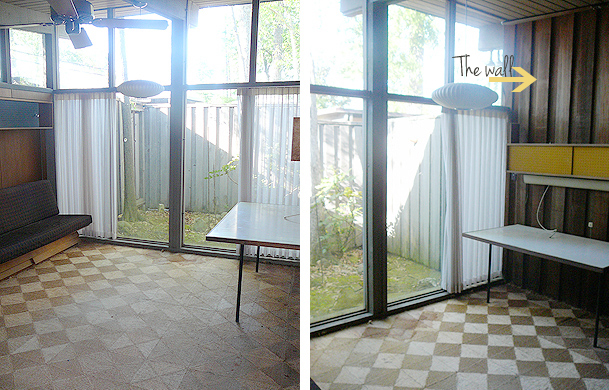 You may remember my last sheetrock post about this room and I showed the area where the old built-in couch use to be.  You can see it here on the left.  The picture on the right shows the wall of horror and the fence that was built to shut off this area from his private residence.  Looks are deceiving…. this whole area was in horrible shape.  (just trust me on that).
We knew we would be taking down the paneling in the house and this wall was no exception.  The wood siding had to go.  For the life of me I cannot understand why an architect would build an addition to his house and leave the siding on the house and just go from there.  Seriously?  Maybe he was just tired that day and said "screw it… lets not take it down".  (I can relate!) So yes, that wall is the actual outside siding from the original house.  AWFUL!
As Richie begin pulling each board off the wall it became apparent that we were about to get into a hell of a mess.  It seems that the fence (seen above) that was built to separate the public/private spaces was actually built into the wall of the addition.  YES, you heard that right.  BUILT INTO THE WALL!
We had no interest in leaving this fence and wanted to open up the space.  Richie went to work.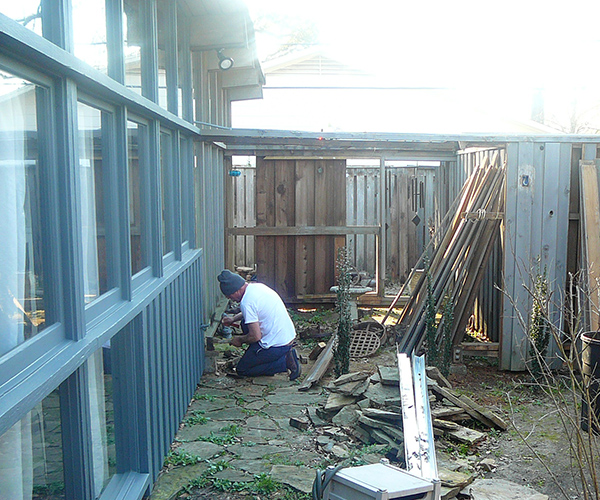 Both fences that closed in that office area had to go.  It was a pretty big mess and there was electricity in the one fence.  You can see the light in the picture above.  Richie had to move all the electrical to another fence. At this point we haven't even gotten to the damn wall.  One step forward, two steps back.
Once the fences were down and pulled away from the house.  We were left with this.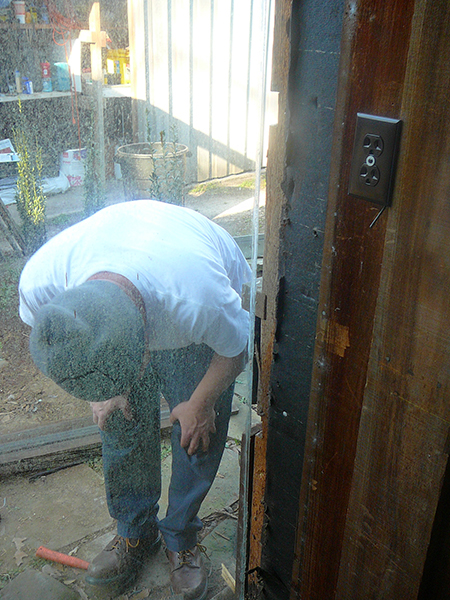 Sorry for the dirty window.  Everything gets so dirty when you pull out and destroy stuff.
Richie is here examining the lovely 2 inch gap that was left between the widows and the workout room wall after the fence came down.  We just stood there and looked at each other like… WTF NOW!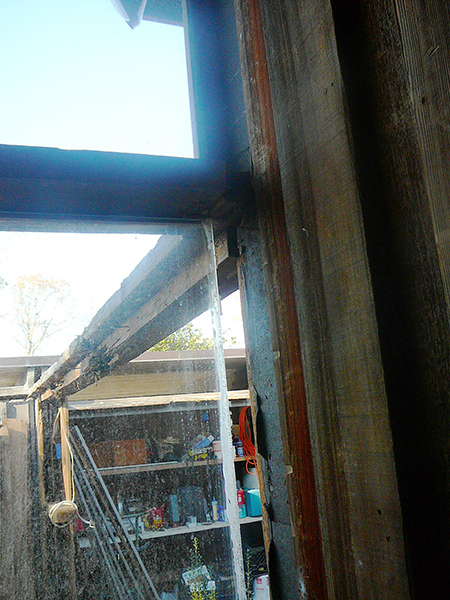 Luckily I have a partner who is handy and quick.  The first day we had the house we tore down an old structure that was built on the back of the house.  It was basically some sort of plan for a covered or screened in patio that either never happened or ceased to exist after years.  All that was left was the structure.  You can see some of it below coming off the house in this VERY OLD picture when the previous owners had the house.  This "roof" grid structure came down and we saved it all!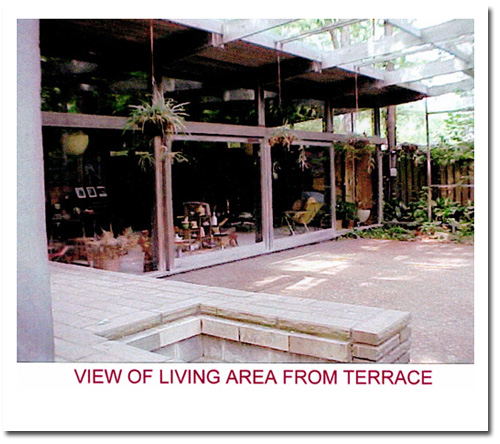 All the wood we tore out of this house was stacked and saved then reused where we could.  It saved lots of money and resources.  These beams are huge and you can't just go out and buy these suckers.  You'd have to special order them.  They were the exact size that we needed.  Richie pulled one, sanded it, did a few repairs on the piece, cut it and slid it right into the gap and attached it to the beam right next to it.  Okay, that sounded so easy didn't it.  HA HA HA!  Well, trust me this damn wall was anything but that.  Once we started trying to put this monster beam into the gap it was obvious we might break the glass in the process.  Each pane of plate glass was then pulled out and gently set aside.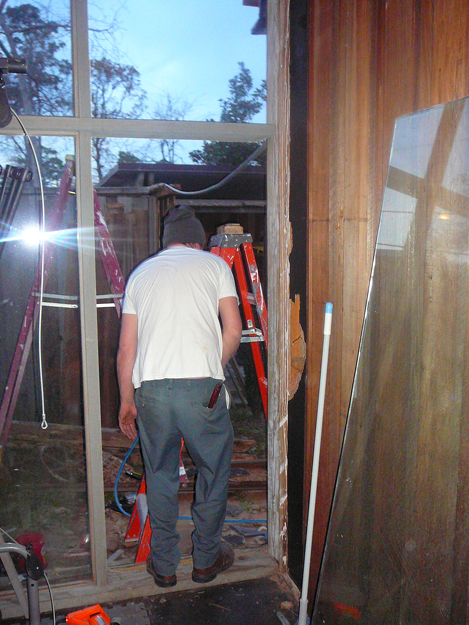 Here's a close up of the new beam all in place.  NO MORE GAP!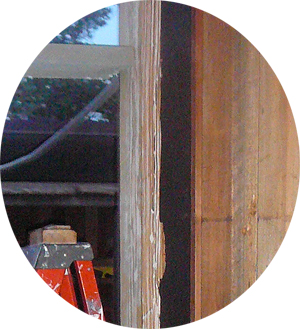 Picture this:  It's 10:30 at night, Richie's on a ladder with a huge piece of glass in his hand trying to put everything back together so raccoons don't invade the house and I'm standing there in tears telling him to come down and stop before he hurts himself.  I had this image of the ladder slipping, the huge pane of glass cutting Richie and then breaking into chunks of deadly shards, him lying there with a broken back in a pool of blood…  (you can see how dramatic I can be!)  He finally realized it was too late and he was too tired and for once in my life "I was right".  (I marked the occasion.  I'm usually not right.)   We tacked up a couple pieces of plywood and called it a night.
After the fix the wall just sort of sat there with it's black insulating board and tar paper covering.  It sat there while we worked on other things.  It made me ban visitors from the house and it yelled at me every day for three years…. "I'm so ugly and you hate me".  It wasn't a very nice wall to me.  It should appreciate me more for pulling all that heavy siding off of it!  WE HATED EACH OTHER!
But now, I am finally here…..
I pulled off the tar paper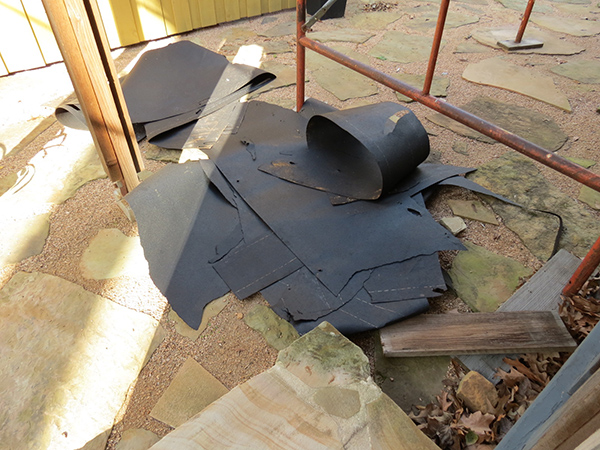 But decided to avoid the mess of the insulating board and left it hanging.  Seemed okay to me… more insulation.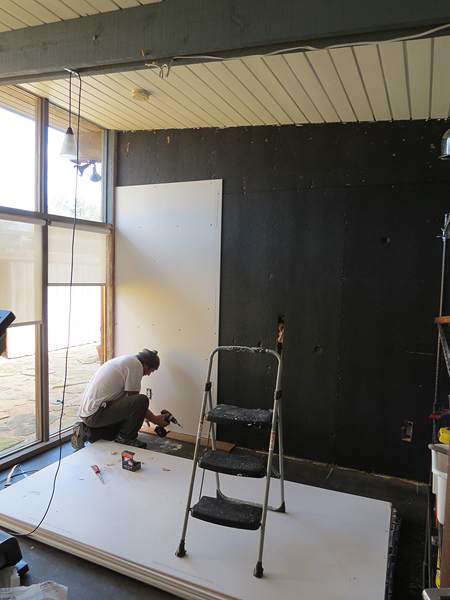 We began hanging the sheetrock and I felt the excitement that only someone who lives in a mess day to day can feel.  It was amazing!
After taping, floating, and texturing I am finally finished with my great wall of trouble.
She's now pretty, bright, clean, and ready for her debut (tourists welcome).  All she needs now is a fresh coat of paint which will happen this week.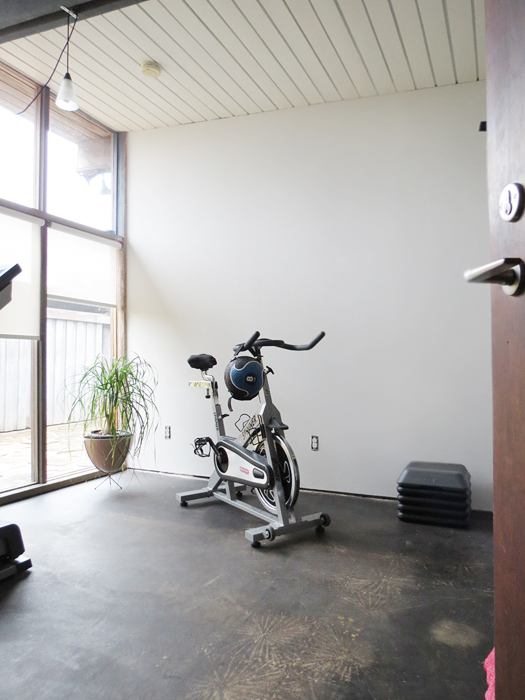 You can see how nicely the sheetrock meets the new beam Richie installed and how it all seems like it has been there forever.  Also how open the courtyard is now that all that extra fencing is gone.  I still need to paint the beam and the window next to it.  After that comes the floor,the storage cabinet, window tinting, and trim work.  But there's more good news to report.  I've lost 4 pounds!  That pretty new wall is already working.  A lovely space is so motivating.  In so many ways!
Sorry for the LONG drawn out explanation but sometimes you have to remember where you've been to appreciate where you are.  I'm one happy girl!