Time to take a break from "working out" and talk about the things that make our homes special. Whether you're mid-century or traditional, all of us love to fill our homes with beautiful FURNITURE!
Some of it we collect from estate sales, buy on a whim, get handed down from grandma or pick up off the side of the road.  Putting a home together should be fun and for me it has and does take years.  I love the look of a home that has morphed over many years of collecting over a home that gets decorated in a weekend from a big-box store.  The thing I have tried to do with our home is never bring anything into the house that I didn't REALLY want or REALLY love.  Sometimes that's hard to do… but it's always worth it to wait for that special piece.
One of our favorite designers is Poul Kjaerholm and his pieces are spectacular.  He was a danish designer born in 1929 and passed away in 1980.  His award-winning designs have put him on the who's who list of modern designers.  His pieces are clean, simple, and the epitome of modern.  They stand the test of time and they will NEVER go out of style.  The are also, however, expensive as all hell! The funny thing is…. most really beautiful, well-made things can be … BUT sometimes are totally worth it.
Kjaerholm is one of those designers you dream about owning but know in your heart it will probably never happen.  Or will it?
Designer Paul Kjaerholm / PK Flat File Cabinet / PK31 Sofa / PK55 Dining Table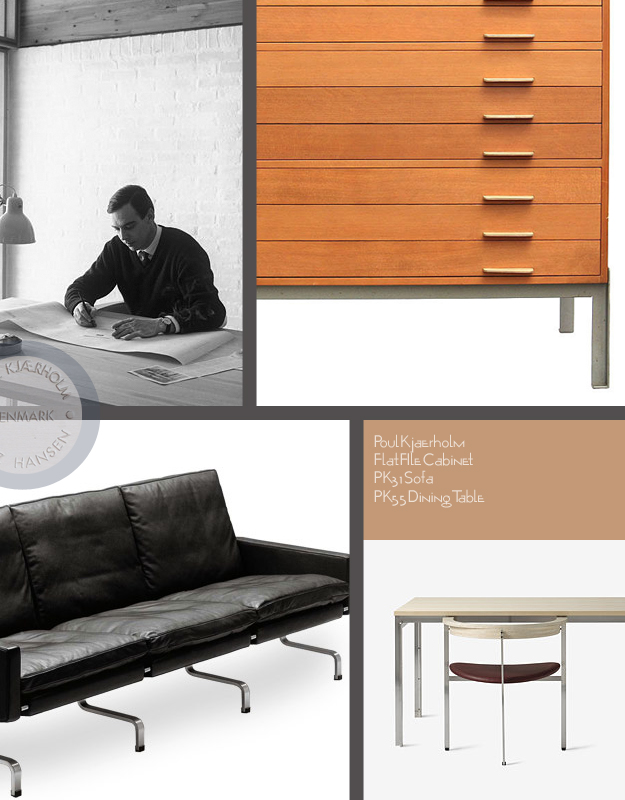 The PK22 chairs below are $3,800 each. You can get his PK80 daybed for $17,000 or just swipe that debit card and get you that lovely PK31 sofa for $38,000.  What are you waiting for?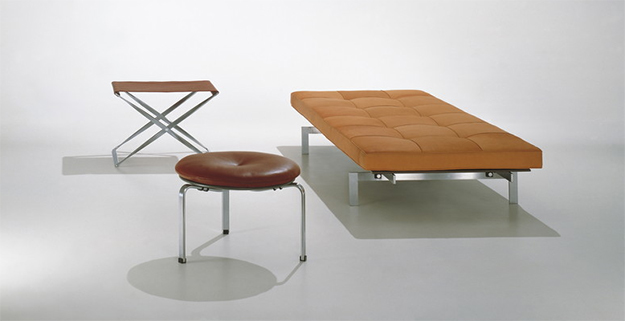 I won't go into the whole entire history of his life and work… the internet is full of info if you're interested but I can say that although I love just about everything he's done there are two things that Richie and I have had on our list for the past 10 years that seemed "in reach".  (especially when we win the lottery!)  I'm sure everyone has a list and ours included the PK22 chairs above and the PK55 dining table.   I keep hearing Aerosmith singing "DREAM ON"… "DREAM ON"… "DREAM ON".
After watching online auctions, ebay, and scouring the internet for any kind of "deal" we happened upon an auction at the Wright Auction House in Chicago.  They were auctioning a PK55 dining table.  We logged on and watched the bidding.  SOLD!   Then months later saw another one come up and watched again.  This time the item did not sell.  Hummm…. this could be very good.  Months and months went by and we noticed that the item eventually went into their "WRIGHT NOW" part of the auction site… which means you can buy it NOW instead of taking part in the actual auction.  It was still way out of our price range but we continued to watch it.
About 6 months after moving into this house we checked again and it was still there.  We decided to just take a leap and offer them what we could afford (realistically) and if they really wanted to get rid of it I figured they'd deal.  You have to arrange for shipping yourself so I got on the horn and got bids for shipping from Chicago to Texas.  Cheapest shipper was $525.  WTF!  So it was back to the drawing board.  We came up with a new number that included the shipping but still totaled the amount we could spend and they SAID YES!  Yes, I almost peed in my pants. (even as I write this).  THEY SAID YES!!!!
I got online and initiated a bank transfer of funds from ours to theirs (before they backed out and came to their senses) and it was paid for in a matter of minutes.  As I logged into the website to see my table a big
S-O-L-D banner came across the image and I could hardly believe that it was on it's way.
So here it sits in our dining room.  After 8 years of  staring at this item on our list… I took a red marker and crossed it off.  It is the most beautiful, well-made piece of furniture I have ever bought.
I'm so proud to own it and it was worth every day, month, and year we had to wait.  Every hard-earned penny too.  Additional proof that decorating your home no matter what style you love takes time, effort and patience.  It's part of the fun.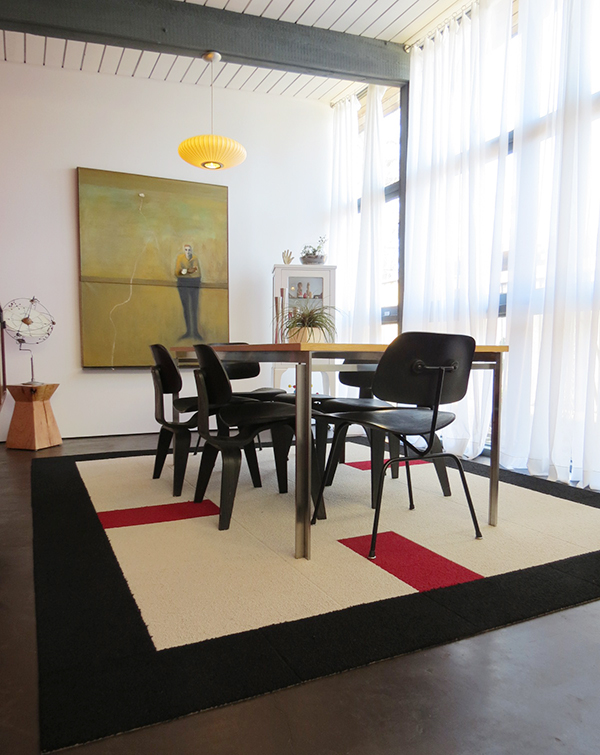 We had 6 Eames Dining Chairs that we knew would be perfect around it.  It easily fits six but you could squeeze in two more.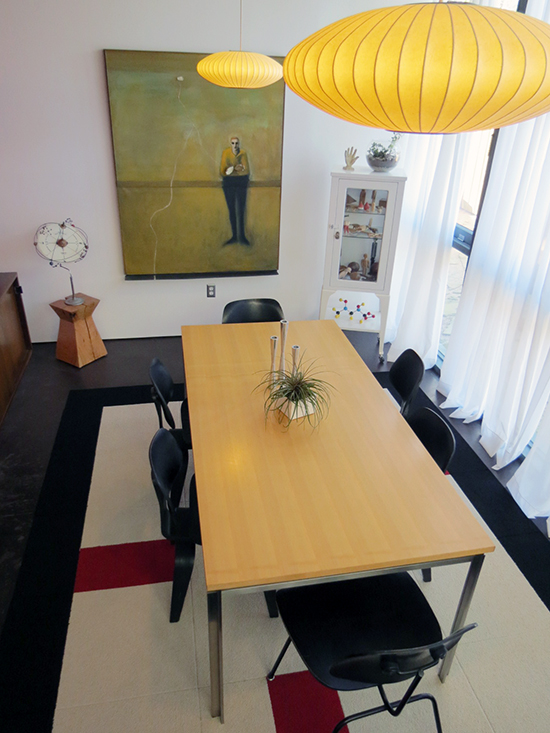 Those bubble lamps are from the 60′s so they have that vintage golden patina.  Or maybe it's just cigarette smoke. HA!  Remember the days when everyone use to smoke inside, in airplanes, in offices.  CRAZY to think about.  Whichever it was I think we'll call it vintage cool because that sounds so much better than smoke-stained!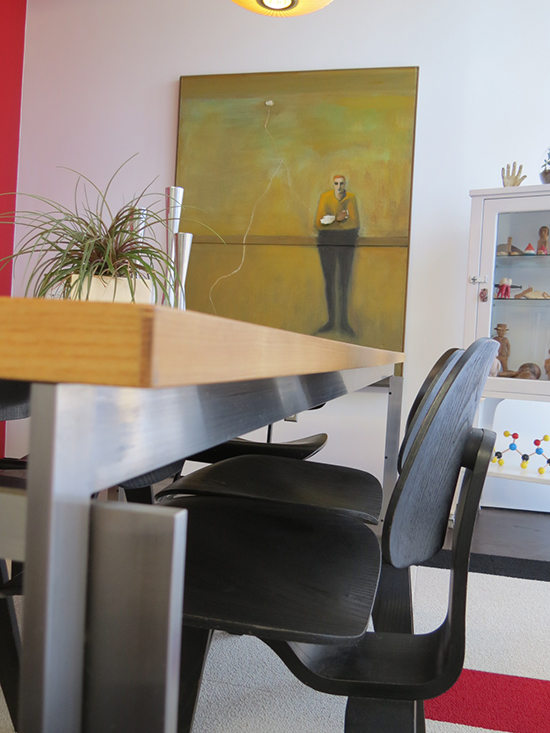 I love how the brushed stainless steel legs so gracefully cross each other at the corners.  It reminds me of a woman crossing her legs.  (her very thin legs!!  DAMN HER!)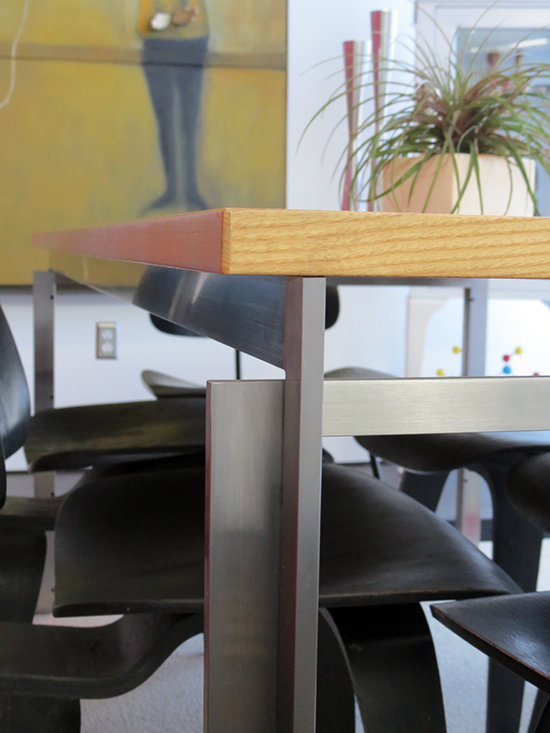 Many of you may have already seen plenty of pictures of this room (sorry for the repeat) but I've yet to talk about most of the pieces.  It's fun to share the dreams you had for your home that have now come true.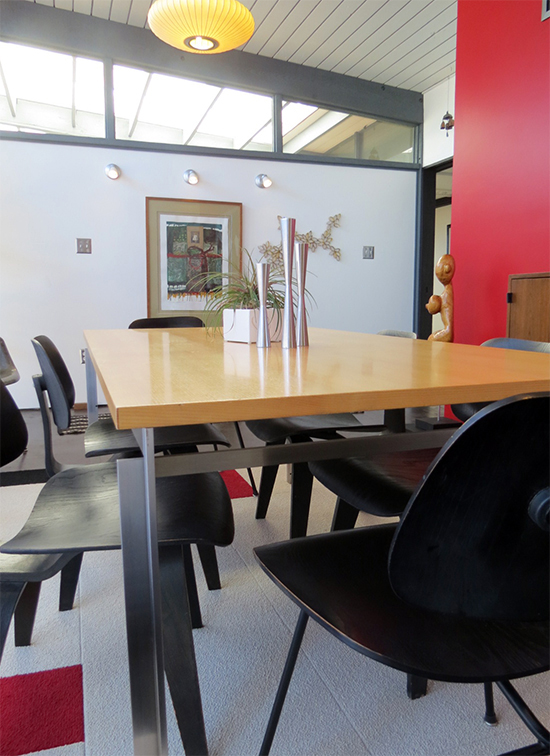 The simple top seems to float above the legs.  It is by far the one piece in my house that makes me feel like a grown up.  HA HA!  The PK22 chairs will remain on my list along with the hope of "one day"… it could happen!
If you're looking for a certain mid-century modern piece I suggest you check out Wright Auctions.
They have some really gorgeous stuff.  It's fun just to window shop, too.  You can also check out more of Poul Kjaerholm's designs on google.
Do you have a special piece in your home that makes you proud?  Maybe something that you saved and saved to get?
YOU MAY ALSO ENJOY THIS POST – DESIGNER: JENS RISOM