I'm so fortunate to have a job that I truly enjoy. With the radio station being located on a University campus I get the opportunity to see some wonderful things.  The NPR station where I work is located right between the Music Department and the Art Department. You can imagine how much fun that is… especially when those two things are such a huge part of my life. It's never boring… always inspiring.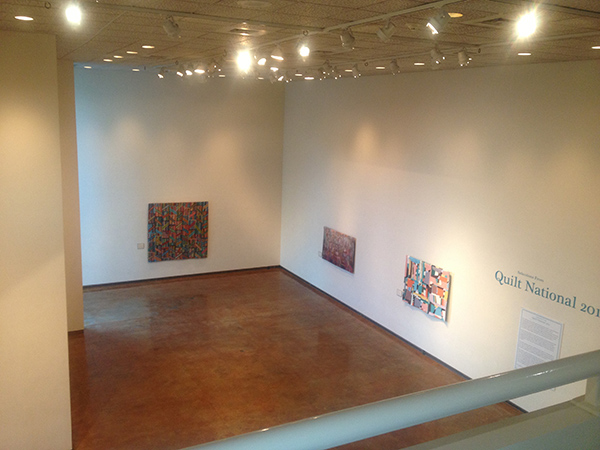 The Museum on campus has some really amazing exhibits pass through and I'm always eager to check them out. The National Quilt exhibit was just about to come down so I dashed into the museum to get a peek. It was pretty great because it was the end of the day and I was the ONLY one in the museum. WHAT FUN! I snapped a few shots with my iPhone and enjoyed these amazing quilts. Truly works of art.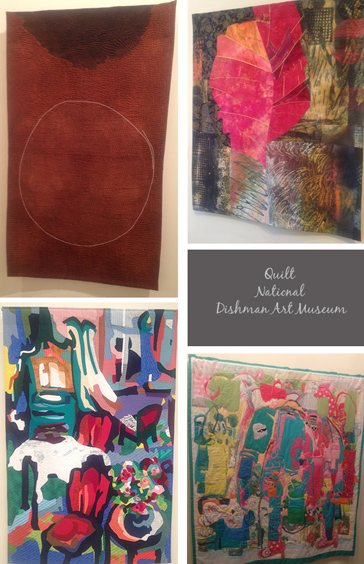 It's hard to believe as you stand there looking at these pieces that they're actually quilts. You'd almost swear they were painted canvas…. until you get up close and see the fibers and stitching. Amazing.
My interest in viewing this exhibit comes from my love and desire to make a quilt of my own.  It's something I truly want to do before I kick the bucket.
I remember when Richie and I got married and we had NOTHING. Everything in our home was given to us, stolen out of our parents cabinets, or brought from our childhood.  One thing Richie always had on his bed was his grandmother's quilt.  It was faded and worn, yet colorful and full of life. It was a blanket we fought over when we wanted to curl up in front of the TV.  It was the softest quilt I'd ever touched.  I guess years of love will do that to fabric.  And we did love it.
As the years went by the quilt began to tear and slowly disintegrate in front of our eyes.  To be honest I'm not sure where it went… but I think his mother took it and stored it for sentimental reasons.  I have always felt the desire to make my own… but with a modern twist.  How the heck do you do that?  Was it even possible to pull that off?
Years went by and because of our love of art and the many chances we got to see amazing exhibits come through the City of Houston we learned of the beautiful quilts of Gee's Bend.  Richie and I were so taken by these works and the story behind them has made such an impression on both of us.  Many  years ago we bought this book and I wanted to share these images.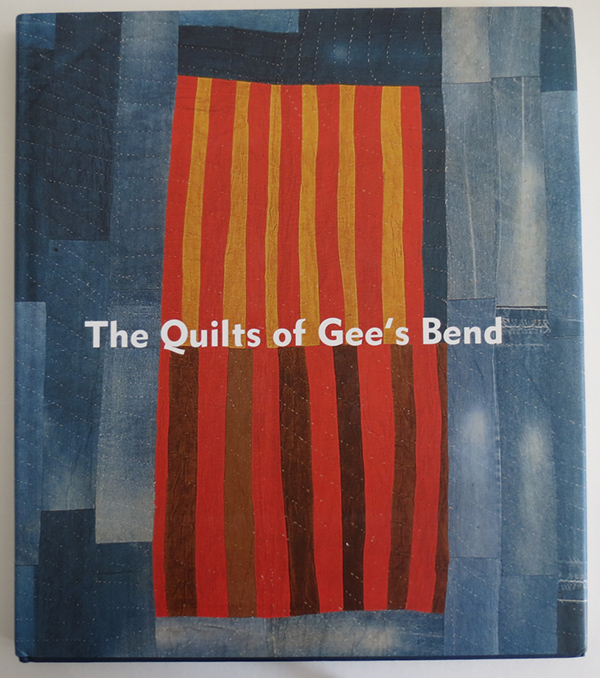 For me a quilt was something your grandmother made with very traditional/country patterns.  But today I now know just how modern and "artsy" a quilt can be.  If you've already seen these images and you know about the Gee's Bend quilts then you know for yourself how special they are.  If not, then you'll certainly appreciate what they are, who made them, how and why.  They always blow me away.
In 2002, the Museum of Fine Arts in Houston, Texas, presented an exhibition of 70 quilts from Gee's Bend, Alabama. The story goes that art collector William Arnett came across a photograph of one of the quilts while working on a history of African American vernacular art. He set out to find the quilt, and its maker, and arrived in Gee's Bend.
Without going into the entire story behind this… it all boils down to a group of amazing African-American women living in "Gee's Bend", an area surrounded on three sides by water and located in a bend of the Alabama River.  The area is only accessible by ferry.  Without much, if any connection to the "outside" wold…at least not like you and I have, these women used what they had available, including the clothes of spouses who had passed on,  and made these amazing quilts.  These women had never seen modern or abstract art and knew nothing about the art world, yet they assembled from their hearts and minds, these amazing works of art that the New York Times has said "are the most most miraculous works of modern art America has produced".
I couldn't agree more.  Someday I hope to be inspired enough to create something this beautiful for my modern home.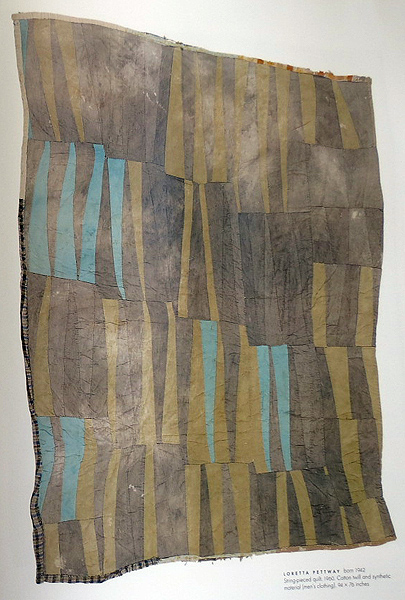 "I made all my quilts out of old shirts and dress tails and britches legs… Some people would give me old clothes, and some of them my children couldn't wear, and I would tear them up and make quilts. I didn't think I was too good at cutting out. If I could have got with friends to get me on the right track, maybe. But I didn't have friends, so I had to piece up things the way I could see to do."
- Loretta Pettaway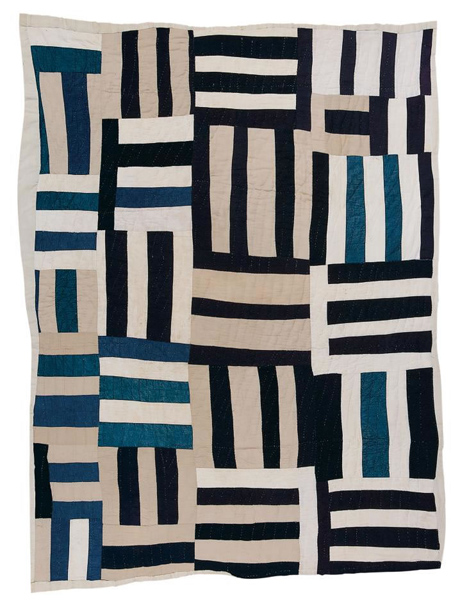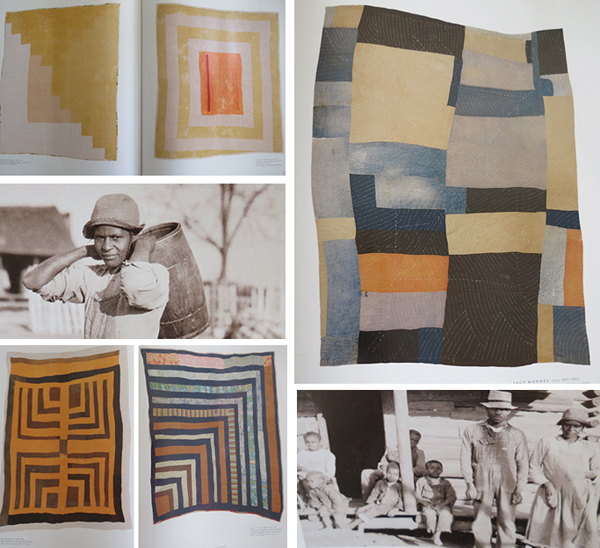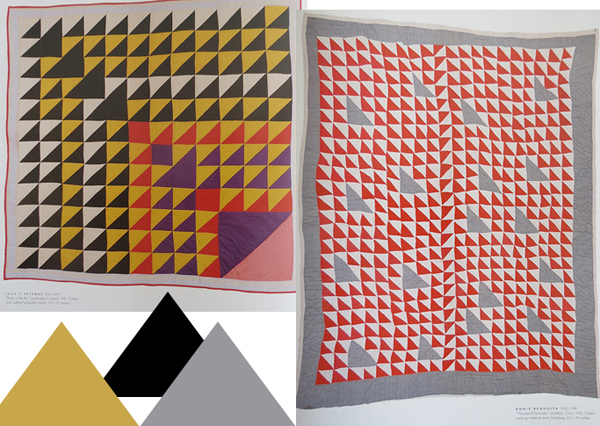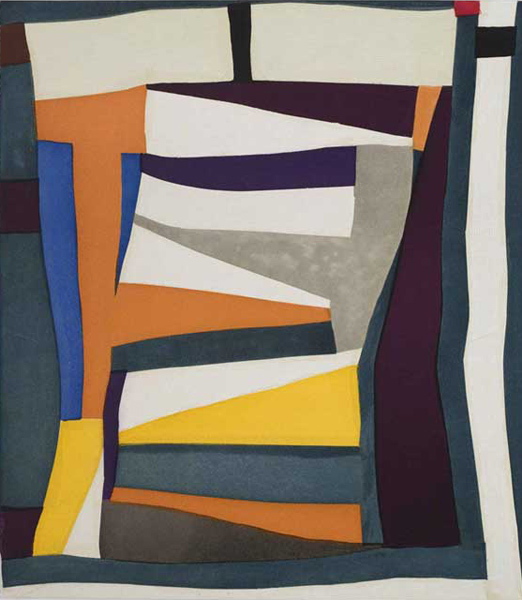 I used to work all day and when night come I was sick all night. I couldn't sleep and I didn't have no appetite to eat, but I can thank the Lord now and say that he has reached way down and picked me up, made my life better. I have food, money, a roof over my head, my health and strength…"
—Loretta Pettway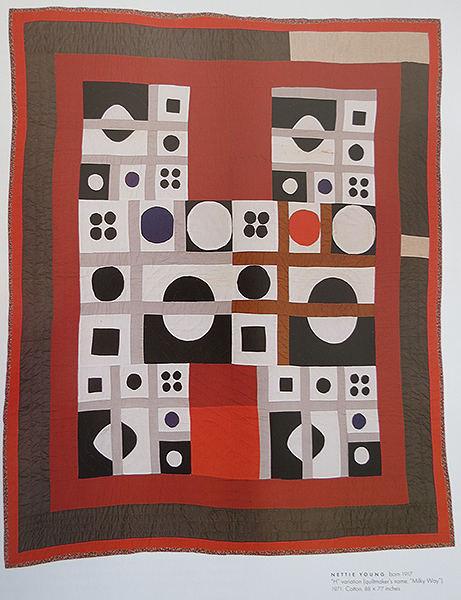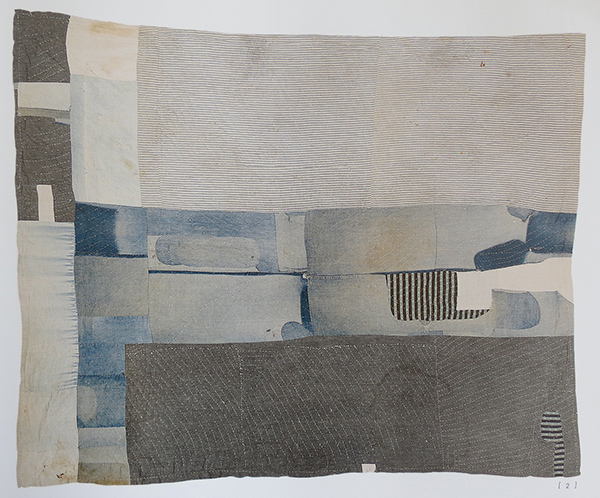 This is just a sample of the amazing Gee's Bend quilts.  They've become so popular that retailers are now selling "Gees Bend Quilt Kits" for quilters to make their own version.
The pictures featured here were taken from my Gee's Bend Book but you can see more amazing photos on google.  LOOK HERE.
I suppose one of the reasons I'm so drawn to these is because of their imperfections.  The lines are not straight, the stitches are not perfect and none of them are perfectly square.  They are not over thought and I'm certain their techniques were never questioned or fussed about.  They were made with love and in my opinion the skill of a master.  It gives me hope that I can someday do this and not worry about the perfection of each corner, stitch or block, but appreciate the beauty of the overall project.   Or maybe I'm fooling myself …. it's not that easy… and these ladies were special.   I'm still inspired for "someday".
There's no doubt that the cold, rainy, dreary weather here in Texas has made me think of these quilts. I'd love to wrap myself in art and warm up with a cup of hot chocolate. It's been one of those winters.