Well hello!  I'm Stacey, it's nice to be here.  Glad you came to visit… I almost forgot I even had a blog it's been so long since I put my hands on the keyboard or unloaded my camera pics.  Ah, life… it's good… it's busy and it's been whipping my butt!  Speaking of butt… I thought I'd do a post on one of my favorite spots to park mine.  Our Knoll sofa.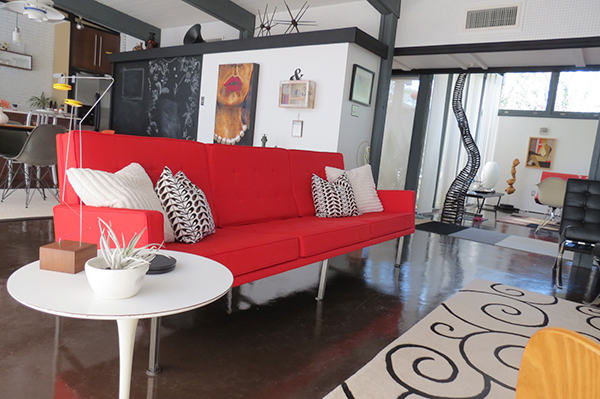 Thanks to the many visitors/friends I've made over the last 2 years, I get lots of emails and comments about not only our home and the renovation, but our furniture and the things we've collected over the years.  So because of a "visitor request" regarding our red sofa… I thought I'd share some pictures, stories, and a little info on this beast.
If you know a little.. or a lot about about modern design then you've definitely heard of Knoll Manufacturing – designing furniture, textiles and accessories.
Meet Florence Knoll…..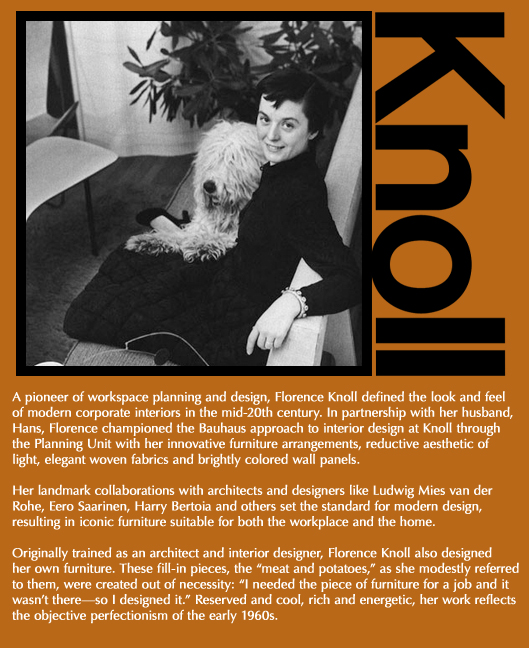 I could go on and on about Knoll's beginnings, their designers, the furniture pieces you know and love and all the ways they have defined the modern home and work space … but I'd rather just get to the sofa.  I know, I know… I'm so impatient.
We've had this Florence Knoll sofa for about 14 years.  That was a shocker to write.  HOLY COW… where does the time go?  Anyway, the sofa was an old ratty looking piece that sat in an antique store here in town and had been there a good while.  A friend of ours was building a recording studio and needed a place for band members to sit and hang out.  It was the perfect "guys hanging out" kind of ratty sofa.  He bought it and it sat in the studio for many years.  Oh man, if that sofa could talk!!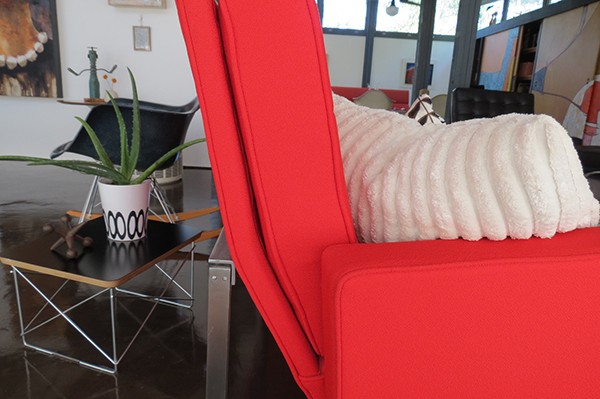 After deciding to move to Seattle to open a new studio our friend was going to leave this ten-ton sofa behind so we asked to have first dibs and bought it for $200.  Of course we knew what it was and had big plans, as we were just in the beginning stages of moving from country decor to modern.  GASP!  Yes, I said Country decor.  I know… but that's for another post.  I promise.  I. WILL. GO. THERE.
The urethane foam was crumbling, the original Knoll fabric was worn, stained, and tattered, so it had to be reupholstered.  Okay, this was 14 years ago.   There was no "go to the internet, find what you need, and wait for the UPS guy".  Well, at least I wasn't there yet.  I actually had to go to an interior designer to find a fabric that was CLOSE to what was on there and durable enough to withstand another 20 years of use and abuse.  I finally found one and 12 yards later we were ready!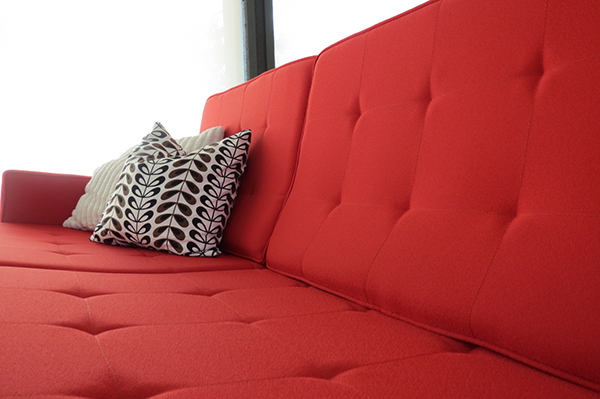 The upholsterer we brought the couch to says "oh, no problem… I'll do it for $325".  WHAT!  Wow, that was way less than we were expecting and we knew he did good work.  SOLD!  Well, 9 weeks later I began hassling the poor guy every other day on my lunch hour.  Enough was enough.  I wanted my sofa!  Week 12 and I finally got the call.. it was ready.  Not only was it ready… it WAS PERFECT!  It was worth the wait but I have a feeling the job definitely didn't pay for this man.  He was very proud and even took pictures of himself with it (hilarious!) but said he'd NEVER do another one.  Apparently the simple clean lines of modern furniture are not as easy to upholster as one might think. As you can see above, the fabric has held up really well.
They call this the parallel bar sofa for obvious reasons.  Legs.  Some of the modern reproductions… like the ones being sold my Modernica call them split bar or split rail.  The frame is black and brushed steel and it weights a TON!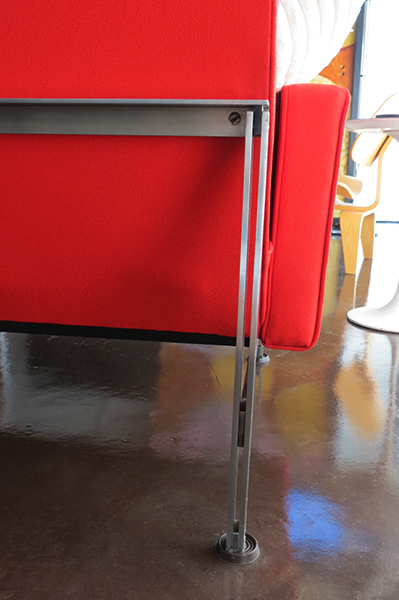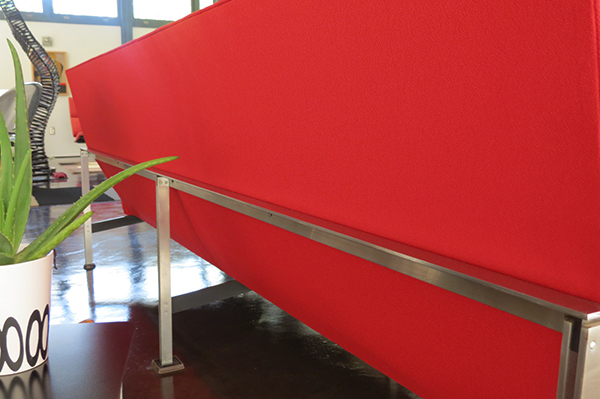 Red is such a bold color and at the time our living room was aching for a POP of hot stuff.  The walls were a light gray and the trim white and it was the perfect choice.  As we settle into this home, with its amazing and colorful mural in the living room, I'm beginning to feel like the red might be "too much".  I'm not saying I'm changing it any time soon… but it's always in the back of my head.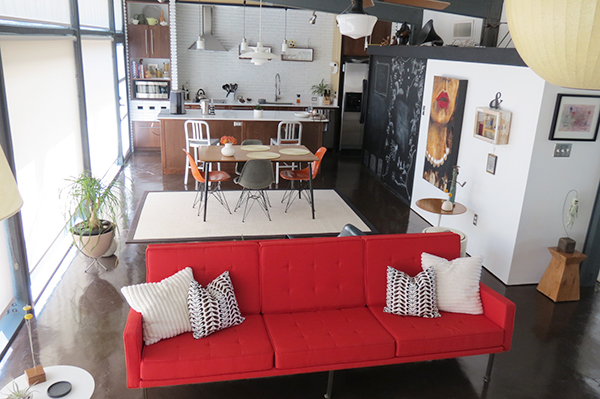 Whenever I DO decide to jump off that cliff (once again) there will be no nervous break downs when it comes to fabric.  It's gotta be KNOLL and thankfully 14 years later it's a cinch to get.  Knoll has some of the most beautiful textiles around.  If you've never been in one of their showrooms I highly recommend you pass through their textile department.  HOLY DOUBLE RUBS!  (sorry that's textile talk!)  It's like being a kid in a candy store.  Check out some of their latest collection.  How in the world would (I) anyone choose?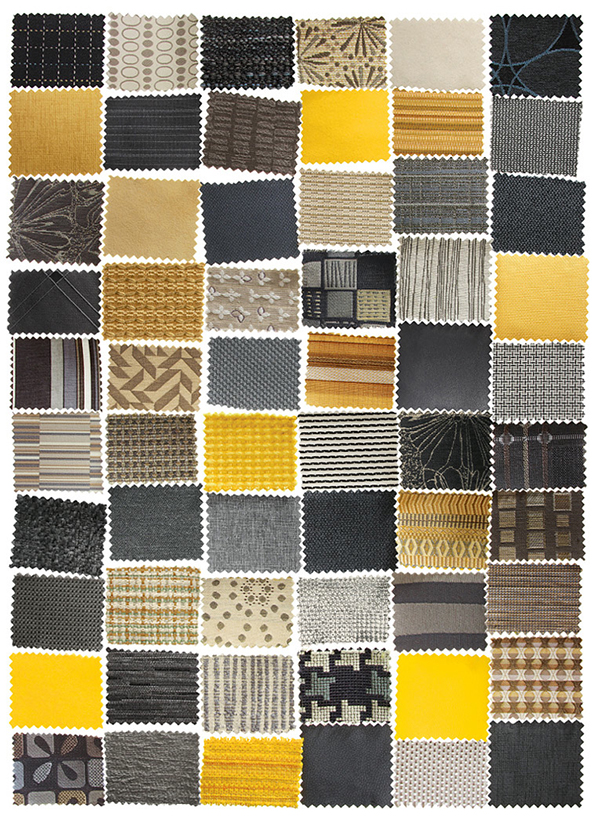 Sofas like these don't come around often… so I'm really happy to have this prize.  She's big, she's bold, and she's definitely modern and beautiful.  There's always a piece in your home that you would never get rid of and this is one of ours.  You can find these from time to time in big auction houses and of course online auctions and depending on their condition they go for $1,500 – 3,000.
Los Angeles based furniture company Modernica, makes their "split rail" version and they go for around $3,000 new.  As you can see.. they do a nice job reproducing these.  Chairs and ottomans too!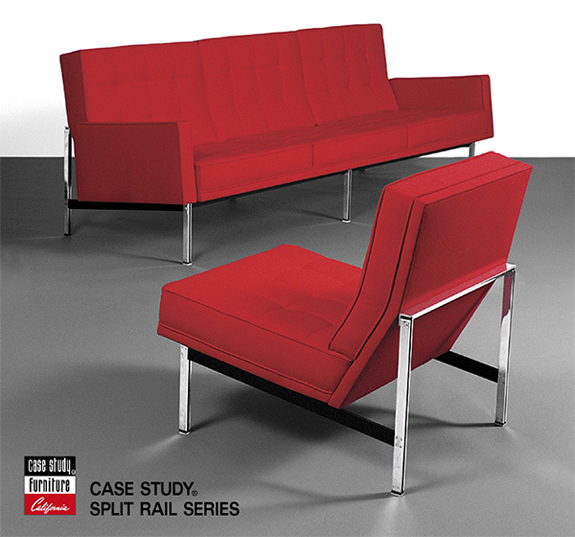 So, there you have it.  A wonderful find over 14 years ago and it still rocks my world and gets a little attention.  Thanks to everyone who inquired about her pretty red flashes in many of my photos.  We're both happy you asked! (THANKS ALEX!)
If you're interested to learn more about Florence Knoll and Knoll Furniture, I enjoyed watching this… you might too.
KNOLL ROOTS –

What special piece would you NEVER part with at your house?