LIFE IS CRAZY… I'm sure you'll agree.  I keep waiting for this blog to just write itself… but that never happens!  After receiving an email from another blogger I adore… who said "hey, woman… post something …. post ANYTHING!", I figured I should do SOMETHING, and it really didn't matter that I haven't been able to accomplish much around the house.  It's not that I've been jumping out of balloons in space and breaking the sound barrier, or getting 10's on Dancing with the Stars, or even moderating Presidential debates…. (although someone from Washington, D.C. in the Executive Office Of The President visited my blog yesterday! – SERIOUSLY, true story).  It's just simply because I'm so busy I barely have time to eat or sleep.  Blah blah blah…. I'm not whining… It's all stuff that I LOVE but it's definitely taken me away from this special place.   Heck I've barely had time to even change a LIGHT BULB!  Oh, wait… that's the one thing I actually did have time to do…. so I'll just have to blog about that.
So here's the deal.  A light bulb went out in my hallway… and so what, right?  Except it got me thinking about all the ways Richie and I intended to "go green" as we worked on this house.  There are 12 pot lights in our hallway that use Par20 halogen bulbs. (SUPER HOT! – as in burn your fingers hot.)  At the time we were wiring the house, LED lights were not readily available but I had read articles about how they were going to change the industry and over time become the norm.  Their long life and low-wattage use were something that really interested me… not to mention that they don't emit UV light… which is horrible for your art work and furniture.  I made a mental note that as soon as they hit stores I would investigate and try them out.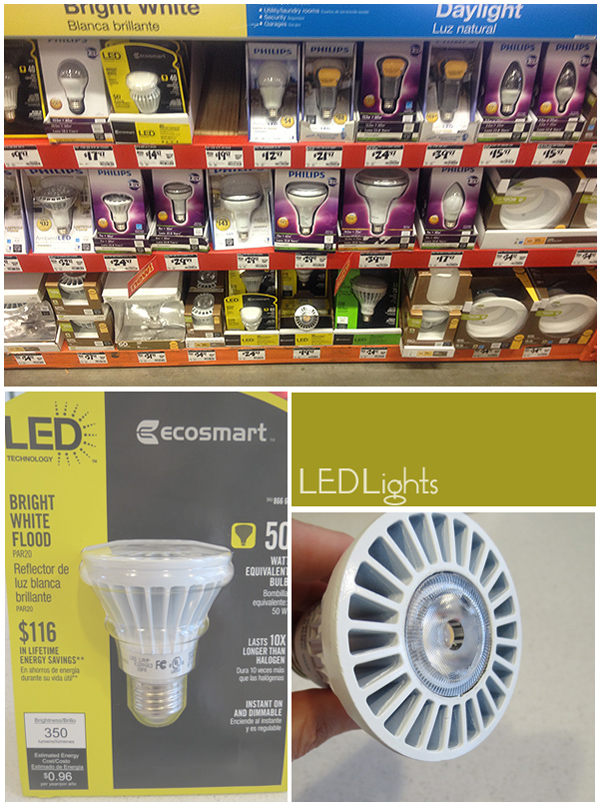 The first set I bought was about 2 years ago when I decided that I really didn't want those hot halogens lighting up my artwork.  I have two spots over some art in the den and then 3 in the dining room.  I took the plunge and bought 6 LED bulbs to replace the halogens.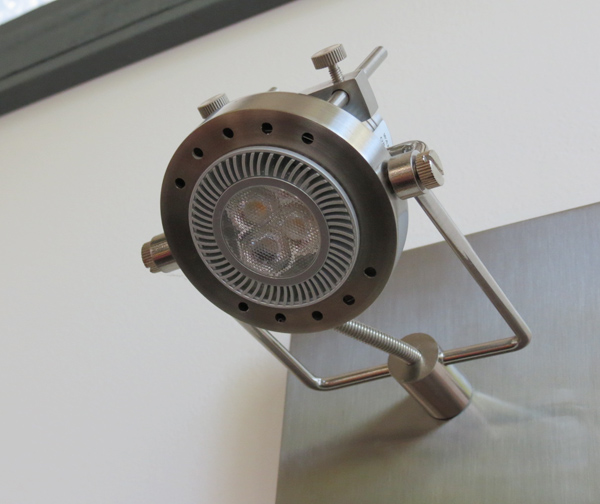 We loved these brushed nickel industrial-looking fixtures and just had to have them.  Now they perfectly light the artwork underneath without the UV, and they are NEVER EVER hot to the touch.  The light is very bright and very white.  I love them!  I also think the LED bulbs are SUPER COOL looking too.  Check out those fancy edges… ooo la la!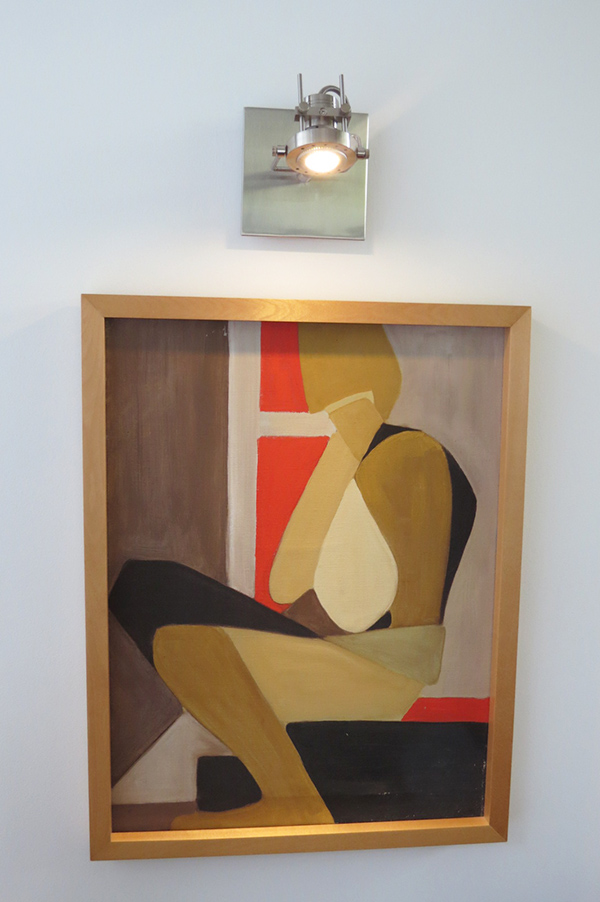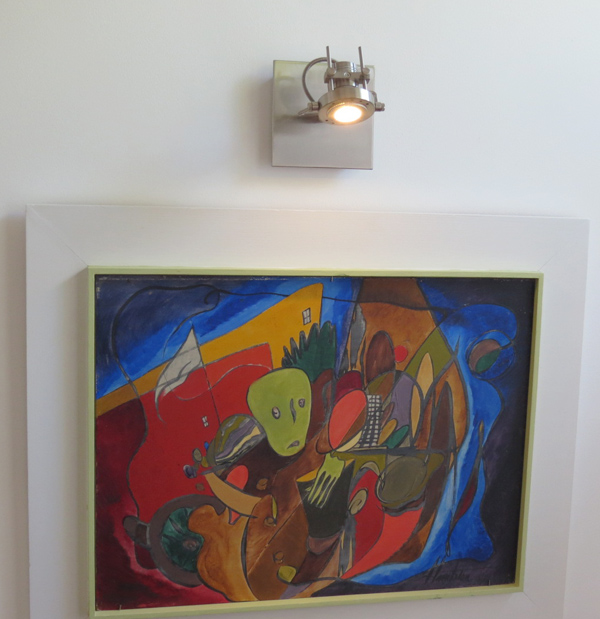 So when a light in my hallway went out I knew I needed to start replacing them with LED bulbs.  Isn't it funny how you buy 12 lights, install them all at the same time and the all get turned on the same amount… but they all go out at different times.  HA HA!  I guess that's good in this case, as LED Par20 bulbs at $19.95 each can really add up.  HOLY CRAP!  One at time is fine with me.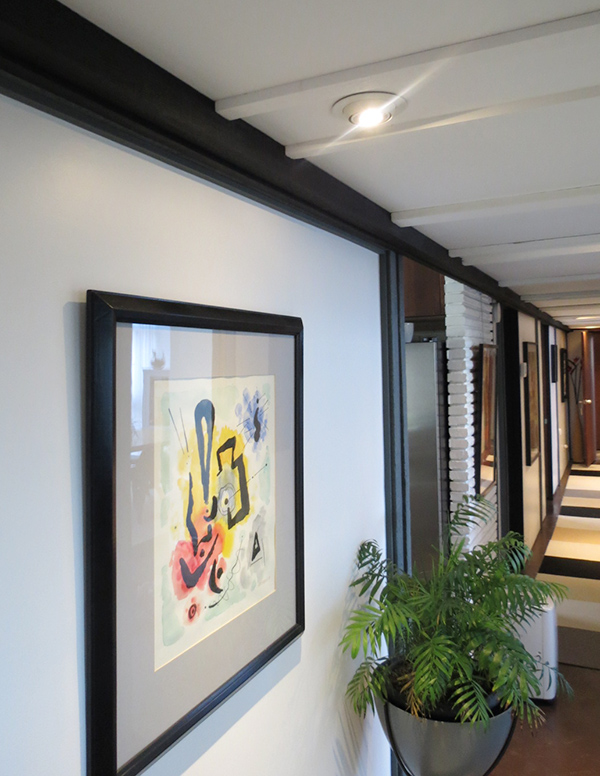 The picture above shows my brand new LED bulb installed.  Again, it's perfect because it puts out beautiful white light right on to the artwork… but is never hot and has no UV.  I'm already getting anxious for the others to "go out".   As I took this picture it made me stop for a moment and think about how far we've come with this part of the house and what it was like before.   So naturally I'll create a little drama here and share some before and afters.
This hallway with its soon to be all LED glow wasn't always so "bright … or cheerful".  When we bought the house there were basically no lights in this 55 foot hallway.  It was really dark and somewhat depressing.  So when we had the house rewired I marked (with chalk) a big X where I wanted the electricians to run wire.  I do believe they thought I was slightly insane… but in the end slowly started to figure out my strategy.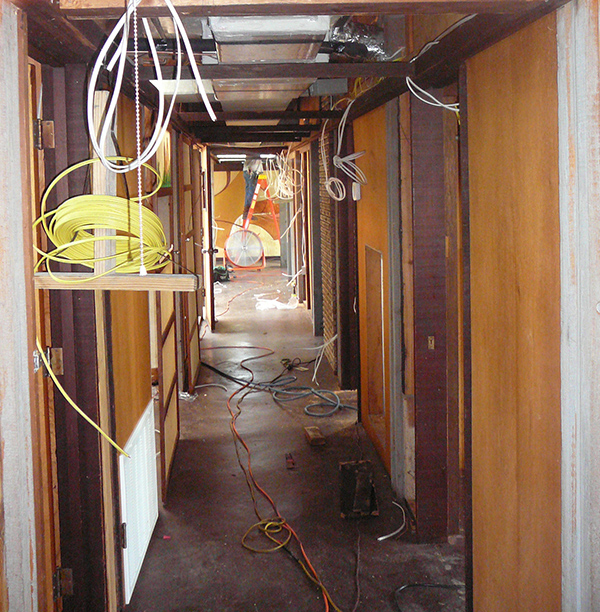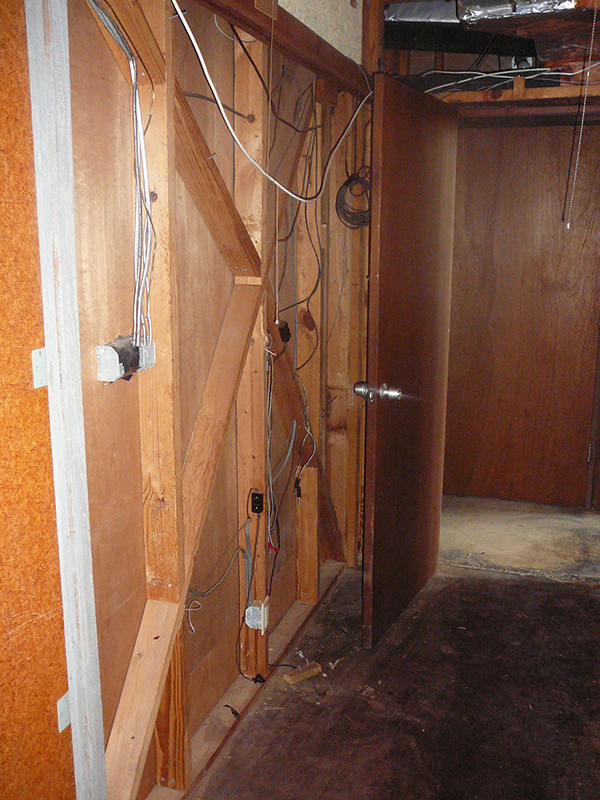 Wasn't it lovely?  I know you're jealous of my dark hall with green peg board ceiling and carpet glue covered floor.  Pretty!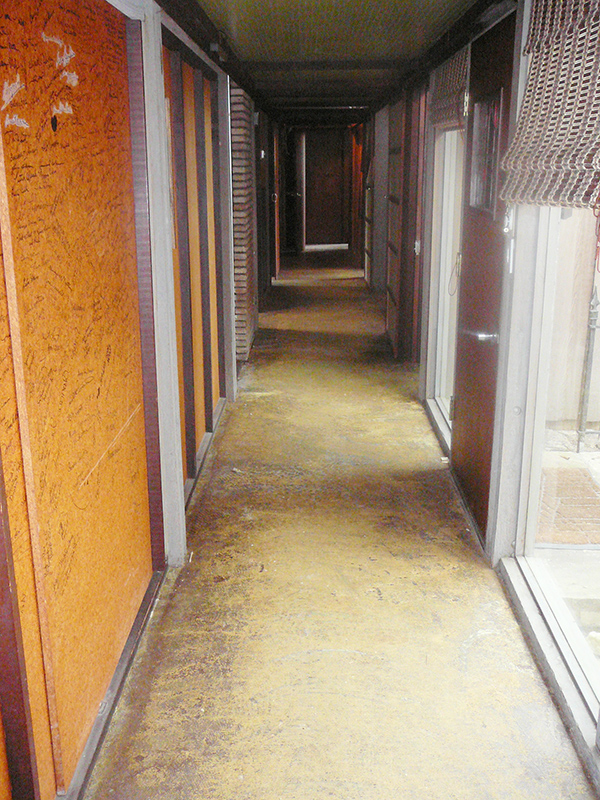 After building light panels Richie installed each pot light… one at a time.  We had to stagger the lights because all the duct work for the house runs down this channel.  I had to squeeze them in anywhere I could.  And here's how it looks today.  Honestly, it does me good to look at these because when renovation times are SLOW (like right now) it reminds me that we really did work our asses off.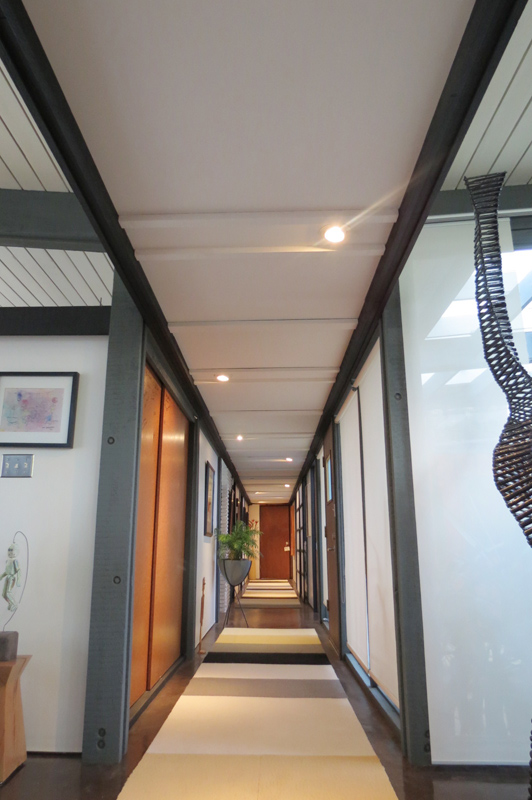 Another standing at the opposite end.  LIGHTS!  LOVELY LIGHTS!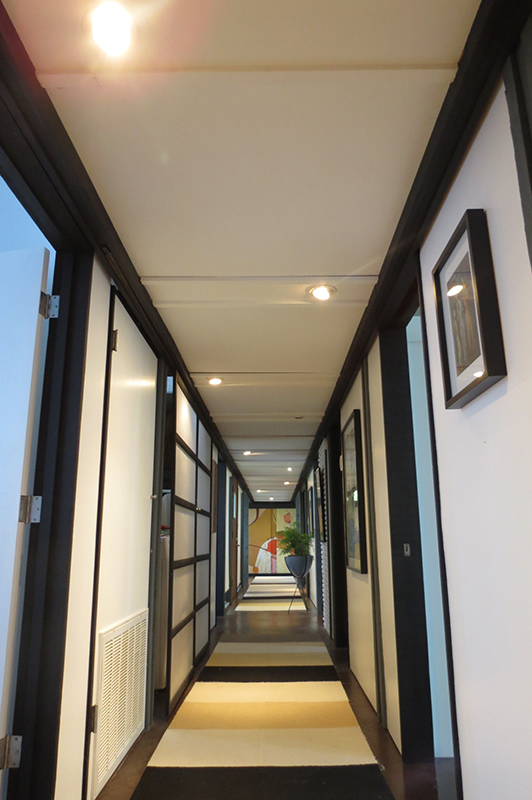 So it was always my plan to do anything we could do be more energy-efficient with all these lights and from the looks of store shelves they are making great strides with the LED choices as well as the cost. I'm excited to slowly start replacing every light with LED bulbs.   Here's 3 more in my dining room.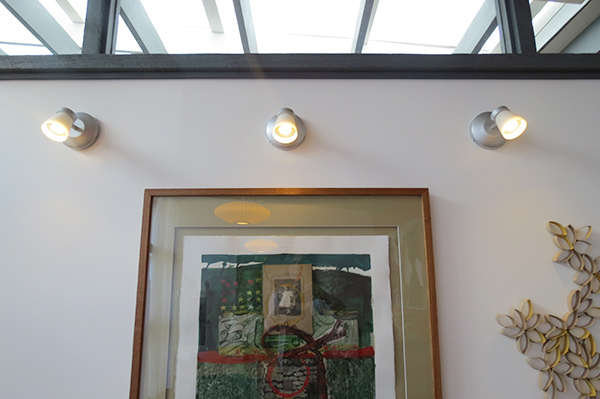 Anytime I leave the house and want to leave some lights on… it's always the fixtures with LEDs.
So this is just part I of my energy saving measures.  Richie and I did a few more things and I'll share those in part II.  I have to say that it's probably not as much as some people do but I do believe we should all do we can where we can.
Since the 2007 Energy Independence and Security Act was passed which will phase-out certain wattages and shuns the use of incandescents many people are finding other ways to light their homes.  I guess it's smart and for all you Ikea lovers (hello, Alex!)  I heard that Ikea plans to sell only LED lighting by 2016.
So, have you tried LED bulbs?  Do you love or hate them? Or do you wish they were more affordable? (I guess that's a dumb question… of course you do!)