I own an exercise bike… well, it's called a Spinner. Some of you may know what that is or have seen them in health clubs. They're super fun and they kick your butt in the work out department. Which Lord knows I need! (you know… some butt kicking) When times are stressful there's nothing like 45 minutes of good heart-pumping exercise. It definitely helps me physically and mentally. I love my spinner… but sometimes you just need to get outside and be a human being. To take in the scenery, breathe the air, hear the sounds, run from strange dogs that look like they could bite your leg off, and laugh at your neighbor's horrible landscaping. Getting outside is good and with weather like this I crave it.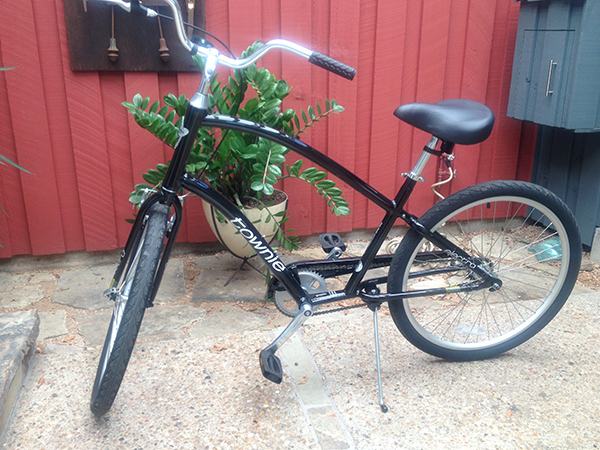 I do like to walk/run in the neighborhood when I can, but the other day Richie brought up how he "wanted a bike". Neither one of us have a bike and honestly I cannot remember the last time I was on one. I know, get the kleenex… such a sad confession. Our city is definitely NOT bike friendly and the last thing I need is to get hit by a car. YIKES! But honestly it sounds fun to get on one and peddle like a mad woman. So when he brought it up… I said "GO GET ONE"!
We decided to share a bike for now and see if we really use it and if we do I'd get my own. So we got a "mans" bike… whatever that means. Well, you know, it means the top bar is raised. Okay, big deal. I think I can manage to get my leg over a bar. Neither one of us wanted some crazy expensive racing bike or anything fancy… just a bike to ride and enjoy. So we got an Electra Townie!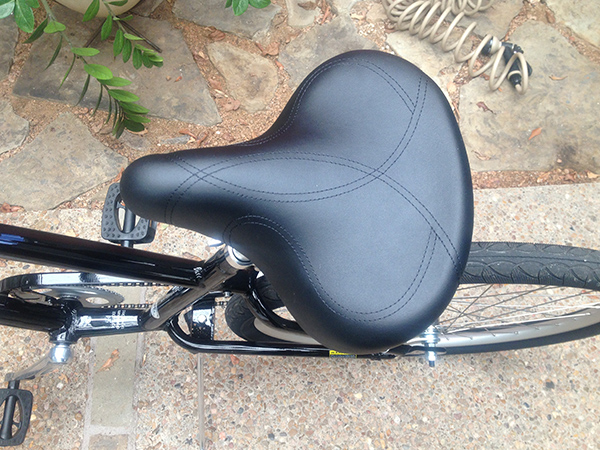 We have always thought the Townie bikes were cool. I call it a hipster bike. They have an easy laid back feel to them and I love the way they look. I also love the large seat for.. um… well… you know. Unlike a traditional bike you sit more straight up and your feet can rest flat on the pavement. Sort of a chilled out way to ride.
I cannot lie. I got on it and thought I was going to fall over. Seriously… I don't think I've ridden a bike since I was in junior high. Or at least I don't remember. (the spinner doesn't count! I'm a professional bike rider who could possibly win the Tour de France on that thing!)
I truly felt like an idiot. Richie looked at me with such surprise… like "What's wrong with you… It's just like riding a bike". Ummm, errr, I mean, you know. Well of course it is and I knew what he meant.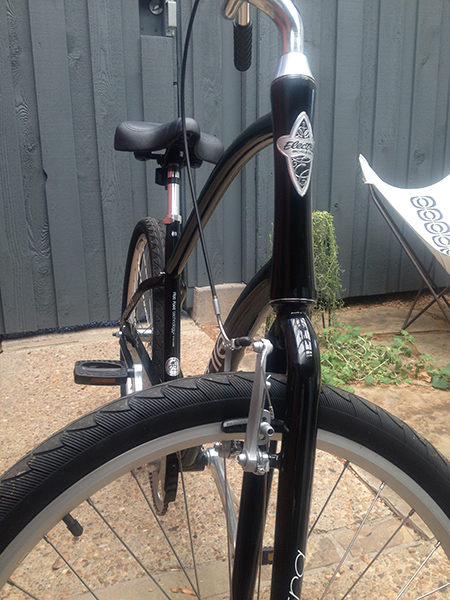 It made me think about my father who spent hours, days and weeks running behind my bicycle after the training wheels came off and pushing the back of my bike helping me learn to ride. God bless that man! SUCH PATIENCE. Then to finally let go and see me ride off must have been such a relief for him. Let me just say that I was a total wussy girl. Thank goodness I'm now the total opposite but I screamed and cried over EVERYTHING. Don't get me started about losing my teeth. That was drama my poor father will never get over. I'm sure he still has nightmares from my screaming.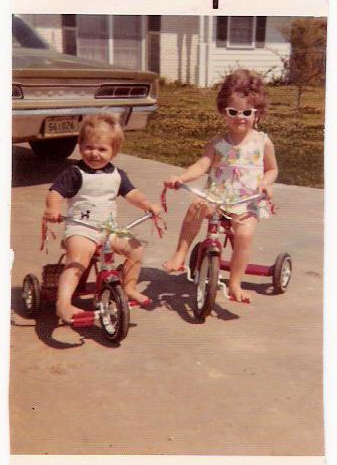 This hilarious picture of me and my brother on our tricycles just sums me up as a little kid.  Such a wussy girl that was ever so stylish!
Check out those glass, earrings, and accessories.  Good grief… even my hair was curled.
My brother has something all over his face… like he just ate a PB'n J sandwich open faced!   I guess I was about 4 yrs old there.  Trust me… my dad had to work REALLY hard to get me on a bike with two wheels.  Again, he's earned a place in heaven, no doubt!
Maybe I should call him and see if he can come over.  I might need his help again.  HA HA!
Anyway, I'm excited to have a new toy and I do feel like a kid again. Funny how such a small thing can bring you back to a time when everything was new and exciting. So I look forward to riding "our" bike… and to getting a girlie version. Hipster style.
Electra has so many cool lines that I may have to choose something from their Amsterdam line. Aren't they awesome!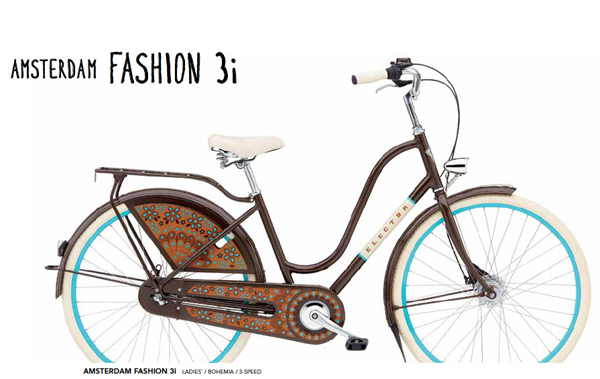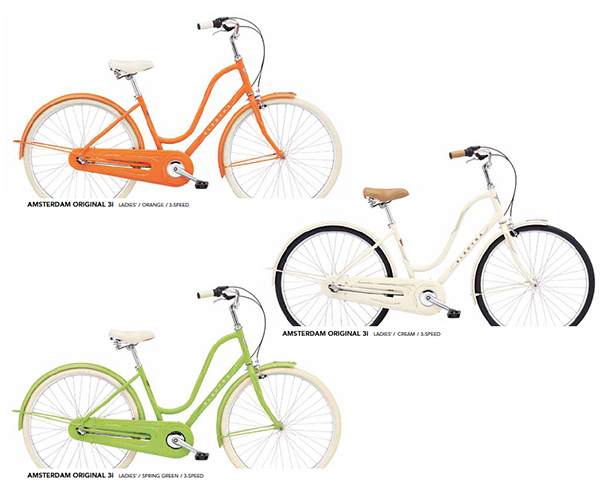 Do you bike ride? Or maybe you prefer the Spinner in the gym? I imagine most of you probably live in a city where bike paths are available. That would be a dream come true. I think I'd ride everywhere. I'd definitely need a cool little bell and a basket. DING DING!
SONG IN MY HEAD TODAY!